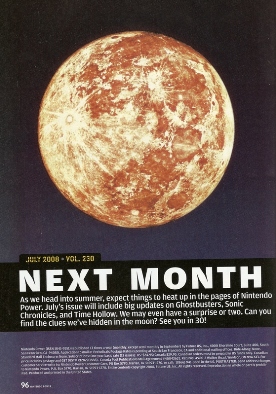 Nintendo Power's moon has stirred up quite a bit of discussion. People have been antsy, waiting in anticipation to find out which title Nintendo Power was referring to in its last issue. The knowledge that the mystery game is a third-party narrows the playing field a bit, yet there are still endless possibilities that lie in store for Nintendo Power's innocuous moon. Here are a few that could definitely be featured next month, although there are many, many other possibilities…
Castlevania
New iterations in the Castlevania series would be the most likely title(s) to be revealed in next month's Nintendo Power. The series has always been associated with the moon, vampires, and other dark content. Castlevania: Order of Ecclesia was recently confirmed for the DS and Koji Igarashi hinted at a Wii Castlevania. Nintendo Power also teased readers that they would reveal a "game or two." Therefore, next month, Nintendo Power might be showing off Order of Ecclesia for the DS and another Castlevania title for Wii.
Harvest Moon
The Wii has seen its fair share of Harvest Moon titles, so another game announcement wouldn't be completely farfetched. It also doesn't hurt that "moon" is part of the Harvest Moon title, too. However, Nintendo Power very recently previewed the upcoming Harvest Moon: Tree of Tranquility game for the Wii. Would Natsume really announce another game even though they already have a Harvest Moon title releasing in North America in just a few months?
Platinum Games title
Does that moon in back of the Platinum Games logo seem familiar? It should, since it is nearly identical to Nintendo Power's moon image. Nintendo Power could be showing off MadWorld, Platinum Games' extremely mature title or perhaps an unannounced game. After all, Platinum Games confirmed that they do have one additional title in development, though it is unknown which console it will release on.

Planet Moon title
The picture of the moon on the last page of Nintendo Power may have been an indirect hint rather than a clear indication of the game(s) the staff are planning on revealing next issue. It is possible that NP will be revealing a game from Planet Moon, a company that has expressed interest in Wii development? Based on Planet Moon's history on Wii, a possible game from the company may be more of a casual title. Nonetheless, it could be promising.
Hey folks. Just wanted to remind you guys that we are still accepting entries to our WiiWare contest. All it requires is an email with your nick name! All entries must be submitted to [email protected] before the end of Wednesday.
Check out the full details here

The blood battle between Grand Theft Auto 4 and Ocarina of Time has been comparable to a ping-pong battle, except with some added controversy. Apparently, a review was removed/changed from the reviews aggregator Game Rankings, which caused Ocarina of Time to drop to the position of third best game ever. For now, however, the title is back on top, barely ahead of the two versions of GTA4. The war between Grand Theft Auto 4 and Ocarina of Time is sure to continue on for awhile. Then again, does it really matter considering they're both great games?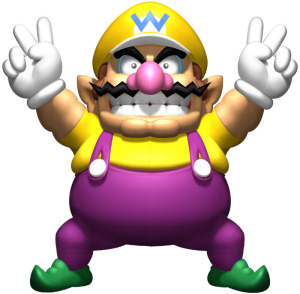 New/renewed trademarks have popped up in Japan recently, two of which include Wario. Trademarks (whether they're new or just being renewed is unknown) for both WarioWorld and WarioLand have been discovered, which may hint at new games for the DS, Wii, and perhaps, WiiWare. At one point, rumors of four Wario titles in development were made known from a somewhat reliable source and Nintendo does essentially have a third option to release a game because of WiiWare. The last "true" Wario game – Wario: Master of Disguise – was not exactly the best, so a good sequel would be more than deserved.
While Band Brothers DX seems like it will be a Japanese exclusive for now, it may be worth importing if you're a strong supporter of Wi-Fi. When the game launches in June, a Speaker Channel will be up for download which will allow music from the DS game to be amplified from your television (I believe Band Brothers is one of the first games to do this.) Moreover, musical pieces that you create will be able to be uploaded to a server for other players to download. So, if you're interested in music and feature support, this could be the game for you!
Best Buy
Hannah Montana: Spotlight World Tour (Wii) – $39.99
Okami (Wii) – $29.99
Imagine: Figure Skater (DS) – $19.99
Circuit City
Save $5 on all Wii Fit accessories
Free $10 gift card with purchase of Boom Blox or The Dog Island
Imagine Fashion Designer (DS) – $14.99
Imagine Figure Skater (DS) – $14.99
Imagine Figure Babyz (DS) – $14.99
Paws & Claws Pet Resort (DS) – $9.99
Zoo Tycoon 2 DS (DS) – $14.99
Paws & Claws Pet Vet (DS) – $9.99
Target
Petz Bunnyz (DS) – $19.99
Imagine: Fashion Designer (DS) – $19.99
Free $10 gift card with purchase of Boom Blox
– built on a brand-new engine
– detailed story mode
– 9 stadiums (not clear if there are more to be unlocked)
-4 players (2 vs. 2 / 1 vs. 2 or 1 vs. 3)
– offensive items (attack outfielders with bombs, ect.)
– day/night games
– team stunts in the outfield (Mario jumps on Luigi's head to catch higher-flying hits)
– Wiimote swing for hits (based on timing/power)
– swing Wiimote to pitch, twist to throw a curve
– Every character has special pitching & batting abilities: Mario throws / hits a massive Fireball, Luigi uses the Tornado Ball, Yoshi has an Egg Rainbow move & Bowser Jr. sends splatters of paint everywhere which hide where the ball is.
– shake Wiimote to run faster, but not necessary
– Mario Stadium : Basic stadium with nothing added
– Wario Fare : (extra features not mentioned)
– Yoshi Park : A Yoshi Train drives through the out field. Hit the Baseball into Warp Pipes as well.
– Smooth Ground Stadium : Ground is slippery / Giant Mr. Freezies are in the out field.
– Chomp Desert : Giant Chain Chomps nip at players in the out field.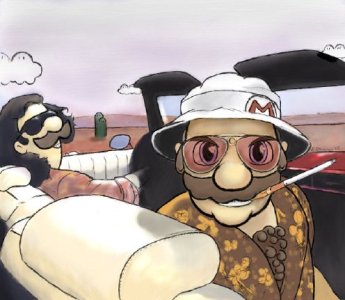 One fan has taken the liberty of placing Mario and his brother in a typical Las Vegas setting. Mario must be taking a day off from saving the Mushroom Kingdom, as he has a content grin on his face, a cigarette hanging out of his mouth, and has his chest hair exposed. Certainly not the clean-cut Mario we're all accustomed to!
Come on, Mario! Get that thing under control!