Nintendo also put out the following PR with today's trailer:
18th August 2014 – Explore the vast open world of Reveria alongside friends and share your discoveries with a host of local and online features available to players of Fantasy Life, the much-anticipated role-playing adventure from LEVEL-5 coming to Europe on 26th September for Nintendo 3DS and 2DS systems.

Link Mode, an online communication tool discovered by paying an in-game visit to the Guild Office in the town of Castele, is a feature that – once activated – allows you to connect with friends when they are playing Fantasy Life at the same time*, and exchange messages and valuable tips during gameplay. To keep your friends informed of your in-game exploits, Link Mode also contains a notification setting to communicate your achievements, and 'Applaud' the landmarks reached by others.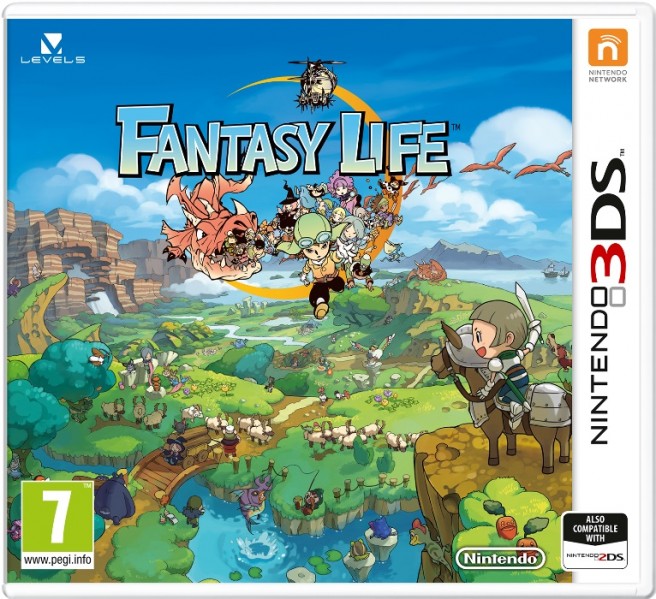 We posted this way back when Fantasy Life originally launched in Japan. With the game's English release on the horizon though, there's no perfect time to share this again!
Fantasy Life is coming to North America on October 24, but Europe will be getting the game a bit earlier. Nintendo has confirmed that the title will launch on September 26.
The folks over at Nintendo's Treehouse shared a neat little nugget about Fantasy Life during their stream earlier today. Apparently, if you count all the dialogue and text in the game together, it would amount to a 21,000-page novel.
Other known bits about Fantasy Life:
– 12 job classes
– Paladin, Mercenary, Hunter, Wizard, Cook, Angler, Woodcutter, Miner, Blacksmith, Carpenter, Tailor and Alchemist
– Each class comes with its own story elements and skill
– Can change class at any time in the game
– Co-op multiplayer included