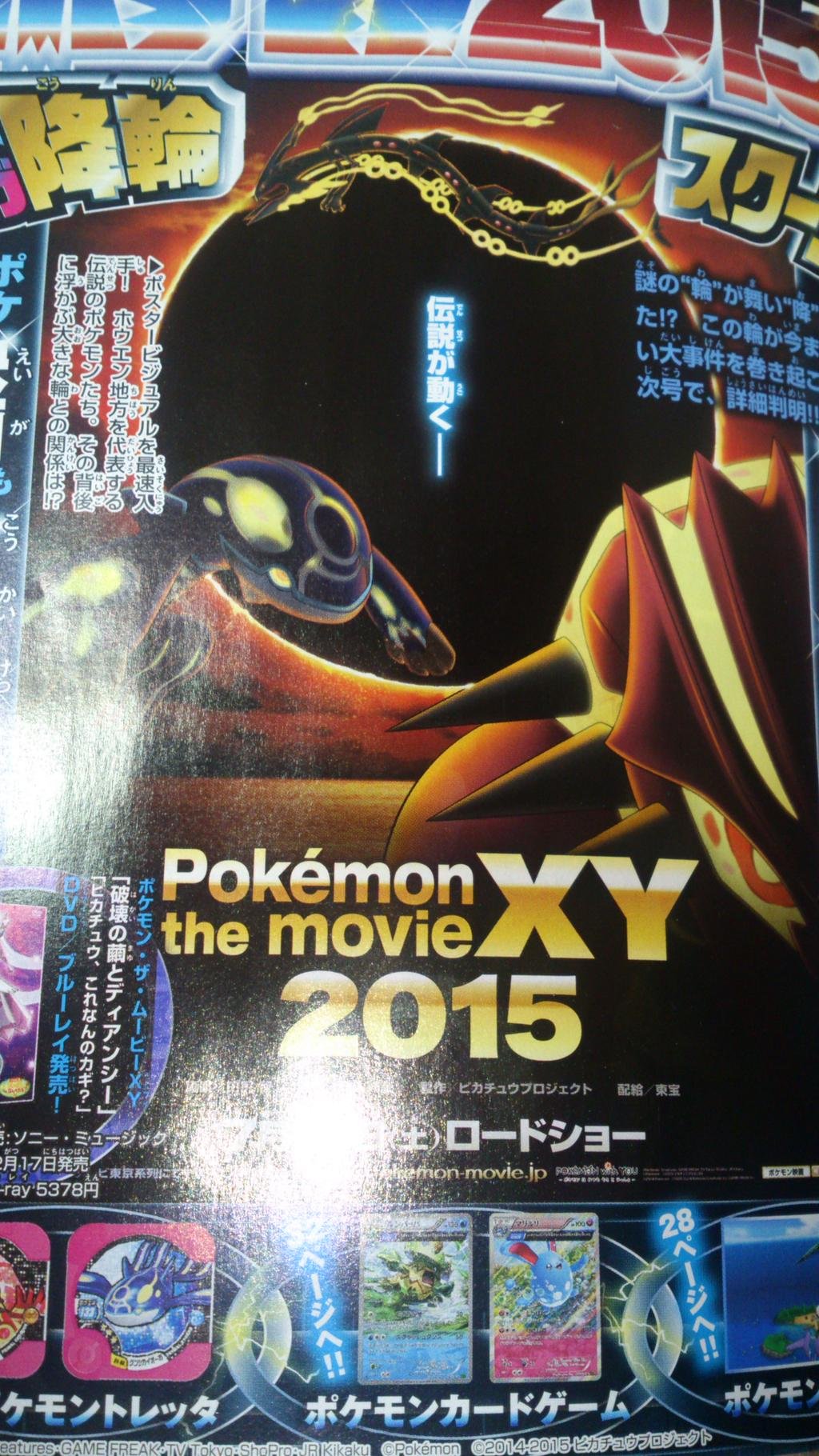 This month's issue of CoroCoro has the first word on a new Pokemon movie. The film, tentatively titled "Pokémon the movie XY 2015", will premiere in Japan on July 18, 2015.
CoroCoro doesn't share too much information about the movie. We know that it will feature Primal Groudon, Primal Kyogre and Mega Rayquaza along with a portal that mimics the ones seen in Omega Ruby/Alpha Sapphire. CoroCoro mentions something about falling through the portal, which will be discussed later.
We should be seeing the first footage from the upcoming Pokemon movie soon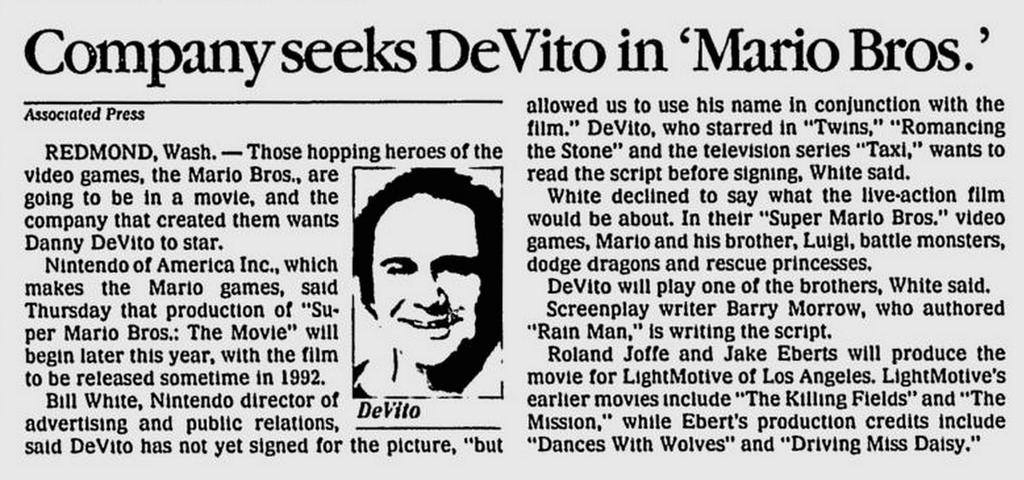 Bob Hoskins played Mario in the notorious Super Mario Bros. film from 1993. However, it sounds like Nintendo was originally seeking Danny DeVito for the role.
Take a look at this article from January 1991, which was shared by Console Wars author Blake J. Harris:
It's Always Sunny in the Mushroom Kingdom! (AP article from January, 1991) pic.twitter.com/vh6MfSCL1n

— blake j. harris (@blakejharrisNYC) September 2, 2014

According to the September issue of CoroCoro, the "Primal Reversion" forms of the legendary Pokemon Groudan and Kyogre will be featured in an upcoming movie debuting next year. No further information has been made available at this time. If additional details surface, we'll be sure to let you know.
Nintendo of America president Reggie Fils-Aime makes an appearance in Video Games: The Movie, according to the company's Twitter account.
NoA tweeted just a few moments ago:
The #Regginator makes an appearance in @zachbraff & @Jeremy_Snead's Video Games: The Movie. http://t.co/vICRXZdbWE pic.twitter.com/M9LKd6DteJ

— Nintendo of America (@NintendoAmerica) July 25, 2014
Video Games: The Movie is a new film from executive producer Zach Braff and director Jeremy Snead. It details the rise and fall of the games, the future of the industry, and features interviews from prominent members of the gaming scene.
Sony Pictures Entertainment's upcoming film "Pixels" will feature classic video game characters such as Donkey Kong and Pac-Man, the company announced today. The movie, which stars Adam Sandler, Kevin James, Michelle Monaghan, Peter Dinklage, Josh Gad, and Brian Cox, is slated for May 15, 2015.
For those who haven't heard of Pixels previously, below is a quick overview of the film:
In Pixels, when intergalactic aliens misinterpret video-feeds of classic arcade games as a declaration of war against them, they attack the Earth, using the games as models for their various assaults. President Will Cooper (James) has to call on his childhood best friend, '80s video game champion Sam Brenner (Sandler), now a home theater installer, to lead a team of old-school arcaders (Dinklage and Gad) to defeat the aliens and save the planet. Monaghan plays the team's unique weapons specialist.
And here's the listing of companies with classic arcade games that are teaming with Sony Pictures on Pixels:
• Atari Interactive: (Asteroids, Breakout, Centipede and Missile Command)
• Konami Digital Entertainment Co., Ltd. (Frogger)
• BANDAI NAMCO Games Inc. (PAC-MAN, Galaga, and Dig Dug)
• Nintendo (Donkey Kong)
• Columbia Pictures Industries, Inc. (Q*bert)
• Taito Corporation (Space Invaders)
• Warner Bros. Interactive Entertainment (Joust, Defender, Robotron and Wizard of Wor)
Those attending San Diego Comic-Con 2014 this week will have the opportunity to engage with many of these classic original arcade games and try them out again as the studio features a Pixels Electric Dreams Factory arcade at the Hard Rock Hotel, 209 5th Ave., San Diego.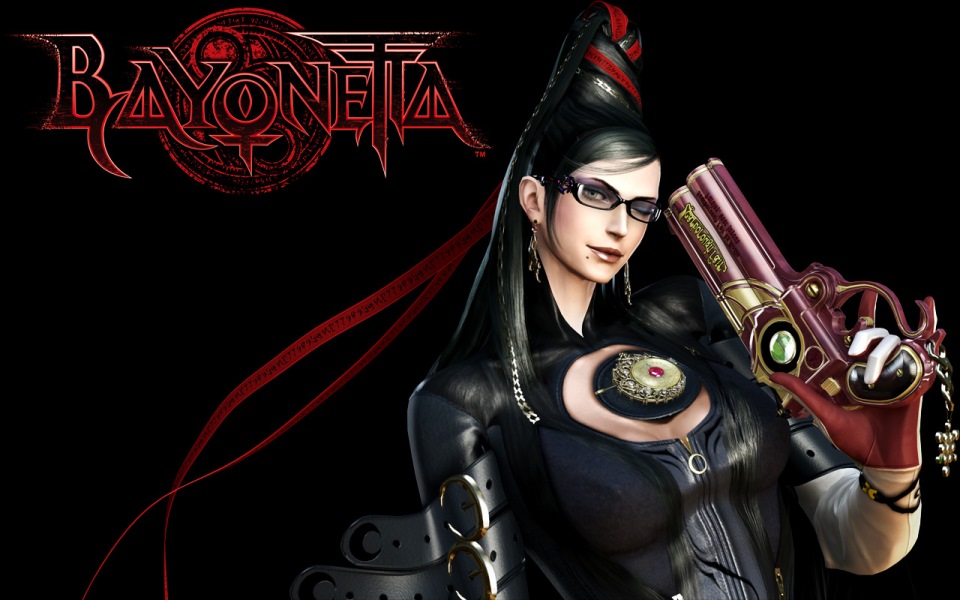 FUNimation has nabbed the distribution rights for the Bayonetta: Bloody Fate full-length feature film in the United States in Canada.
A "sneak peek" of the English dub of Bayonetta: Bloody Fate will be shown at the Anime Expo early next month. Additionally, director Fuminori Kizaki will be on hand at the expo on July 5 for a special Q&A.
Here's an official overview of Bayonetta: Bloody Fate:
From the team that brought you the Emmy nominated AFRO SAMURAI RESURRECTION, studio GONZO and internationally acclaimed director Fuminori Kizaki have come together once again to create this feature-length animated film based on the hugely popular video game franchise "BAYONETTA." The film faithfully captures the extreme action and sexiness of the original, crafting a storyline that expands and further establishes the world of the sexy, shape shifting witch, Bayonetta.