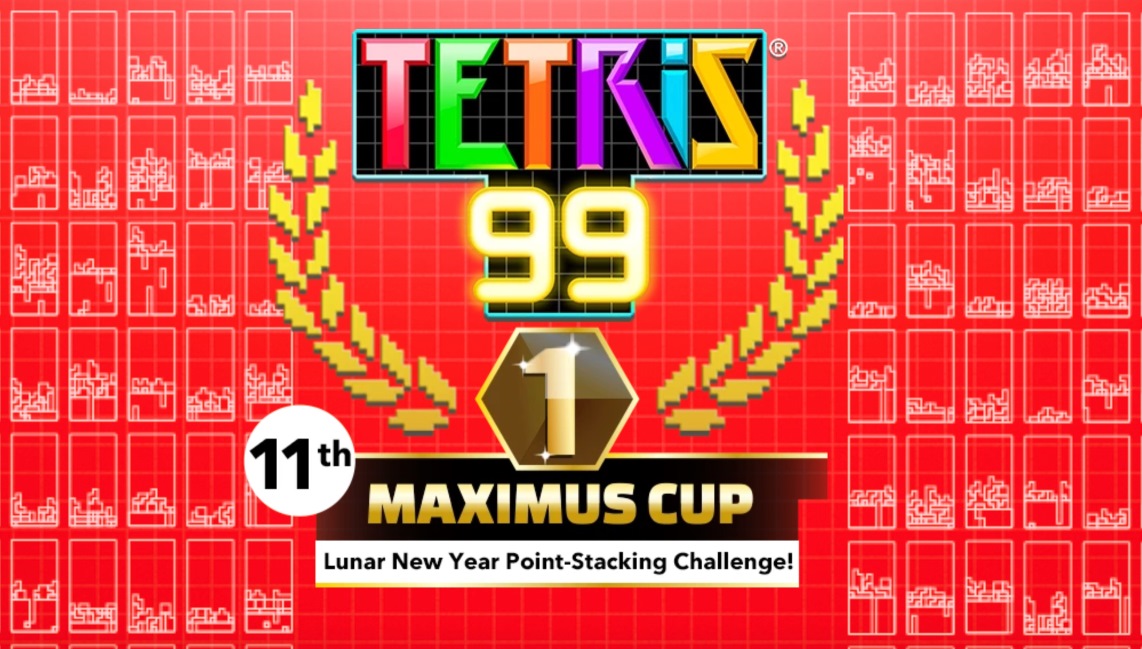 The 11th Maximus Cup will soon be hosted in Tetris 99, Nintendo has announced.
Players will be tasked with competing online and stacking up as many event points as possible. The top 999 players with the most points will be given 999 Gold Points to use on My Nintendo. Nintendo says event points awarded based on rank achieved in each battle you compete in during the event.
Tetris 99 will host its 11th Maximus Cup between January 30 at 11 PM PT and February 3 at 10:59 PM PT.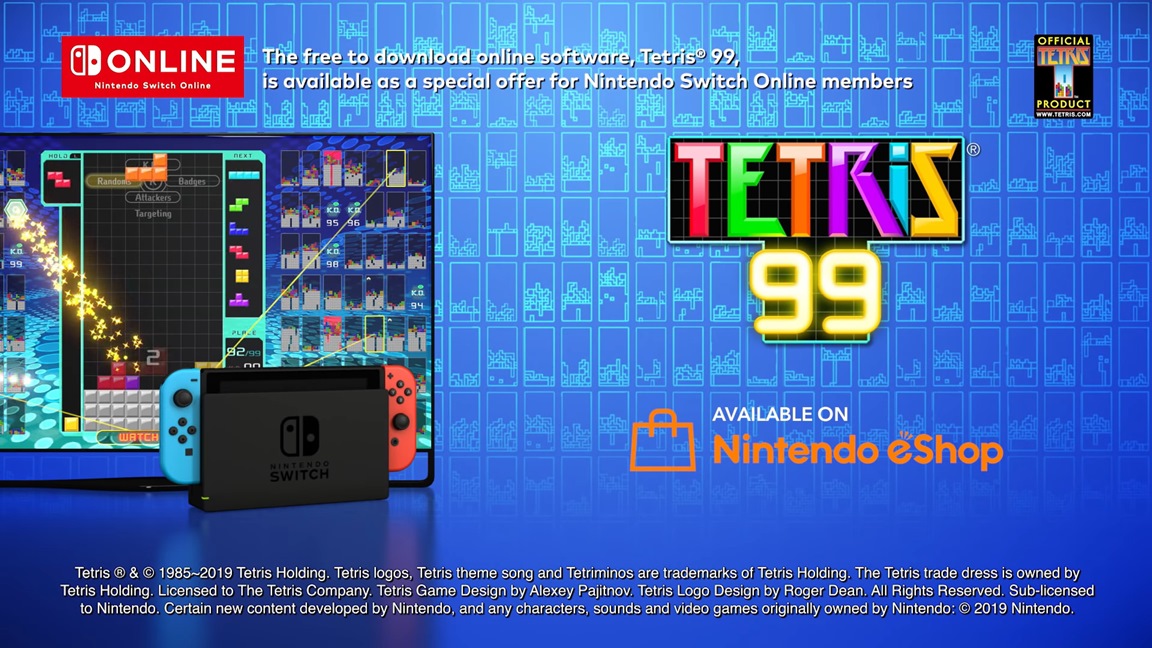 Alexey Pajitnov created one of the most important and influential games of all times in Tetris. The classic title has been released on plenty of different platforms over the past few decades in different forms and is a big reason why the Game Boy was as successful as it was.
Tetris 99 was Nintendo's take on the battle royal genre, and might be the most interesting version of Tetris yet. What does Pajitnov think of the Switch release? He's actually appreciative of what was done with Tetris 99, telling USgamer that it "is absolutely a great title."
He mentioned to the site: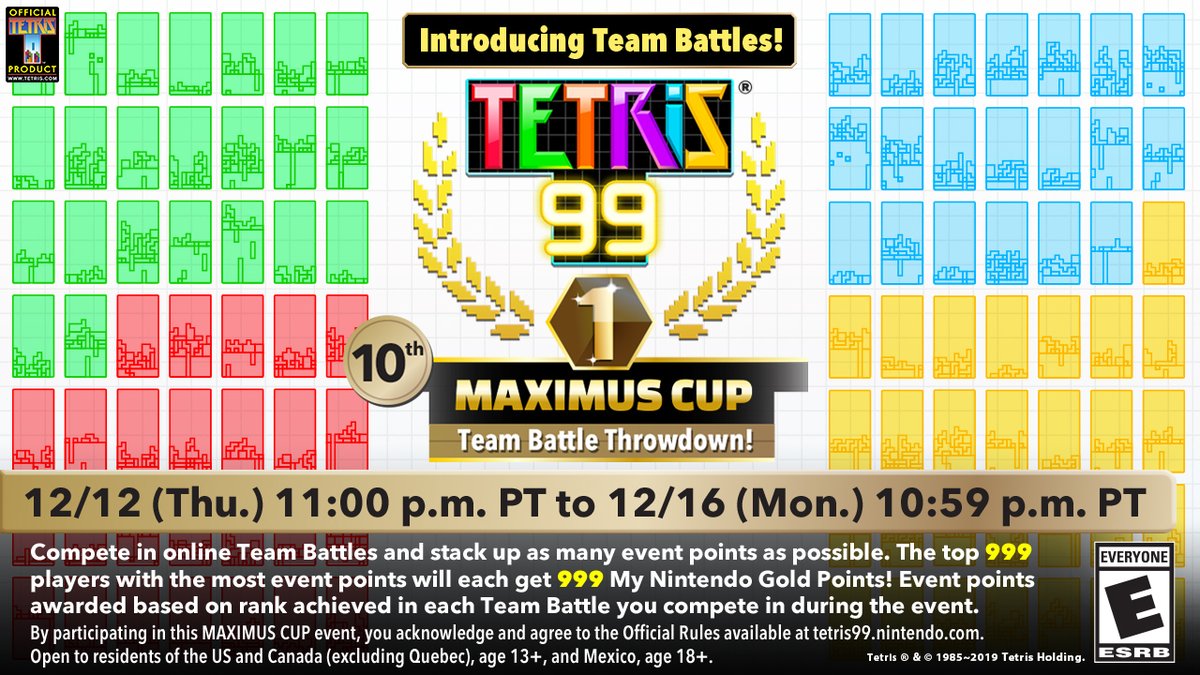 Nintendo has announced that Tetris 99 will host the 10th Maximus Cup this week. The event is promoting the new Team Battle Mode, and the top 999 players will each win 999 Gold Points on My Nintendo.
Look for Tetris 99's 10th Maximus Cup to go live on December 12 at 11 PM PT / December 13 at 2 AM ET.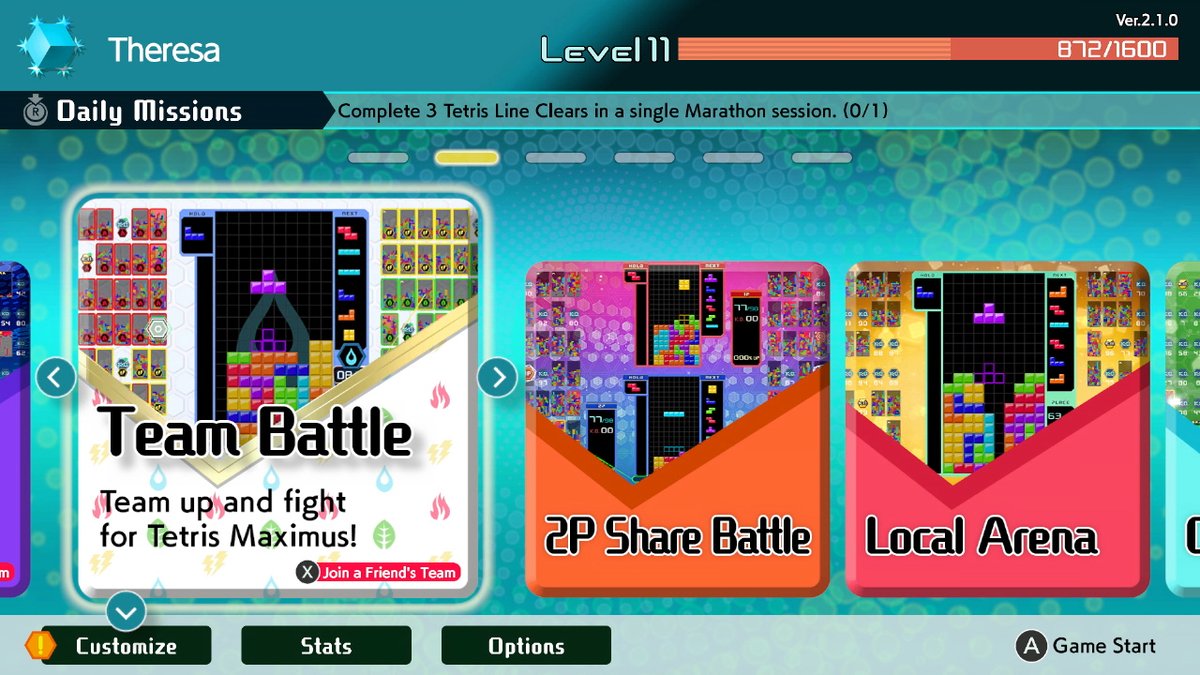 A new 2.1.0 update is now available for Tetris 99, Nintendo has announced. The version change is highlighted by the addition of Team Battle Mode. In the new mode, players select one of four teams and competing to be the last squad standing.
There are other new elements to the update as well. Players can access new button configuration options, user emblems, and an option to redeem four themes from past Maximus Cup events.
Below are a few screenshots: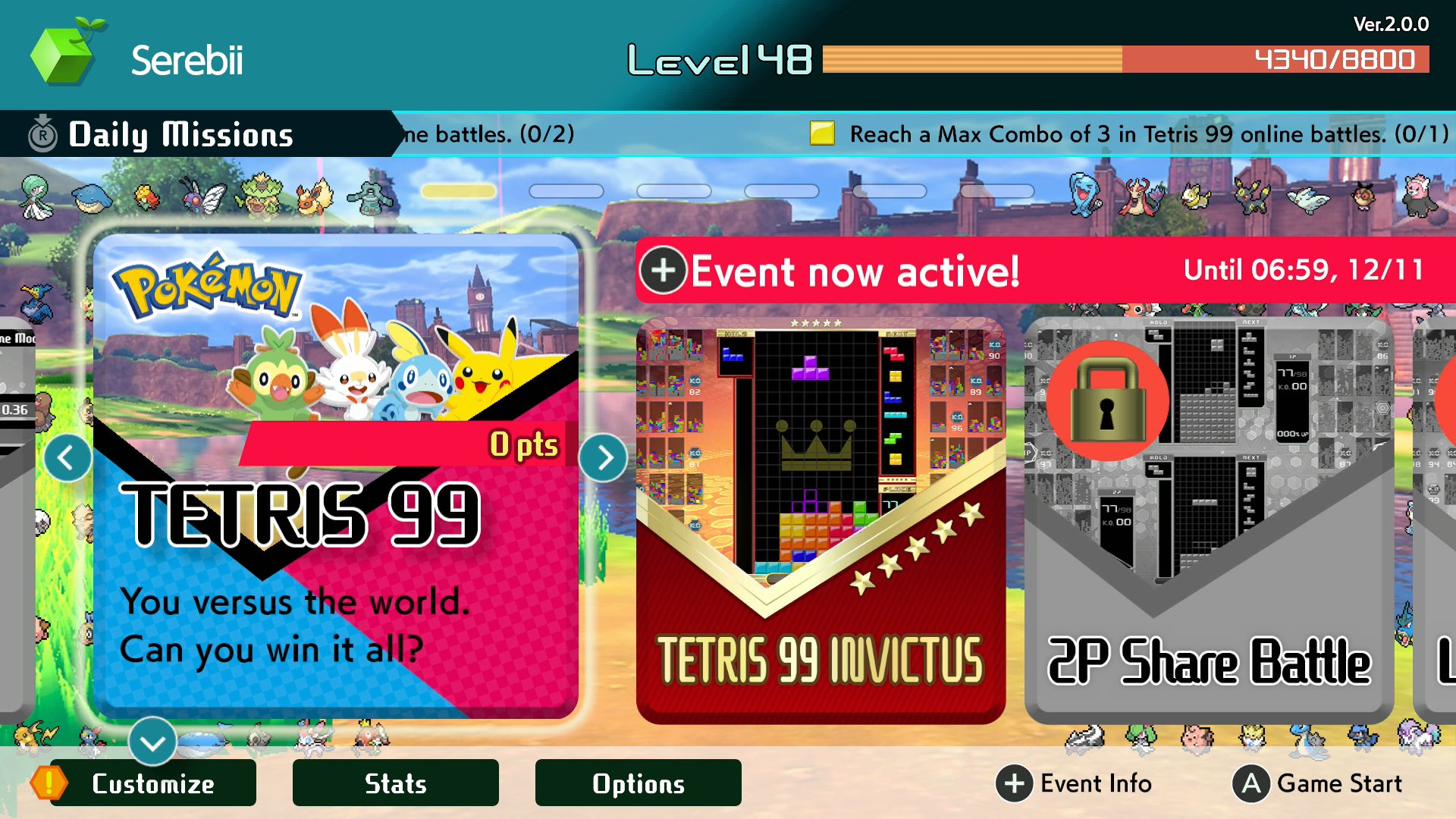 The Tetris 99 Pokémon Sword & Shield promotional event is now live until 06:59 UTC on November 11th. A special Tetris 99 Maximus Cup based on Pokémon Sword & Shield is now playable. Players can earn the theme based on the Wild Area with Pokémon music if they achieve 100 Points during the special event by ranking in various matches. Once obtained, players will be able to use it forever.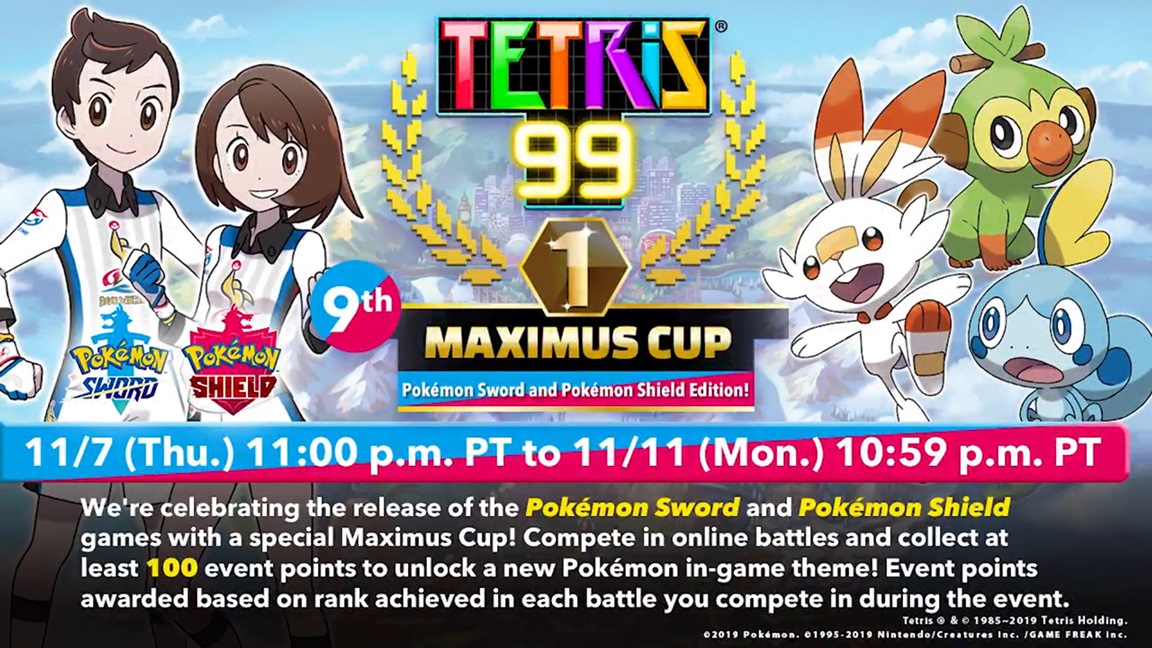 Nintendo will soon be kicking off a new game-themed Maximus Cup for Tetris 99. Next week, Pokemon Sword/Shield will be featured. Those who earn 100 points can earn a special theme.
The event will run between November 7 and November 11. Find a video showcasing the Pokemon Sword/Shield theme below.
Before you set off on your grand adventure in the Galar region, play in this special #PokemonSwordShield themed #Tetris99 MAXIMUS CUP! Earn at least 100 event points to get this custom theme. @Tetris_officialhttps://t.co/jrWEmtmcey pic.twitter.com/vsupyEejoF

— Nintendo Versus (@NintendoVS) November 1, 2019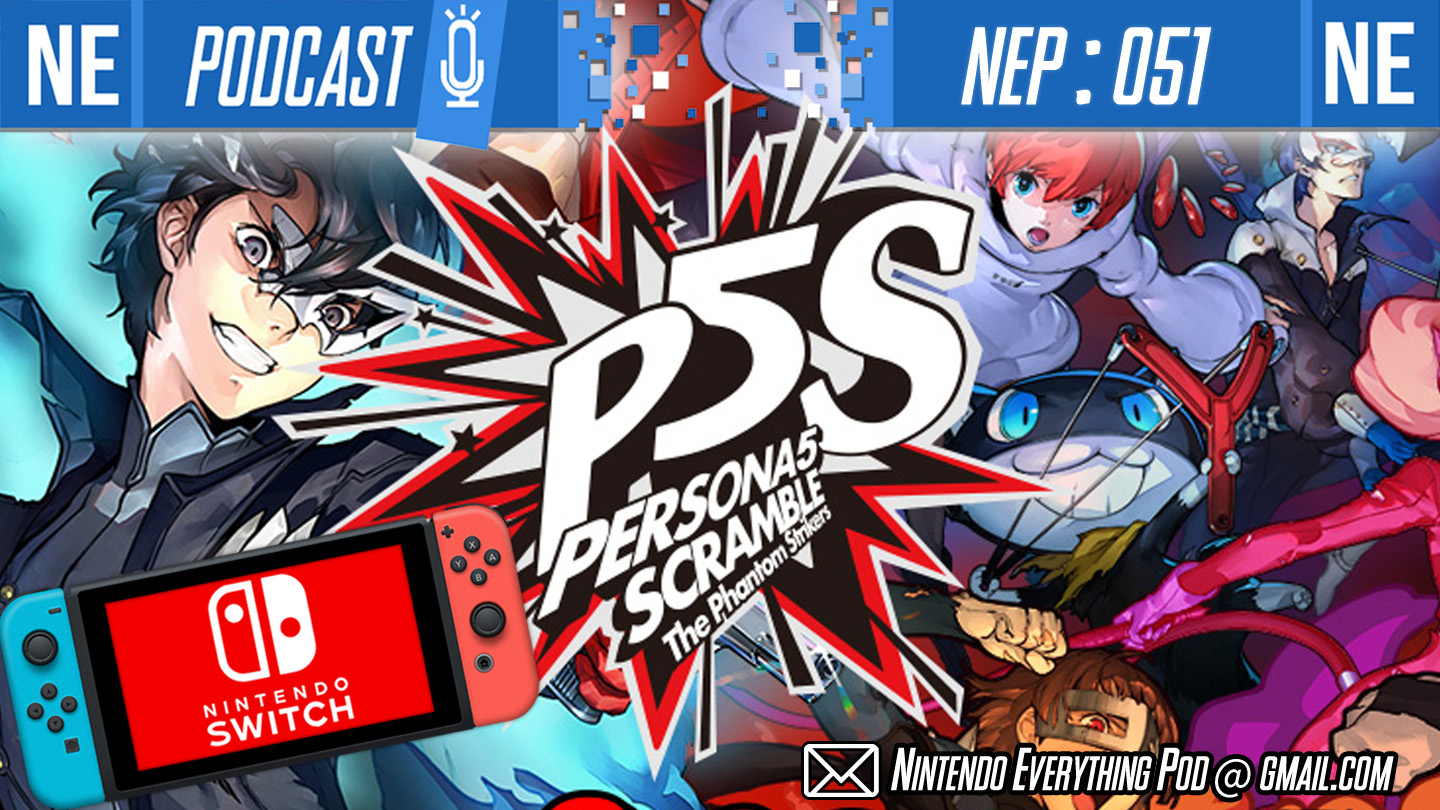 Hello, my phantom thieves! This week on NEP, we're introducing our Fallout 76 inspired subscription membership service: Nintendo Everything Podcast 1st. It just works! Then we comb over all the details of Persona 5 Scramble, which Galen has a "Revelation" about… Oni isn't pleased, but quickly regains happiness as the gang discuss Swery and Suda51's new collab project. And, of course, the weekly dose of Pokemon gets added to the mix, as well.
If you're enjoying NEP, please consider giving us a 5 star review on Apple Podcasts, aka new iTunes. It's incredibly helpful in getting us exposed to new listeners through algorithms, so we would greatly appreciate your help. Thank you for listening!
This week, the podcast is sponsored by Koei Tecmo. Check out Atelier Ryza: Ever Darkness & the Secret Hideout, releasing on Nintendo Switch October 29th in North America, November 1st in Europe.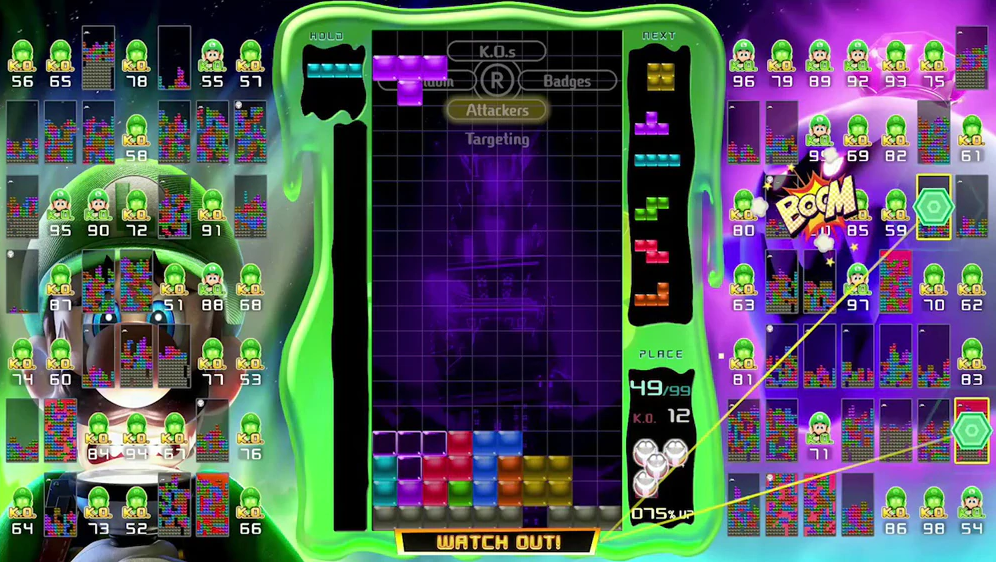 The next Tetris 99 online event has been announced. In its eight installment, the Grand Prix / Maximus Cup will once again be a collaboration with another first-party Nintendo game – this time with Luigi's Mansion 3. As per usual, if you earn at least 100 points during the event, you will get a special Luigi's Mansion 3 theme (the same theme that'll be active during the event). The event will run from October 25 till October 29.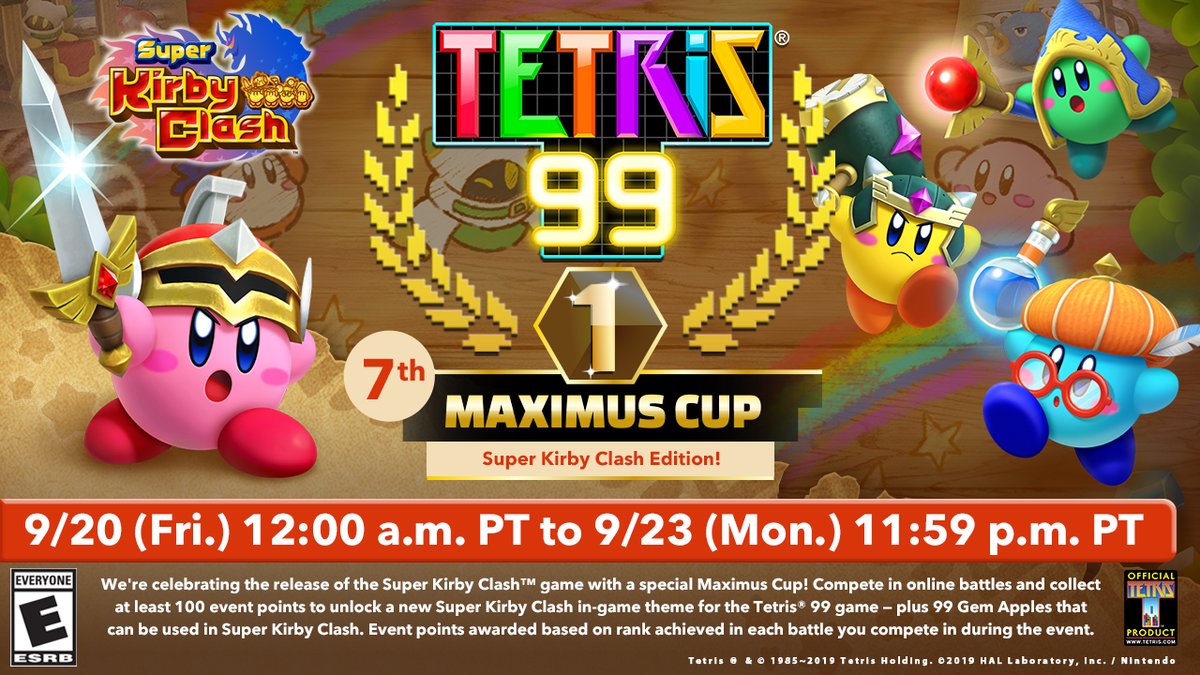 Nintendo has announced another Maximus Cup for Tetris 99. The latest event is promoting Super Kirby Clash.
If you earn 100 event points, you'll receive an in-game theme. Players will also be given 99 Gem Apples for use in Super Kirby Clash.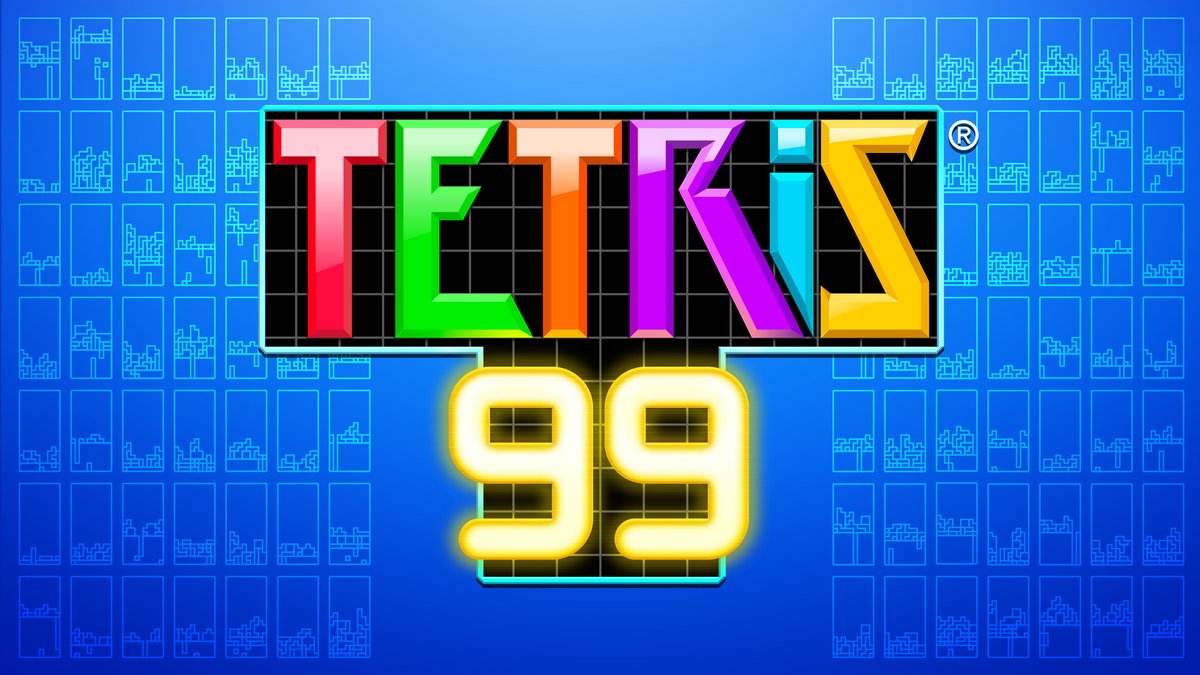 Thanks to GameXplain, we have a look at the new 2.0 update for Tetris 99. Have a look at the footage in the video below.