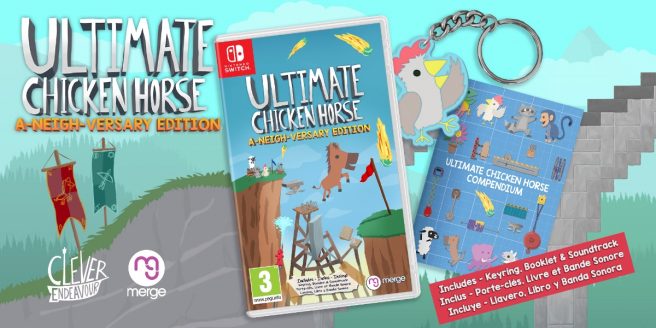 Today, Merge Games announced a new partnership with Clever Endeavour Games. The two sides will be releasing a physical version of Ultimate Chicken Horse on Switch for the first time.
The Ultimate Chicken Horse "A-Neigh-Versary" Edition includes the game and extra goodies. Buyers will receive a chicken keyring, a digital soundtrack code, and an Ultimate Chicken Horse Compendium booklet which will help players keep track of all their unlocked characters, outfits and levels as they play. It contains all of the currently available Ultimate Chicken Horse updates on the game cart, including: Elephantastic, Chimply Amazing, Transformidable and the A-cobra-tic updates.
The physical version of Ultimate Chicken Horse is planned for October.
Source: Merge Games PR