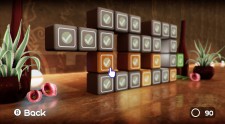 6 hours ago
By
Brian
(
@NE_Brian
)
1 Comments
Hey all, it's Brian and Austin from Nintendo Everything here to re-welcome Manfred from Shin'en back with yet another screenshot from the upcoming Wii U release of Art of Balance! He's got plenty to say about what graphical details they're implementing for the menus in the game, so revel in the relaxing room where you select your levels and read up about how it came to be below! Unless you'd rather simply revel at the picture. That's okay too.
Hi guys, it's Manfred from Shin'en again with another fresh shot from Art of Balance Wii U. This time we'll show you one of the the level selection screens.

When developing the original game on Wii, we realized that a simple 2D grid would be good enough for a level select menu, but that in itself was too boring. So we came up with the idea of stacked boxes in a lush 3D environment. We think coming back to the this beautiful menu gives players a nice break after solving a level. On Wii U, we had tons of performance to waste on this screen so we implemented quite a number of effects.