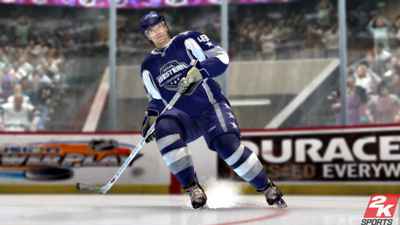 Nintendo Wii fans have not seen a true hockey game for the Wii, nor a superb baseball title. This may be changing in the future, as it appears that the 2K series will be representing the two sports on the console. Of course, nothing can be confirmed at this moment, but any glimmer of hope that two new possible sports titles could be heading to the Wii is great.


Wii Fit
– Best Buy: Wii Fit stands completely sold out
– GameStop: Same story
– Been on BBC news, MTV, Good Morning show, Ellen
– Matt believes that long term, Wii Fit will be huge – not sure if it can sell as much as GTAIV
– Amazon, retailers in general sold out
– Matt has Wii calisis on his palms
Emergency Heroes
– Straightforward racing game, semi-open world
– Decent physics system, good speed and controls
– Framerate jumps sometimes
– Voice-overs are awful
– Overall seems decent

Dr. Mario Online Rx
– Online mode is fun, but only two player
– Virus buster is great – use Wii pointer to grab pills, set up combo for other friend – not online
– Must-get WiiWare title
Wii hard drive rant
– Matt & Bozon complain a lot about storage problem
– Even if Nintendo doesn't want to support SD cards, there are two USB ports for a hard drive
– Matt doesn't know if there's a solution coming
– Devs been saying that there's no signs of hard drive in the future, has Matt disturbed
– Even nongamers are getting sick of storage situation
– In 6-7 months, even if someone doesn't buy too many games, they'll fill up their space


Madden NFL 09
– Controls tweaked, less gestures
– Call Your Shots feature – draw path for player to follow
– Vibrant, arcade graphics
– With All-Play turned on: "Controls are simpler, the playbook is slimmed down, and potential annoyances such as the playclock are turned off." Also, when running the ball, there is a better chance of avoiding the first tackle
– 5-on-5: "Backyard styled graphics and gameplay" – big heads, backyard rules
– Updateable rosters probable, live scores from NFL games, leaderboards, more online functions
– John Madden + Al Michaels doing the commentary
– Miis will show up: "Refer-Mii"
FIFA 09
– All-Play assists new players (like the other EA titles)
– Classic, GameCube, Wii controller (with pointer/regular method), Wiimote + Nunchuck controller options
– Footii Party: Minigames + New Footii Match
– Support over 500 teams, 14,000 players with appropriate attribute + stats
– Online: Interactive Leagues, see the control set up of opponents before matches




Reader's Most Wanted
1) Earthbound
2) Mother
3) Super Mario RPG: Legend of the Seven Stars
4) Chrono Trigger
5) Tie: The Legend of Zelda: Majora's Mask/Super Smash Bros.
NP Staff's Most Wanted
1) Mega Man: The Willy Wars
2) Terranigma
3) Super Mario All-Stars
4) Super Punch-Out!!
5) Super Mario RPG: Legend of the Seven Stars
So, Nintendo – When will you finally give in to the demands of gamers and release Earthbound on the VC?


Boom Blox (Wii) – A+, A, A
Wii Fit (Wii) – B+, B-, B
Hail to the Chimp (Multi) – B+, C+, C+
Dragonball Z: Burst Limit (Multi) – C+, B+, B
Lego Indiana Jones: The Original Adventures (Multi) – B, B, B
Hellboy: The Science of Evil (Multi) – C-, D, C
Gran Turismo 5: Prologue (PS3) – B+, C+, B+
Operation Darkness (360) – C+, D, D-
Etrian Odyssey II: Heroes of Lagaard (DS) – A, B+, B
Final Fantasy Tactics A2: Grimoire of the Rift (DS) – B-, B-, B
Secret Agent Clank (PSP) – C+, B, B-
Space Invaders Extreme (DS) – A-, B+, B+
Arkanoid DS (DS) – B+, B-, B-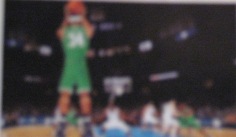 – Classic visual style
– Wii controls supposed to mimic the moves of players in real life
– Dribble moves, shot fakes, blocks executed with Wiimote movements
– Gesture system more in-depth than last year, system has been tweaked
– Recognition rate, response time improved for controls
– Classic mode: Hold Wii controller sideways
– Mii characters will inform you about a double team, tell you when you're close to a dunk, tell you when it's best to take a jump shot
– Visual characteristics slightly exaggerated to determine who is who on court
– 2-on-2 mode: "Oversized players and absurd backboard-shattering jams"
– Minigames with Miis to be included
– Online functions streamlined
– 24 international teams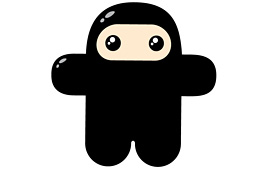 – Goal: Prevent Wee Devils from reaching town gate
– Main defense are ninja huts that you construct
– Many varieties of huts which produce ninjas
– Wee Devils come in different forms
– Usually you must pit one of your ninjas against a Wee Devil for the best results
– Anti-Ninja: Breaks through defenses but are slow
– White Ninja: Freezes enemies
– Baker Ninja: Bakes ninja-star cookies (the currency of the game)
– Progress through the game to unlock more ninjas
– Cookies can upgrade huts or build modifier buildings(ex: dojo, temple)
– Dojo increases power of ninjas in adjacent huts
– Temple speeds up time that you can call on Master Ninja for great powers (Hickory Lunge – inflict heavy damage, Get Off My Lawn – blow into mic to send enemies flying)


– Activities similar to Xbox 360 version, but with touch screen controls
– Ex: Draw grass with grass-seed packet, whack something with shovel
– Tickle piñatas to make them happier
– Use shovel to remove litter/rubble to make garden more open to others
– First visitor is Whirlm – If you build a house and there are two Whirlm characters, they will "romance each other"
– Hire Willy Builder to construct houses
– Tap on one Whirlm, drag to other to initiate mating – dancing cut-scene ensues, another Whirlm becomes available at Storkos, the egg-deliverer
– Whirlms bring in the Sparrowmints
– Dead piñatas turn into candy
– Grow vegetables or purchase them – growing is cheaper but longer
– Seedos comes occasionally and offers free seeds
– Can sell excess crops for chocolate points to buy new objects to attract other piñatas, improve garden
– Playground mode: Garden created for you, build anything, attract piñatas without chocolate coins
– Jeli piñata hinted to be in the game
– Can send piñatas and other things to friends (local Wi-Fi)
– No downloadable content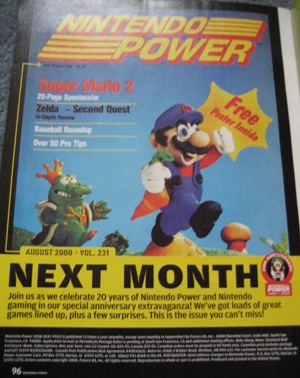 The blurb at the bottom says, "Join us as we celebrate 20 years of Nintendo Power and Nintendo gaming in our special anniversary extravaganza! We've got loads of great games lined up, plus a few surprises. This is the issue you can't miss!"
More surprises, eh Nintendo Power? Well, I hope the surprises in the next issues are actually surprising!