Nintendo will begin offering a bunch of DS Lite bundles in the UK this October. A white or black system, along with the bundled Brain Age, for 120 GBP. There is also the option of purchasing a red DS with Big Brain Academy, also for the 120 GPB. Last but not least, the pink DS Lite bundle comes with Nintendogs: Labrador and Friends (130 GBP) while the blue DS Lite comes with a copy of Cooking Guide: Can't Decide What to Eat? for 130 GBP.


Lithium Polymer Batteries Provide up to 25 Hours of Battery Life per Charge

Albuquerque, NM (September, 2008) – Video game accessories have just reached a new stage of technological innovation with the introduction of TeknoCreations's InCharge remote charger for Nintendo™ Wii™. Designed to charge one or two Wii remotes, the InCharge is the first and only charging station that will power Wii remotes without having to remove Silicon skins or most other similar protective covers.
Using the power of Lithium Polymer battery packs, the InCharge for Wii provides up to 25 hours of battery life on a full charge and is 50% lighter than other charge solutions for Wii. Likewise the InCharge, which retails for $34.99, uses a contactless inductive charging solution rather than metal contacts to charge each Wii remote. With the InCharge, gamers can save money on batteries as well as eliminate complications that arise from dirty or greasy battery contacts that occur with other Wii chargers.
"The InCharge is a powerful and effective tool that every Wii fan can benefit from," commented Mark Kasok, TeknoCreation's VP of Sales and Marketing. "Our designers have completely eliminated the metallic contact points that always seem to fail over time due to excessive accumulation of dirt, grime, sweat and grease. And gamers no longer have to constantly remove and replace their protective remote skins. Simply drop the Wii remote into the cradle and it will quickly recharge for up to twenty five hours of gaming." Continued Kasok: "The InCharge is the most convenient, cost-effective and technologically advanced charging station available to Wii fans."
InCharge Product Highlights:
• Charges through Nintendo Silicon skins and most other protective skins
• Uses Lithium Polymer Batteries for increased charging power and reliability
• Charge up to two Wii remotes simultaneously
• Non-metal conductive charging solution (charge not effected by dirt or grime)
• Up to 25 hours of battery power per charge
• Rapid recharge solution
• 50% lighter than other charging solutions
• Easy to read LED charge indicator lights
• Easy to clean and saves on battery cost


GameStop offers preorder deal to celebrate console debut of "gaming's first sitcom"
SAN RAFAEL, September 17, 2008 – Telltale and The Adventure Company are announcing that the highly-anticipated Sam & Max Season One for Wii™ will be in retail stores across North America starting October 7. Thanks to this console debut, for the first time Telltale's award-winning comedy series can be enjoyed in the comfort of the living room, bringing you closer than ever to the experience of playing your favorite television show.
The Sam & Max series is structured like a TV series, with self-contained episodes that tie into a larger overarching storyline as the season progresses. The Wii version collects the first six-episode "season" of Sam & Max games on one retail disc. In Season One, straight-laced canine detective Sam and his psychotic "rabbity-thing" sidekick Max are on the hunt for the mastermind behind a baffling hypnosis conspiracy. Players get to interrogate suspects (with amusing results), uncover clues, solve puzzles, and ultimately piece together the underlying mystery that links the episodes.
The story-focused gameplay and simple "point and click" interface have a low learning curve, and a new tutorial ensures that even players new to the Sam & Max experience will be up to speed in minutes. Sam & Max Season One for Wii also has a few technical improvements over the PC original, including widescreen support.


1. [NDS] Pokemon Platinum (Nintendo) 963,000 / NEW
2. [NDS] Quiz Magic Academy DS (Konami) 119,000 / NEW
3. [360] Infinite Undiscovery (Square Enix) 90,000 / NEW
4. [WII] One Piece Unlimited Cruise: Episode 1 – Nami ni Yureru Hihou 61,000 / NEW
5. [NDS] Rhythm Tengoku Heaven (Nintendo) 56,000 / 723,000
6. [WII] Wii Fit (Nintendo) 25,000 / 2,635,000
7. [PS2] D.Gray-man: Sousha no Shikaku (Konami) 15,000 NEW
8. [WII] Mario Kart Wii (Nintendo) 14,000 / 1,762,000
9. [NDS] Daigasso! Band Brothers DX (Nintendo) 14,000 / 340,000
10. [PS2] J-League Winning Eleven 2008 Club Championship (Konami) 13,000 / 148,000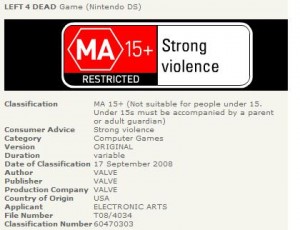 So here's something interesting. The OFLC has rated Left for Dead on the DS. As far as gamers know, the only Left for Dead game is available only on the Xbox 360. The OFLC has given the game a MA 15+ rating and was filed by EA on September 17th. If this is true, I'd assume that the game would be a port. Wait, is this really true?!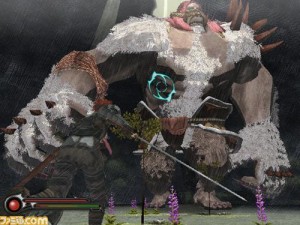 When asked about the likelihood of bringing Kizuna over to North America, an XSEED Games representative explained that the company "will definitely look into it." So, it looks as though XSEED is interested in releasing the game in other territories. Kizuna has already received accolades for its art style. The title is set to release this Winter in Japan.


TimeSplitters 4 could truly end up on any console. The previous TimeSplitters title ended up on the Xbox, PS2, and GameCube, so it is more than likely that Free Radical will follow up with a 360, PS3, and Wii release for TimeSplitters 4. However, Free Radical wants to know what the fans are interested in – A poll is up and running on the company's website and is asking which console people wish to play the next TimeSplitters game on. As of the time of writing, the Wii is leading the poll with 65% while the PS3 and 360 are trailing with about 15% each. This poll could end up as being superfluous if Free Radical makes the decision to release TimeSplitters 4 on all platforms, but it would be interesting to know if the results will influence the development of the game in one way or another.
Thanks to Fernando for the news tip!