1 1 WII FIT NINTENDO NINTENDO NINTENDO
– 2 THE GODFATHER II EA REDWOOD SHORES EA GAMES ELECTRONIC ARTS
9 3 MARIO & SONIC AT THE OLYMPIC GAMES SEGA SEGA SEGA
2 4 RESIDENT EVIL 5 CAPCOM CAPCOM CAPCOM
3 5 FIFA 09 EA CANADA EA SPORTS ELECTRONIC ARTS
5 6 CALL OF DUTY: WORLD AT WAR TREYARCH ACTIVISION ACTIVISION BLIZZARD
7 7 PROFESSOR LAYTON AND THE CURIOUS VILLAGE LEVEL 5 NINTENDO NINTENDO
14 8 WII PLAY NINTENDO NINTENDO NINTENDO
12 9 MARIO KART WII NINTENDO NINTENDO NINTENDO
6 10 STREET FIGHTER IV CAPCOM CAPCOM CAPCOM


"The amount sold in March will be a direct reflection of the current demand levels for the Nintendo Wii, which appears to still be considerably strong. While for most consoles this demand level would normally decrease over time and be revived via a price cut, we do not believe this is the case with the Nintendo Wii. We expect sales to remain strong from month-to-month and any dip in demand will be rejuvenated with the release of highly anticipated titles such as EA Active, Punch-Out and the release of the Wii Motion Plus accessory." – Analyst Jesse Divnich from the Electronic Entertainment Design and Research
EEDAR Hardware Estimates
Wii – 900,000 (24.83%)
DS – 700,000 (0.29%)
Xbox 360 – 395,000 (50.76%)
PS3 – 300,000 (16.73%)
PSP – 250,000 (5.82%)
Total 2,545,000 (13.87%)


Wireless Service Beams ESPN Content to Nintendo DS Systems

REDMOND, Wash. – April 13, 2009 – During the baseball season, Nintendo will offer Seattle Mariners fans and visitors to Safeco Field new ways to enjoy America's favorite pastime. To enliven the fan experience, Nintendo has joined forces with ESPN® to deliver enhanced interactive features to the Nintendo® Fan Network, including ESPN's up-to-the-minute news and analysis, as well as closed-captioning of PA announcements. The entire experience is delivered to fans' Nintendo DS™ systems through an exclusive Wi-Fi network. Since it debuted in 2007, the Nintendo Fan Network has provided stadium-goers the ability to access information, chat with other fans and even order concessions by using Nintendo DS systems.

Via the Nintendo Fan Network, ESPN will deliver fans Mariners-related news, general sports news and headlines, fantasy sports news and updates, baseball columns from ESPN's leading columnists, and ESPN Zoom Game, a photo-matching game for sports.


Nintendo Download

Pirates and Pitfalls Send Masterful Mixed Messages

The new Nintendo DSi™ system has been on store shelves for just a week now. Today Activision's Mixed Messages™ becomes the first third-party downloadable game for the new system. Mixed Messages is a game of electronic telephone that can accommodate a whopping 21 players. On the WiiWare™ side, fans will find a game based on the popular Pop-Up Pirate™ toy that might have players sticking virtual swords into their Mii™ characters. And classic character Pitfall Harry Jr. makes his debut on the Virtual Console.

Nintendo adds new titles to the Nintendo DSi Shop and the Wii Shop Channel at 9 a.m. Pacific time on Mondays. Users with a high-speed Internet connection can redeem Wii Points™ or Nintendo DSi Points™ to download the games. Wii Points can be purchased in the Wii Shop Channel. Nintendo DSi Points can be purchased in the Nintendo DSi Shop. A Nintendo Points Card™ can be purchased at retail locations. All Nintendo Points from one Nintendo Points Card must be redeemed in either the Wii Shop Channel or the Nintendo DSi Shop. They are not transferable and cannot be divided between the two systems. This week's new games are:






Rock Band 2 (Wii) – 92%
Rhythm Paradise (DS) – 82%
Disgaea DS (DS) – 88%
Lux-Pain (DS) – 76%
Valkyrie Profile Covenant of the Plume (DS) – 85%
Rhapsody: A Music Adventure (DS) – 81%
Final Fantasy Crystal Chronicles: Echoes of Time (Wii/DS) – 75%
Little King's Story (Wii) – 92%
MySims Party (DS) – 61%
EA Sports Football Academy (DS) – 50%
Suikoden Tierkreis (DS) – 81%
Ultimate Band (Wii) – 59%
Thanks to Jake for the news tip.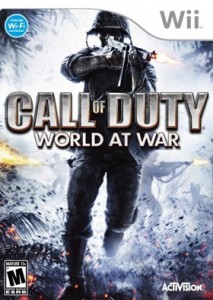 Game Info
System: Nintendo Wii
Genre: First Person Shooter/Action
Players: 1-2
Release Date: November 11, 2008
Publisher: Activision
Developer: Treyarch
The plethora of Wii games has grown ever since the console's release, but one genre more than any other seems to have suffered on a system where it should have benefited from the unique control scheme: Shooters. From Metroid Prime 3 to Medal of Honor Heroes 2, the Wii has seen many attempts at making a quality shooting game. With the Wii, however, when developers excelled in one area, they lacked in another. EA's Medal of Honor Heroes 2 had some quality online multiplayer, but felt all over dated in comparison to more current shooters. Retro Studio's Metroid Prime 3 had great story, control and graphics, but it lacked online and multiplayer options – though it should also be remembered that Prime 3 is an adventure at heart. The newest installment in the shooter genre on the Wii is Treyarch's "Call of Duty: World at War", which, utilizing the Call of Duty 4 engine, has proven itself to be one of the best shooting options on the console to date.
There is no one thing that stands out about World at War because the game is so well rounded. From the graphics to the controls to the online, each and every aspect of the game trumped nearly every predecessor on the system to date (with the exception being the story and graphics of Metroid Prime 3). One thing players will notice upon first glance, are the visuals.




We haven't had a "real" site update in awhile, so I thought this would be the perfect day to fill you all in regards to what we have planned for the next few weeks/what's been going on.
There are a few things that you'll be able to see on the site today. Another review from Austin will be going up as well as the first of my "Rambling thoughts" articles. Like the name implies, I'll be discussing (or rambling on) about a particular topic relating to video games. It may be related to a specific game, a genre, anything video game related really…Whatever is on my mind!