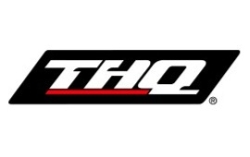 "With a tough Pixar comparison to Cars [Ratatouille] and new competition from Nintendo's first-party titles – as well as new music games – our traditionally strong kids' business did not meet expectations." – Brian Farrell, THQ President/CEO
Although I do agree Nintendo may have caused THQ to lose out a bit on sales, THQ did not exactly release many titles that match Nintendo's quality and polish of their games. On the other hand, it has been proven that sometimes, even if excellent titles are released into the market, the sales will not always be fantastic.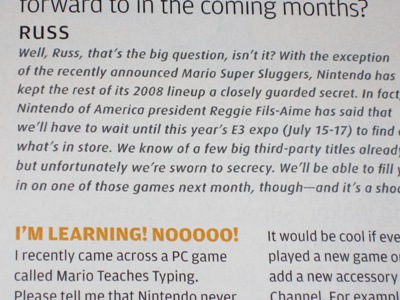 In response to a reader mail question about upcoming games the reader mail editor is interested in, Nintendo Power writes, "…We know of a few big third-party titles already, but unfortunately we're sworn to secrecy. We'll be able to fill you in on one of those games next month, though – and it's a shocker!" If this is to be believed, rumors that the moon features hints of Earthbound, Majora's Mask, and other titles developed by Nintendo can be ruled out. However, on the last page of Nintendo Power, the preview notes did mention that magazine will have "a surprise or two." So, although the main surprise in next month's issue appears to be a third-party title (if it wasn't, why would Nintendo Power be providing hints?), there is still a chance that an additional game may be revealed. Essentially, it all depends on how you interpret the preview notes for the next issue.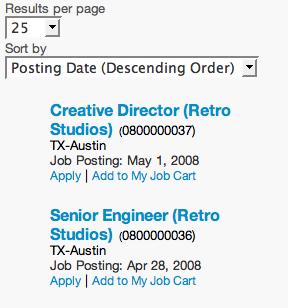 It wasn't a good sign that some of the most important staff members were leaving Retro, but this should be an indication that the company will remain intact.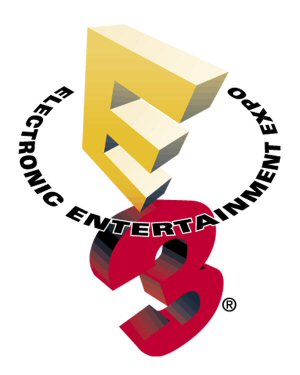 * Akella
* Atari Inc.
* CAPCOM Entertainment, Inc.
* Codemasters
* Crave Entertainment
* Crave Entertainment
* Disney Interactive Studios
* Eidos, Inc.
* Electronic Arts
* Konami Digital Entertainment America
* LucasArts
* Microsoft Corporation
* Midway Games, Inc.
* MTV Games
* NAMCO BANDAI Games America Inc.
* Nintendo of America Inc.
* SEGA of America
* Sony Computer Entertainment America, Inc.
* Sony Online Entertainment Inc.
* Square Enix Inc.
* Take-Two Interactive
* THQ, Inc.
* Ubisoft Entertainment Inc.
Activision will not be attending, though the company has confirmed that a special event of its own will be taking place during the E3 time frame.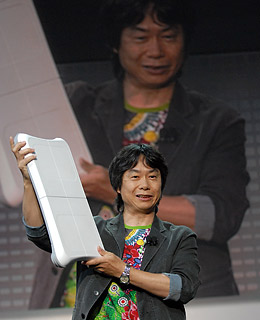 For more than a few weeks, Time Magazine has been hosting a poll on its website to determine the most influential person of 2008. Now, the voting has ended and the dust has settled. Immediately, Shigeru Miyamoto would come to the mind of any video gamer as being influential for his innovative ideas. Miyamoto was riding in the #2 slot for a number of days, but eventually outperformed Rain – last year's winner – by 4 points. Last year, Miyamoto was voted the ninth most influential person. This year, however, the Wii's continued success, coupled with the fact that Miyamoto is a very respected member of the video game industry, helped boost his point total. Congratulations to Mr. Miyamoto!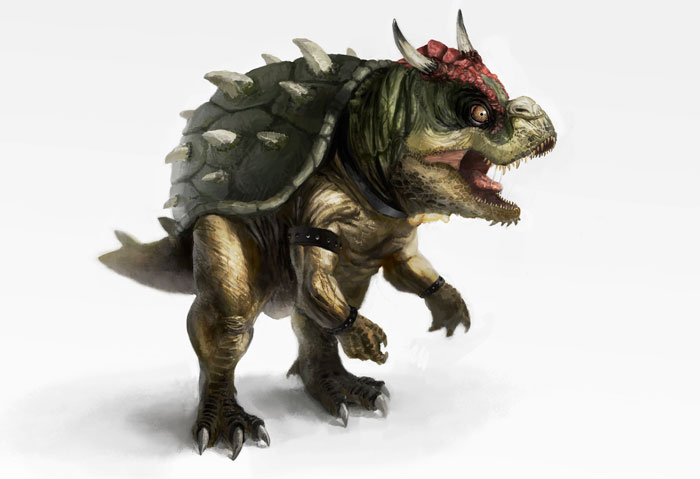 Many were both disturbed and impressed with the realistic Mario someone created a few weeks back, and one person in particular was inspired to take on another similar challenge. The artist modified some of Bowser's proportions, but maintained his overall look. Still, this Bowser is more threatening, slender, and more reminiscent of a dinosaur. Quite impressive!


Earlier today, Famitsu hosted an award show for 2007. Unsurprisingly, Miyamoto took top honors in the "Most Valuable Person" category, most likely for the phenomenal success of Wii Fit, and cult classic hits such as Super Mario Galaxy. In addition, Nintendo in general won many awards with titles such as The Legend of Zelda: Phantom Hourglass and Mario Party DS.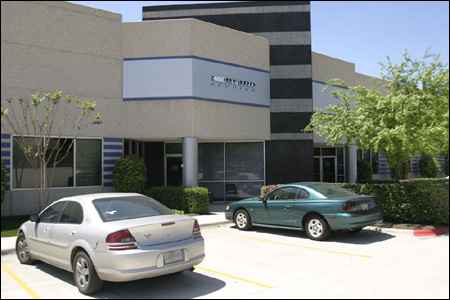 A rumor that three notable staff members of Retro Studios left the company was finally confirmed to be true by IGN. Mark Pacini, a lead designer, engineer Jack Mathews, and art director Todd Keller have left Retro for unknown reasons. In spite of this unfortunate news, Retro Studios will continue to develop Wii titles without these important staff members. IGN notes that Pacini, Mathews, and Keller may departed in order to create a new studio.