A few days ago, a story about a woman who jammed three credit cards in her Wii were made public. Some people – though not everyone – doubted that anyone would be that silly to actually break their system in such a way. Well folks, now there are pictures. We admit, they're not entirely conclusive. However, this is the best evidence you'll be able to see. And I still don't think anyone would ever lie about a situation like this…There's just no reason to.


1. Toyota Motors: 10.160 trillion yen
2. NTT Docomo: 7.915 trillion yen
3. Mitsubishi UFJ Financial Group: 6.5109 trillion yen
4. Nintendo: 4.7813 trillion yen (US$52,732,987,757.80)
5. Tokyo Electric: 4.586 trillion yen
6. Takeda Pharmaceutical Company: 3.7823 trillion yen
7. Canon: 3.6945 trillion yen
8. Honda: 3.4971 trillion yen
9. JT: 2.95 trillion yen
10. KDDI: 2.8478 trillion yen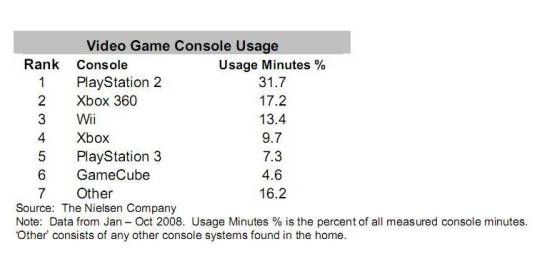 According to 2008 data from the Nielsen Company, the Xbox 360, PS3, and Wii are not the most used console in terms of usage minutes. Sony's PS2 actually leads the way and commands 31.7% of total minutes spent. Strangely, only about 38% sessions are spent on next-gen systems.
Two other relatively old systems – the Xbox and PS3 – are hanging in as well. The GameCube stands at the end of the pack with 4.6% of usage minutes, but the original Xbox stands at 9.7% which is a bit more than the PS3.
The complete standings are as follows: PlayStation 2 (31.7%), Xbox 360 (17.2%), Wii (13.4%), Xbox (9.7%), PlayStation 3 (7.3%), GameCube (4.6%), Other (16.2%).
Some of this data might be related to the number of consoles sold. The PS2 commands the majority yet isn't really considered a next-gen system. One possible case could relate to the install base behind the console. The same goes for Wii – There's a good chance that most casual gamers own the Wii, so they're probably not going to sink their teeth into a huge adventure like Zelda or Super Mario Galaxy. Of course, none of these assumptions/guesses have been proven to be correct.


VC

1 (1) – Super Mario Bros. 3
2 (2) – Super Mario Bros.
3 (4) – Super Mario World
4 (3) – Sonic the Hedgehog 2
5 (6) – The Legend of Zelda
6 (10) – Pac-Man
7 (8) – Super Mario Bros. 2
8 (9) – Super Mario 64
9 (5) – Punch-Out!!
10 (11) – Mario Kart 64
11 (7) – Super Mario RPG: Legend of the Seven Stars
12 (12) – The Legend of Zelda: Ocarina of Time
13 (13) – Donkey Kong Country
14 (14) – Donkey Kong
15 (15) – Tecmo Bowl
16 (18) – The Legend of Zelda: A Link to the Past
17 (16) – Sonic the Hedgehog
18 (19) – Excitebike
19 (N/A) – Paper Mario
20 (17) – Secret of Mana
WiiWare
1 (1) – World of Goo
2 (2) – Tetris Party
3 (3) – My Aquarium
4 (5) – Dr Mario Online Rx
5 (4) – Target Toss Pro: Bags
6 (N) – Fun! Fun! Minigolf
7 (20) – Tiki Towers
8 (7) – Defend your Castle
9 (14) – My Pokemon Ranch
10 (9) – Mega Man 9
11 (6) – Brain Challenge
12 (10) – Midnight Bowling
13 (12) – Bomberman Blast
14 (15) – Wild West Guns
15 (13) – TV Show King
16 (19) – Final Fantasy Crystal Chronicles: My Life as a King
17 (17) – Pong Toss – Frat Party Games
18 (8) – Space Invaders Get Even
19 (16) – Sudoku Challenge
20 (11) – Strong Bad Episode 5: 8-Bit Is Enough


Videos
Fred Willard Holiday Cooking Special
2008 Most Viewed Video Ranking: Top 30 – 21
2008 Most Viewed Video Ranking: Top 20 – 19
2008 Most Viewed Video Ranking: Top 10
Wii Speak Channel Info Video
My Fitness Coach Info Video
Blue Dragon Plus Video 2
Developer's Voice: Ninjatown
Clone Wars DS Saga TV Spot
Age of Empires: Mythologies Video 4
Elebits: The Adventures of Kai and Zero Video
Soul Bubbles Bird Mask Video
Wario Land: Shake It! Tips 3
FIFA Soccer 09 All-Play Video 3
Maboshi's Arcade Info Video
Pool Revolution Info Video
Digest Video
Demos
Personal Trainer: Cooking Mac & Cheese Demo (Expires 1/04)
Mystery P.I. – Portrait of a Theif (Expires 1/11)
Elebits: The Adventures of Kai and Zero (Expires 1/11)
Spectrobes: Beyond the Portals (Expires 1/4)
Dragonball: Origins Demo (Expires 1/4)
Ninjatown Demo (Expires 1/4)


1. Dragon Quest IX (NDS, Square Enix)
2. Final Fantasy XIII (PS3, Square Enix)
3. Biohazard 5 (PS3, Capcom)
4. Monster Hunter 3 (Wii, Capcom)
5. Dragon Quest VI (NDS, Square Enix)
6. Amagami (PS2, Enterbrain)
7. Star Ocean: The Last Hope (360, Square Enix)
8. Final Fantasy Versus XIII (PS3, Square Enix)
9. The Last Remnant (PS3, Square Enix)
10. Ryuga Gotoku 3 (PS3, Sega)
11. Street Fighter IV (PS3, Capcom)
12. Seventh Dragon (NDS, Sega)
13. Ninokuni: The Another World (NDS, Level 5)
14. Gyakuten Kenji (NDS, Capcom)
15. Final Fantasy Agito XIII (PSP, Square Enix)


Aesthetic changes
* Lucas, Dawn, and Pearl have different outfits designed for colder weather, as the entire Sinnoh region has dropped in temperature.
* The template for the level, HP, and name of Pokémon in battle is a dark gray instead of white and its shape has changed.
* The Pokétch has been redesigned. Players can now move up and down between apps instead of having to go through all of them to return to a previous one.
* Some of the moves have been redesigned and have a different animation, such as Razor Leaf.
* When Pokémon are sent out from their Poké Balls, their back sprites now animate much like their front sprites have since Emerald Version. Front sprites for Generation IV Pokémon and other Pokémon in the Sinnoh Dex have also changed.
* When battling certain Trainers such as Gym Leaders and Pearl, their sprites are now animated to move in the same manner as Pokémon.
* Some trainers now use seals when sending out some of their Pokémon.
* The Eterna, Hearthome, and Veilstone Gyms have all had complete redesigns in the interior.
* Gym Leader closeups, just before a Gym battle, have been changed from enlarged sprites to higher-quality drawings and the terms VS. The Elite Four now also has this but it includes the player on the left side of the VS. and the Elite Four member on the right of the VS.
* The rooms where the player battle the Elite Four have been redesigned. Aaron now has logs and foliage in his room. Bertha now has rocks in her room. Flint now contains lava pits in his room. Lucian's room has only had minor changes to now include four large lights or glowing orbs on the floor. Cynthia's room has changed its color scheme and the lift leading up to the Hall of Fame is now partially contained. The Pokémon Center at the Elite Four has also been redesigned.
* When entering new areas, the location 'labels' on the top-left corner have been redesigned, much like they were between Pokémon Ruby and Sapphire and Pokémon Emerald.
* All gyms now only have Pokémon of their type specialty.