"Major League Eating: The Game" Launches Monday, July 14, 2008 for WiiWare

SAN FRANCISCO, CALIF. – Jul 11, 2008 – Video game publisher Mastiff announced today that the first videogame based on the exciting world of competitive eating will launch exclusively for WiiWare on July 14th, 2008. Major League Eating: The Game features the world's greatest gurgitory athletes competing across a variety of foods and venues.

As featured on ESPN during the Nathan's Famous Fourth of July International Hot Dog Eating Contest, NY, MLE: The Game is built much like a classic fighting simulation, with offensive attacks and defensive counter moves, MLE: The Game requires players to master a smorgasbord of weapons including bites, burps, belches, mustard gas and jalapeño flames while cramming and chewing food at a world-class pace. It's not for the faint of heart, the slow of reflex, or those with an overly strong aversion to a Technicolor reversal of fortune.

Major League Eating: The Game uses the Wii Remote to simulate a variety of eating techniques including the cram, toss, and 'typewriter.' Burp-offs and Hot Potato challenges during the contests keep the competition intense and eaters on their toes. Major League Eating: The Game is for one or two players, offers online play and a leader board. MLE: The Game also features eleven of the best-known professional eaters in the world including Takeru Kobayashi, the Japanese eating phenomenon, and American Joey Chestnut, current champion of the world together with eaters such as Tim 'Eater X' Janus, Patrick 'Deep Dish' Bertoletti, Crazy Legs Conti, Sonya 'The Black Widow' Thomas, and 'The Lovely' Juliet Lee.


Independent Game Publishers to Showcase Stellar Portfolio of Titles on WiiTM and Popular Handheld SystemsTorrance, Calif., (July 11, 2008) – Marvelous Entertainment USA and XSEED Games today announced its E3 plans which include a stellar line up of games for both Nintendo platforms, the Nintendo DS and Wii, as well as the PSP® (PlayStation®Portable) system. Both companies will display their portfolio of upcoming titles at E3 2008 which will be held at the Los Angeles Convention Center from July 15th – 17th. E3 attendees are invited to visit the Marvelous Entertainment USA and XSEED Games booth located at Concourse Hall Pavilion #427.

"We're very pleased to be able to give the North American audience a sneak peak at our upcoming lineup," stated Yasuhiro Wada, Managing Director of Marvelous Entertainment. "This is just the beginning of some of the great games that we'll be releasing in the US under our Marvelous Entertainment USA banner."

"It's been an amazing year for us, and we feel that we're well positioned going into E3," said Jun Iwasaki, President of XSEED Games. "We've got a fantastic partnership with Marvelous Entertainment which we greatly appreciate, and the overall line up of titles we're showcasing is strong and diverse, which we're exceptionally excited about."




"And if all goes to plan (and our sources haven't played a mean trick on us), that hands-on coverage will be of Animal Crossing and Punch-Out!! Wii, aka Nintendo's great hopes for 2008."
Animal Crossing Wii
– Has been completed for awhile
– Not a MMO, but does use WFC heavily
Punch-Out!! Wii
– Use the balance board to dodge/weave
– Wiimote + nunchuck set up for the actual boxing (like Wii Sports boxing)
Capcom's secret Wii project
"Sadly, we still can't name the mystery game that has us more excited than any of the others on this page. Capcom promise to maul us into our graves should we spill the beans, despite the fact that by the time you're reading this the game could well be announced. Needless to say, it's worlds away from the fluffiness of Zack & Wiki…"
Band Bros. DX
"The much anticipated – at least by us – Band Bros. DX will be adding a touch of melody to Nintendo's stand (the newly confirmed Western song list includes Ghostbusters, Daydream Believer, Gonna Fly Now, and WHAM!'s ear-punching festive ballad, Last Christmas,…)"
This news comes from the magazines E3 section. The way this is worded, it looks like Band Bros. DX will be localized and will appear at E3. It also seems that the game will be playable.


Nintendo Wii
North America:
1. Mario Kart Wii (Nintendo)
2. Wii Fit (Nintendo)
3. Rock Band Special Edition (EA Games)
4. Wii Play (Nintendo)
5. Super Smash Bros. Brawl (Nintendo)
Japan:
1. Mario Kart Wii (Nintendo)
2. Wii Fit (Nintendo)
3. Tales of Symphonia: Ratatosk no Kishi (Namco)
4. BioHazard 0 (Capcom)
5. Wii Sports (Nintendo)
UK:
1. Super Smash Bros. Brawl (Nintendo)
2. Wii Fit (Nintendo)
3. Big Beach Sports (THQ)
4. Wii Play (Nintendo)
5. Guitar Hero III: Legends of Rock Bundle (Activision)
Nintendo DS
North America:
1. Guitar Hero: On Tour (Activision)
2. New Super Mario Bros. (Nintendo)
3. Brain Age 2 (Nintendo)
4. Brain Age (Nintendo)
5. Mario Kart DS (Nintendo)
Japan:
1. Daigasso! Band Brothers DX (Nintendo)
2. Derby Stallion DS (Enterbrain)
3. Hanayori Danshi: Koi Seyo Onago (Konami)
4. DS Bimoji Training (Nintendo)
5. Gakken Chuugokugo Sanmai DS (Gakken)
UK:
1. Dr. Kawashima's Brain Training (Nintendo)
2. Lego Indiana Jones (LucasArts)
3. Scrabble Interactive: 2007 Edition (Ubisoft)
4. My Health Coach (Ubisoft)
5. 42 All-Time Classics (Nintendo)


– Legendary Stafy: Confrontation! Daiiru Pirate Squad (NDS) 10,000
– Naruto Shippuden: Gathering Strongest Ninja Together Gekitotsu!! Naruto vs Sasuke (NDS) 3,500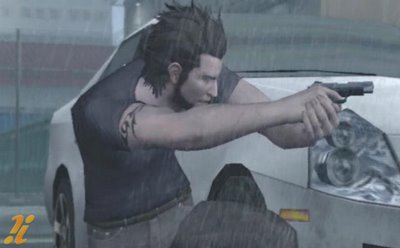 Once again, Nintendo has managed to shroud themselves in secrecy for this year's E3, leaving us all to guess their plans. The latest issue of NGamer, however, promises that Disaster: Day of Crisis will be at E3. And playable. There has not been too much information on the game as of late, the most of which only reported a delay in the Japanese release date. Since then, no new launch date has been scheduled and Disaster seemed to be heading for the vaults. But, if Nintendo does indeed have Disaster playable, this game – in addition to the the possibilities of Kid Icarus, Animal Crossing, Pikmin 3, and perhaps a new Zelda title – Nintendo will have a great E3 showing.


Capcom
Mega Man 9 (WiiWare)
Neopets Puzzle Adventure (Wii & DS)
Spyborgs (Wii)
Codemasters
Dragonology (Wii & DS)
Wizardology (Wii & DS)
Crave Entertainment
Defendin' de Penguin (Wii & DS)
Ford Racing Off Road (Wii)
King of Clubs Mini-Golf (Wii)
PBR: Out of the Chute (Wii)
Purr Pals (Wii)
Solitaire & Mahjong (Wii)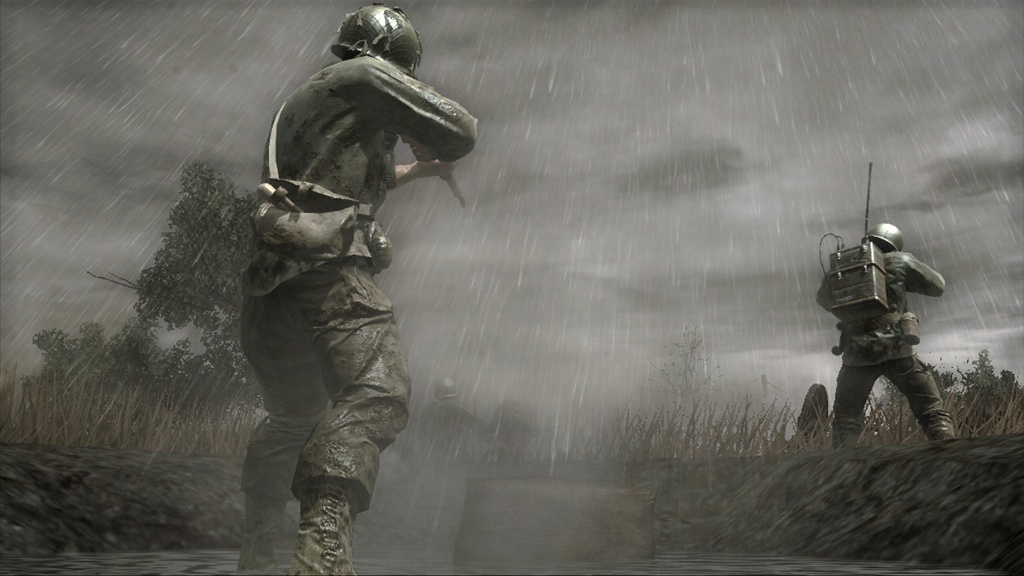 Wii
– they believe that the Wii hasn't been pushed to its limits yet
– Wii version will support everything that is in the other versions
– there is a secret concerning co-op play, which is to be revealed later
– CoD4 engine on Wii reconfirmed
– camera and controls are taking a top priority "For example, if you're climbing on a hill, in a game, you'd have to adjust the point of view manually… but that's not as in reality, where you would instinctively look a bit higher over your head. That's the kind of adjustment we've obtained working on cameras on Wii version."
– more fluid movements for shooting
– Zapper support reconfirmed – details unclear, but you'll be doing typical Zapper stuff (aim off-screen to reload)
– Main game runs at 60FPS, online is 30FPS
DS
– online play
– combat system improved over last Call of Duty DS title
– DS touch-screen interactions "We can't tell you anything, but let me tell you: it's NOT just about cutting the right cable, turning off a device or a bomb… we want you to put your hands in the real war!."


About three days ago, the Official Nintendo Magazine for the UK wrote a blog post that seemed to include a near official confirmation of Animal Crossing Wii:
"Those of you who have read the new issue of Official Nintendo Magazine should already know that Animal Crossing Wii will be unveiled at the conference."
However, it has been noticed that the post has been changed slightly:
"Of course everyone is hoping that Animal Crossing Wii will be there but what else would you like to see. What would be your dream line-up be?"
The modification either means that the change was made in order for fans not to be disappointed if Animal Crossing does not show up at E3, or as to not give away an early Nintendo secret – the latter of which seems highly probable at this point.