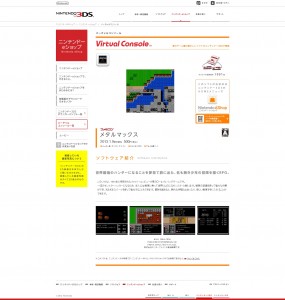 Metal Max will be hitting the Japanese eShop as a Famicom download on January 9 for 500 yen. Screenshots of the game can be found above.
This week's European Nintendo Downloads are as follows:
3DS Virtual Console
Super Mario Bros.: The Lost Levels – £4.49 / €4.99
3DS demo
LEGO The Lord of the Rings – free
DSiWare
Rabi Lady – £1.79 / €1.99 / 200 points
Academy Chess Puzzles – £1.79 / €1.99 / 200 points
Wii Virtual Console
World Heroes 2 – 900 points
Source: Nintendo PR
Nintendo eShop on Wii U™
Holiday Deals in the Nintendo eShop on Wii U – For a limited time, Chasing Aurora, Little Inferno and Trine 2™: Director's Cut are now available in the Nintendo eShop on Wii U at a special price.

Nintendo eShop on Nintendo 3DS™
Fluidity: Spin Cycle – Tilt, turn and even completely rotate your Nintendo 3DS system 360 degrees to maneuver a puddle of water through a mazelike, magical world filled with tricky tunnels and crazy contraptions. In this sequel to the hit game Fluidity, change from liquid to a block of ice or a steam cloud to solve fun, gravity-defying puzzles as you try to rescue the Rainbow Spirits trapped in the pages of a magical book.
As part of its send-off festivities, Nintendo Power compiled a list of the top 285 Nintendo games of all time. The magazine specifically chose the number since 285 issues were produced since its inception in 1988.
We have the entire lineup of games below – yes, all 285 games! Head past the break for the listing.