Mario Golf: Super Rush providing Waluigi overalls as Ranked Match reward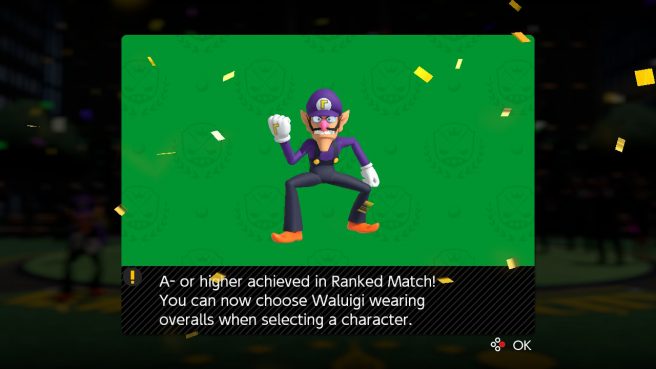 Mario Golf: Super Rush is now offering players a chance to unlock Waluigi's classic overalls as part of the latest Ranked Match reward. His look is iconic to fans, but we also have a look at the design above.
You can unlock the alternate costume for Waluigi by reaching the rank of A- or above in the online Ranked Match mode. The game provides points each time you play a round, and you can earn even more by performing well and defeating higher ranked opponents. Once you've unlocked Waluigi's overalls in Mario Golf: Super Rush, head to the character select screen, hover over the character, and press the "L" button to swap.
We've seen a bunch of other alternate costumes for characters over a number of months now. Some prior examples include the Boo visor, a few new colors for Toad, new colors for Koopa Troopa, Mario's classic overalls, a NES Open Tournament Golf outfit for Mario (and one for Luigi), Shy Guy colors, Yoshi colors, Luigi's overalls, and Wario's overalls last month. There could very well be another Ranked Match reward next month as well.
Mario Golf: Super Rush originally launched for Switch in June 2021. The official site is located here.
Leave a Reply