[Nintendo Everything Podcast] – episode #15 – Xbox Live Coming to Switch?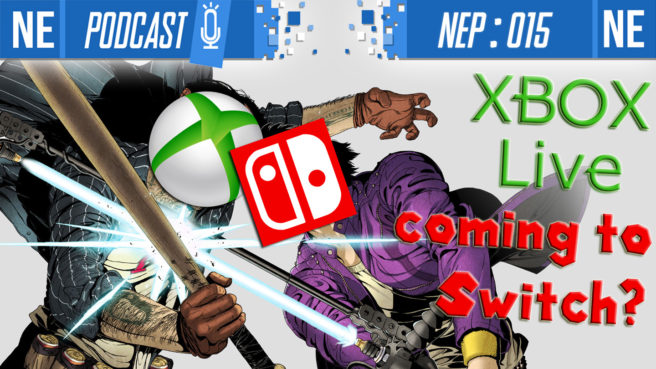 Hello, my beautiful goombas!
This week on NEP, Oni and Galen wade through the concept of Xbox Live on Nintendo Switch, discuss the weekly news, and banter over all the talking points that Nintendo gave us from their Financial Q&A.
Plus, Oni talks the importance of women in the (Nintendo) workplace in regards to Japanese society and Galen tells us all about what game he needs to see revived in his lifetime.
A big thank you to all of our listeners and to those who share the podcast— our show is growing at a very healthy rate! We hope you're enjoying listening! Please leave us your feedback, and check below for more details and timestamps.
Timestamps:
06:55 – Adventure Logs: Shovel Knight, Bastion, and Travis Strikes Again impressions!
14:54 – News: Xbox Live coming to Nintendo Switch, discussions about cloud gaming, and the future.
27:32 – News Blast: Baldur's Gate and Planescape games coming to Switch; Kirby's Extra Epic Yarn demo on the 3DS eShop; statistics for NA Switch playerbase shows close 50/50 split between male/female, a more even split than Xbox and PS4; two new games on Nintendo Switch Online.
35:05 – Furukawa Kombat: Financial Q&A details on Nintendo in 2019 and beyond; Switch Online improving; Miyamoto letting the young devs take over and the Miyamoto legacy; multiple Switches in the household and 3DS is for entry-level gamers, but is the 3DS redundant with the Switch on the market?; Nintendo proud of its female developers and designers, and Oni's perspective on how important this is for Japanese society; unannounced games in development for 2019 release; Nintendo acknowledging missed opportunities in early 2018, and committing to enriching their software in 2019.
55:51 – Additional DLC
1:00:08 – Listener Mail: What dead series do you want to see brought back and what do you want to see added?
Additional DLC:
Send us an email and we'll discuss it!
NintendoEverythingPod [at] gmail [dot] com
Listener Bonus: Help the show grow and support us by giving us ☆5 STAR☆ iTunes review, likes and comments on YouTube, and share the Spotify playlist with your Nintendo-loving buddies!
Thank you!
YouTube
iTunes
https://itunes.apple.com/podcast/nintendo-everything-podcast/id1441241130?mt=2
Spotify
https://open.spotify.com/show/0zifaLm4st7KtUzDEojWBh
Direct Download
News Discussed
Follow Us, We Tweet!
@NinEverything
@Oni_Dino
@mobius087
A HUGE thank you to Headphones of Listening for NEP's intro music!
Check him out on soundcloud!
This week's background music is the OST for the indie game Oxenfree by the artist scntfc.
And our outro music this week is, "Primrose, the Dancer" from the Octopath Traveler soundtrack.
Leave a Reply