[Nintendo Everything Podcast] – episode #24 – God Eater, Stage Builder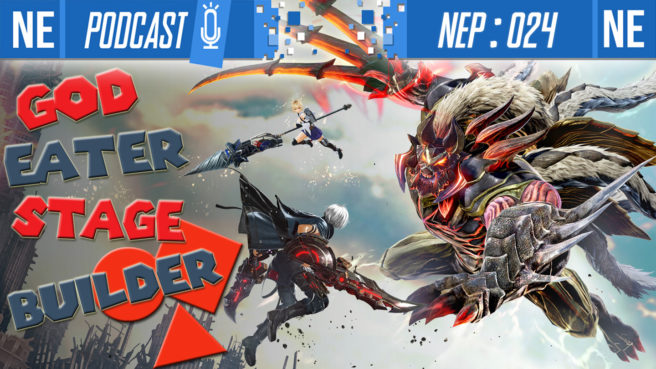 Hello, my beautiful warp stars and pop stars! This week on NEP, we kick things off with info on our limited edition Switch console giveaway! We then talk about Octopath Traveler losing its Switch exclusivity and how this does not ruin your experience. We discuss the new mode Nintendo leaked themselves for Smash Ultimate and what else they may have in store. We talk God Eater 3, and Galen requests that we both imitate overly dramatic anime… Finally, Oni and Galen reveal their personal habits as we have a lengthy discussion on what gaming related media to display in your space.
Thank you for listening! Please help the show grow by sharing the podcast with someone who would enjoy and by giving us ratings on your preferred platform of listening. It helps an absolute ton, and we really appreciate your support!
Timestamps:
06:11 – Adventure Log
11:13 – Octopath Traveler loses Switch exclusivity, and a discussion of how this does not ruin your experience or the Switch version.
21:48 – Tetris 99 hosting another Maximus Cup with a few rule changes. Win free money!
24:35 – Nintendo accidentally leaks a new mode for Smash Ultimate! What could be new about it, and a discussion about what may be coming in the future. Any modes from the past? And… Smash direct potential?
28:46 – God Eater 3 announced for Switch with some unique features and bonuses. Crazy over-the-top anime nonsense that Oni loves. Galen suddenly has both of them do an impression of overly dramatic anime shouts.
36:42 – More Labo VR features coming to Mario Odyssey! Oni knows EXACTLY what people are gonna use this for…
41:22 – Additional DLC
44:30 – Listener Mail: discussion on what to display in your space regarding gaming, and Oni's and Galen's personal habits.
Additional DLC:
Send us an email and we'll discuss it!
NintendoEverythingPod [at] gmail [dot] com
#nintendopodcast #gamingpodcast #podcast
Listener Bonus: Help the show grow and support us by giving us ☆5 STAR☆ iTunes review, likes and comments on YouTube, and share the Spotify playlist with your Nintendo-loving buddies!
Thank you!
YouTube
iTunes
https://itunes.apple.com/podcast/nintendo-everything-podcast/id1441241130?mt=2
Spotify
https://open.spotify.com/show/0zifaLm4st7KtUzDEojWBh
Direct Download
PocketCasts
Stitcher
https://www.stitcher.com/podcast/nintendo-everything-podcast
PlayerFM
https://player.fm/series/nintendo-everything-podcast
ListenNotes
https://www.listennotes.com/@NintendoEverythingPodcast/
PodTail
https://podtail.com/en/podcast/nintendo-everything-podcast/
Follow us on Twitter and Instagram
@NinEverything
twitter: @Oni_Dino / insta: Oni__Dino
@mobius087
A HUGE thank you to Headphones of Listening for NEP's intro music!
Check him out on soundcloud!
Links
Leave a Reply