[Nintendo Everything Podcast] – episode #25 – Switch Mini, Unsavory Smash Stages & China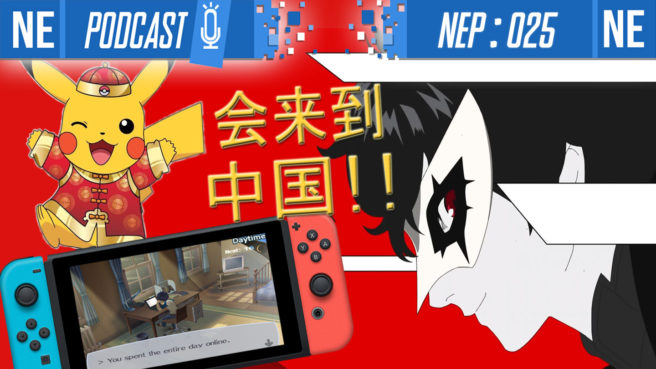 Hello, Team Hare and Team Tortoise! This week on NEP, Galen kicks the show off with his EXCELLENT Banjo (Banjo-Kazooie) impression. That sets the mood for the laughing/crying fit we have right after as we joke about how depressing Chocobo's Mystery Dungeon gets in the late game, including some high-level Final Fantasy lore jokes. We then take a deep dive into Smash 3.0 where Galen gives some thorough impressions and we discuss all of the custom stages Nintendo's cracking down on; Galen tells his horror story. Afterward, we have some chill Marvel talk because we just got a street date for Marvel Ultimate Alliance 3! Then we get serious as we talk rumors from Nikkei about a Switch Mini releasing this autumn, and Oni talks the importance of accurate translations so as not to spread misinformation. And we tidy things up by discussing the growing likelihood of Switch releasing in mainland China, who Tencent is, and international business culture.
We hope you enjoy this episode, because we had a ton of fun recording it! We would appreciate your help in growing the show by sharing the podcast with a friend!
Thanks for listening!
Timestamps:
06:11 – Adventure Log: Oni & Galen's crying/laughing fit over how incredibly depressing Chocobo's Mystery Dungeon is. While making jokes with deep seeded FF lore.
18:28 – Smash 3.0 impressions! Joker, Persona, Stage Builder, filthy stages and the takedowns and a story from Galen and Oni's high school years
38:30 – Marvel Ultimate Alliance 3 release date and boxart revealed! And a little bit of Marvel talk in general.
44:13 – More Switch Mini rumors from Nikkei, and Oni advocates for correct translations and preventing the spread of misinformation.
54:42 – Nintendo Switch is looking likely for official sale in mainland China. Galen asks Oni about his experiences working in Japanese companies, and Asian business culture in general.
1:03:37 – Additional DLC
Additional DLC:
Send us an email and we'll discuss it!
NintendoEverythingPod [at] gmail [dot] com
Listener Bonus: Help the show grow and support us by giving us ☆5 STAR☆ iTunes review, likes and comments on YouTube, and share the Spotify playlist with your Nintendo-loving buddies!
Thank you!
YouTube
iTunes
https://itunes.apple.com/podcast/nintendo-everything-podcast/id1441241130?mt=2
Spotify
https://open.spotify.com/show/0zifaLm4st7KtUzDEojWBh
Direct Download
PocketCasts
Stitcher
https://www.stitcher.com/podcast/nintendo-everything-podcast
PlayerFM
https://player.fm/series/nintendo-everything-podcast
ListenNotes
https://www.listennotes.com/@NintendoEverythingPodcast/
PodTail
https://podtail.com/en/podcast/nintendo-everything-podcast/
Follow us on Twitter and Instagram
@NinEverything
twitter: @Oni_Dino / insta: Oni__Dino
@mobius087
A HUGE thank you to Headphones of Listening for NEP's intro music!
Check him out on soundcloud!
Links
Leave a Reply