[Nintendo Everything Podcast] – episode #31 – Pokemon Special Feature, No Friends In Mario Maker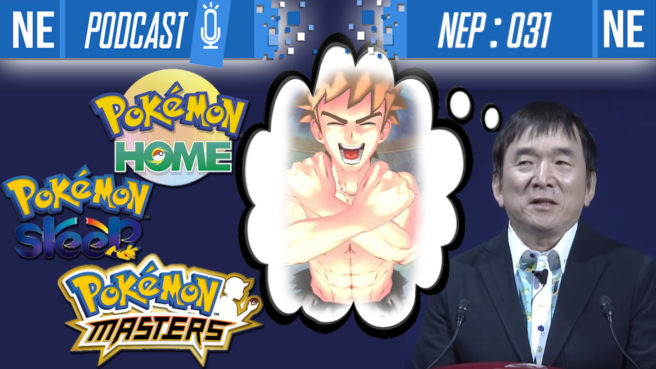 Hello my HMs & TMs! It's bonus time on NEP- you get a double length episode! Oni and Galen kick things off by discussing Nights of Azure 2 on Switch, Smash Ultimate's Labo VR update and the weird amiibo implementation along with it. The gang then covers more details on Super Mario Maker 2 including the bizarre lack of playing with friends online, the Nintendo Switch Online Vouchers for discount digital games, and how Nintendo games in general hold their value. Oni and Galen then go through all the awesome announcements from the Pokemon Press Conference this week, and muse on the potential of Pokemon Home, in particular. By this time, Oni starts to become weak with hunger and all reasoning goes out the window… Check below the break for more details!
We hope you enjoy the extra content this week! We'd greatly appreciate if you could recommend the podcast to a friend, and also rate us 5 stars on iTunes! It helps us to get discovered, which is the best way you can support us.
Thank you for listening!
Timestamps:
09:48 – Adventure Log: Dragon's Dogma end game, Nights of Azure 2: Boobies of the New Moon and Smash Ultimate's VR update and horrible amiibo fights where your amibo are your children. Nintendo won't fool us into buying amiibo!
33:13 – Super Mario Maker 2 won't let you play with friends online- only random players. Galen and Oni offer solutions to Nintendo's problem, and suggestions for fans to take action! Also accidental discussion of omega labyrinth life and social issues in Japanese culture and real life. Also general discussion of more fleshed out features we learned recently, such as no amiibo support. Nintendo Online Voucher discussion, too. Backwards way of doing things? Y/N? Oni and Galen are also curious if this kind of deal is worth it in your country with the way sales and pricing work. Write in to our email below and let us know. General discussion of how Nintendo games hold their value and don't go on sale often.
1:02:12 – Cadence of Hyrule releasing in June. E3 shadowdrop? Also, Harvest Moon Mad Dash announced for Switch. Oni going hands-on at E3.
1:04:37 – Pokemon Press Conference! It was actually really exciting. Let's talk the potential of what they announced: Pokemon full force into China, full force into films, Pokemon Center Tokyo in Shibuya. Galen and Oni reveal they're going to Tokyo later this fall. Stay tuned for antics. Pokemon Home has us very excited for different reasons, and Pokemon Sleep is smart marketing. And Pokemon Shirts, for the working pikachus.
1:42:50 – Additional DLC and movie talk. Cinema-going experience is awful.
1:49:54 – Listener Mail: phrases we live by.
Additional DLC:
Send us an email and we'll discuss it!
NintendoEverythingPod [at] gmail [dot] com
Listener Bonus: Help the show grow and support us by giving us ☆5 STAR☆ iTunes review, likes and comments on YouTube, and share the Spotify playlist with your Nintendo-loving buddies!
Thank you!
YouTube
iTunes
https://itunes.apple.com/podcast/nintendo-everything-podcast/id1441241130?mt=2
Spotify
https://open.spotify.com/show/0zifaLm4st7KtUzDEojWBh
Direct Download
PocketCasts
Stitcher
https://www.stitcher.com/podcast/nintendo-everything-podcast
PlayerFM
https://player.fm/series/nintendo-everything-podcast
ListenNotes
https://www.listennotes.com/@NintendoEverythingPodcast/
PodTail
https://podtail.com/en/podcast/nintendo-everything-podcast/
Follow us on Twitter and Instagram
@NinEverything
twitter: @Oni_Dino / insta: Oni__Dino
@mobius087
A HUGE thank you to Headphones of Listening for NEP's intro music!
Check him out on soundcloud!
Links
Leave a Reply