[Nintendo Everything Podcast] – episode #41 – Never Give Up treads lightly on your spirits (feat. Massive Monster)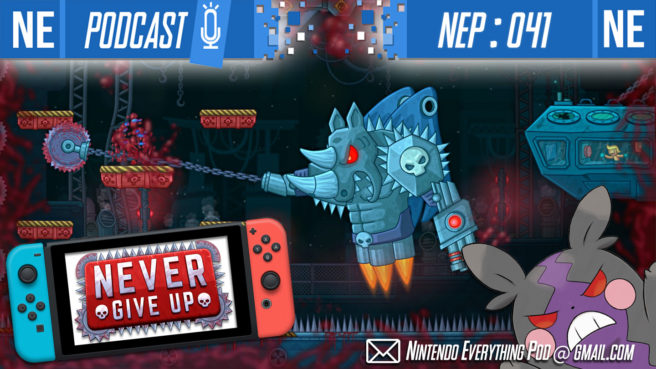 Hello, my beautiful poison and fairy types. This week on NEP, we have a special guest—three in fact! Jay, James and Julian from Massive Monster join us to talk about their upcoming challenging action-platformer for Nintendo Switch, "Never Give Up". The devs reveal a lot about their upcoming game including a few secrets, how Egoraptor / Arin Hanson is involved, and their origins as developers that led up to this point.
The trio then sticks around to chat with us about new Pokemon details and lootboxes in gaming, with Nintendo making a statement recently about introducing new rules for transparency. We all get on and have a great chat, and we're particularly grateful for Massive Monster's insight on these topics as developers.
If you like what you're hearing, you can support us by giving NEP a 5 star review on Apple Podcasts, aka new iTunes. We would greatly appreciate if you could help us out! We're very grateful for your support, and we thank you for listening!
Timestamps
START – Adventure Log and Interview! Chatting with the devs at Massive Monster, creators of Adventure Pals, and their newest game launching this week: Never Give Up!
40:44 – Poketalk! New 'mons, new rivals, new evolutions, new region specific versions, Pokejobs, and more.
57:10 – Brief Grandia HD Collection talk. Coming soon! Galen and Oni gush about their love.
1:01:22 – Nintendo, Sony and Microsoft all working on new rules for disclosing odds to loot boxes for games that have them. General discussion on loot boxes and gambling in games, and how developers and publishers are involved. Who are whales? Legislation and regulation good or bad? We get the guys from Massive Monster to give their unique opinions this side of the industry, as developers.
1:19:23 – Additional DLC
1:23:35 – Listener Mail: remaining love for the 3DS
Additional DLC
Send us an email and we'll discuss it!
NintendoEverythingPod@gmail.com
Listener Bonus: Help the show grow and support us by giving us ☆5 STAR☆ iTunes review! Thank you!
YouTube
Apple Podcasts / iTunes: https://apple.co/2xLl0C5
Spotify: https://spoti.fi/2Gdgoch
Direct Download
PocketCasts: https://pca.st/IQVa
Stitcher: https://bit.ly/30uxOZR
PlayerFM: https://bit.ly/2yfCu9P
ListenNotes: https://bit.ly/2SINTbG
PodTail: https://bit.ly/2yfDgDL
Nintendo Everything on Twitter: @NinEverything
Oni Dino's YouTube "Gayme Married": https://bit.ly/2JK21xd
Oni Dino's Twitter: @Oni_Dino
Oni Dino's Insta: Oni__Dino
Galen's Twitter: @mobius087
Galen's Insta: true_mobius
HUGE thank you to Headphones of Listening for NEP's intro music! Check him out on soundcloud!
News Links:
Leave a Reply