Best Buy
Hannah Montana: Music Jam (DS) – $19.99
The Incredible Hulk (DS) – $19.99
Free $10 gift card with purchase of Alone in the Dark
Circuit City
BD&A Guitar Hero styluses – $7.99
BD&A Guitar Hero DS Ruby Red Bag – $14.99
Balloon Pop (Wii) – $14.99
Furu Furu Park (Wii) – $14.99
Kids Sports Ice Hockey (Wii) – $14.99
Prince of Persia Rival Swords (Wii) – $14.99
Game Party (Wii) – $14.99
Braunswick Pro Bowling (Wii) – $29.99
Cabela's Big Game Hunter (Wii) – $29.99
Table Tennis (Wii) – $29.99
Carnival Games (Wii) – $29.99 + Free T-shirt
Remote + Nunchuck Gloves for Wii – $4.99
VERGE Sports Set for Wii – $12.99
Note: Toys R Us deal – Buy 2 DS games, get a third one free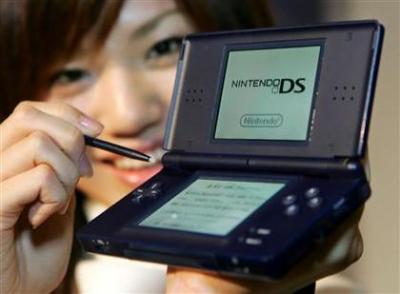 June:
Daigassô! Band Brothers DX (Nintendo) – 26
Dementium : The Ward (Interchannel-Holon Inc) – 26
The Tower DS (DigiToys Inc.) – 26
Kunitori Zunô Battle Nobunaga no Yabô (Koei) – 26
Bleach The 3rd Phantom (Sega) – 26
Derby Stallion DS (Enterbrain) – 26
Disgaea : Hour of Darkness (Nippon Ichi Software) – 26
Bob l'Eponge Bulle en Atlantide (THQ) – 26
Simple DS Series Vol.39 THE Shôbôtai (D3 Publisher) – 26
Hakoniwa Seikatsu Hitsuji Mura DS (Success) – 26
Disney Friends (Disney Interative) – 26
Higurashi no naku goro ni Kizuna (Alchemist) – 26
Bokura no Telebi Game Kentei Picotto! Udedameshi (Bandai Namco) – 26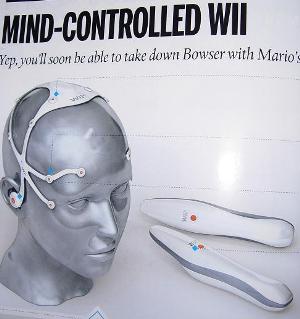 UK-based T3 magazine recently published an article about their interpretation of a new Wii console in one of their latest issues. T3 explores the possibilities of a "Wii 2.0," system, which may remind some of you about Nintendo On – a spoof that, before the Wii remote was revealed, predicted that Nintendo would allow users to put on a helmet-shaped item for a virtual reality experience. The mock-up technology that the magazine has created is similar in the sense that a "claw-like Wii head unit" would be attached to your head in order to intercept brain waves, thus immersing you in the gaming experience. Here's the rundown of the complete article:
Mind controlled
Strap the claw-like Wii head unit to your "dome" and it'll beam your brain activity – translated into movement and other commands – to the Wii box and controllers.

On the head, son
Tiny neuro-receptors pick up brain waves through the thickest of hair, so no unsightly scalp shaving need take place.
You what?
Completing the immersion experience, built in earphones will screw deep into your lugholes, for shattering, terrifying cries of "It's-a-me… Mario!"
Wii Remote 2.0
There'll still be a handheld pointer. With your brain choosing what its function is at any given time, only one button will be required – helping to save the world's ever-depleting button reserves.
Nintendo Wii 2.0
The Wii revolutionized the way we interact with games. Could Nintendo be thinking of topping that with a though-powered Wii 2? By 2010, you could be using your wireless Wii Wand to guide Mario around the karting track and your brainwaves to throw banana skins. Crazy, you say? Mind control is already a reality – snap up shares in brain-game pioneers Emotiv today – and we'd love to see what the big N can do with it. Our artist's impressions gives a few tantalizing hints…
T3 Launch Prediction:

2010
Thanks to Quackity for the tip.
Super Famicom
– Super Mario RPG (Nintendo)
Mega Drive
– Phantasy Star: Sennenki no Owari ni (Sega)
PC-Engine
– Paranoia (Naxat)
NeoGeo
– Ninja Commando (D4)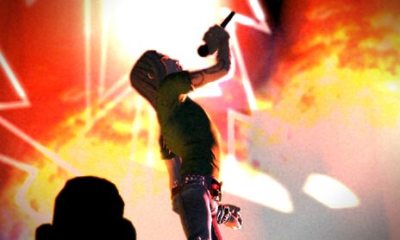 The Wii still lacks a harddrive that the "geeks and otaku" have been praying for, but that doesn't mean downloadable content on the system is impossible. Vicarious Visions has once again confirmed that the Wii version of Guitar Hero World Tour will support DLC. Players will be able to preview a song before download and if the player enjoys a particular song, he/she can purchase it. Vicarious Visions' Karthik Bala explains, "Players can either download songs to the Wii System Memory or store songs on a SD Card, called the 'Rock Archive.'"
Sounds good, if you ask me. This looks like one third-party effort that Wii owners won't be gypped on – It looks like all features from the other versions of the game will be available in the Wii version.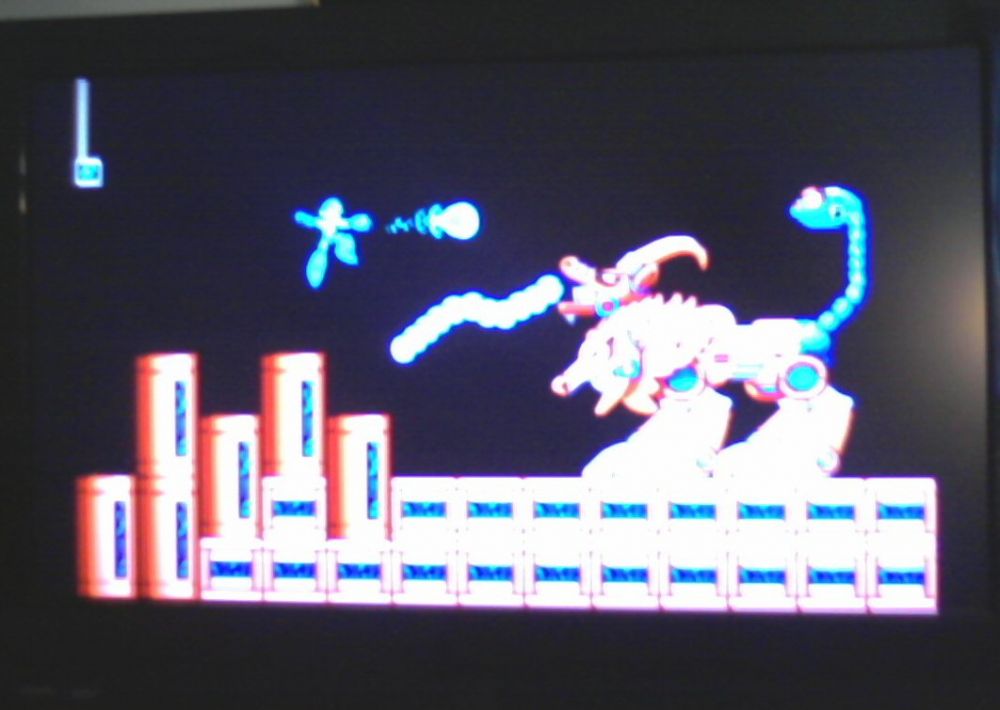 I'm sure most of you guys know how things go…Someone claims to have surreptitiously taken a snapshot of concept art, video footage, or screenshots. This time around, some guy claims that he was able to snag a quick cellphone shot of Mega Man 9. Sounds crazy, right? The same person also provided some details:
– You can play as Blues.
– The graphics are in the 8-bit sprite style, but not the classic Famicom/NES one.
– It doesn't have anything to do with the X series.
– Tango is in it, and works just like the Rockman World Game Boy version.
– The game doesn't support full wide screen YET, but it will.
– It does support 480p.
It seems very surprising that someone would be able to report on the game, but I can't help but want this all to be true. E3 is just around the corner, however, so I'm positive we'll hear something about the game then.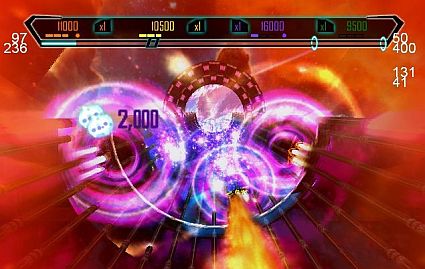 Hoffman Estates, IL – June 20, 2008 – High Voltage Software, Inc., one of the world's largest independent developers, today announced Gyrostarr™, an exciting new sci-fi shooter scheduled for release via the WiiWare™ downloadable service on Monday June 23, 2008.

Gyrostarr features fast action gameplay across 50 intense levels as up to four players pilot ships on a futuristic track, shooting enemies, dodging obstacles, and collecting upgrades. The game takes advantage of the company's proprietary Quantum 3 Game Engine technology, which provides advanced graphical capabilities. Gyrostarr's controls were built from the ground up to utilize the motion-sensing capabilities of the Wii™.

"Our original vision for Gyrostarr was to capture the fast-paced twitch style action of coin-op classics, but to infuse superior graphics and game design for the next generation," said Kerry Ganofsky, CEO and Founder of High Voltage Software. "I'm thrilled to say that the team has nailed the mark and exceeded our expectations."

"Aside from the visuals, which are gorgeous, there is a lot about Gyrostarr that players will love," said Eric Nofsinger, Chief Creative Officer of High Voltage Software. "As players develop their skills at the game, they will devise strategies to help them make it through all of the levels. Jumping into the game with four players just makes the experience that much better."
I'm pretty sure this isn't footage from the Wii version, but still, you can expect the concepts of each version to be nearly the same. And I do have to admit, this game actually looks fun!