– Graphics appear "cleaner" than Monster Hunter: Frontier
– New motions of Water Dragon, new weapon motions, trap effects
– Can use traps underwater
– Underwater gauge is available in the TGS demo
– Monster List allows you to display details abut a monster
– You can capture a monster's information if you use the pointer on the Wiimote (hit A as well, then move to the right corner of the screen)
Back on Thursday, Marvelous Entertainment (Arc Rise Fantasia, Muramasa) revealed a WiiWare title they are developing: Discipline. There are only a few details that are known about the title, but the very strange trailer should give you a good idea about the game's vibe.
Hoffman Estates, IL – October 10, 2008 – High Voltage Software, Inc., one of the world's largest independent developers, today announced High Voltage Hot Rod Show, an intense new racing title scheduled for release on the WiiWare downloadable service later this Fall.

High Voltage Hot Rod Show requires players to master more than the basic racing skills to compete. A unique stunt system gives players multiple ways to build boost, which drastically increases a Hot Rod's speed. If you get too greedy, you might crash and burn! The game utilizes the company's proprietary Quantum 3 Game Engine technology, which provides graphical performance and game play not possible on other Wii titles.
Volume 2 of Nintendo President Satoru Iwata's "Iwata Asks" series about Wii Music is now live. To read the transcript, log onto Wii.com.

Wii Music lets people turn their living rooms into fun concert halls and launches exclusively for the Wii™ console on Oct. 20. It aims to bring a deeper love and appreciation of music to everyone. Players can improvise jams on the fly with more than 60 instruments. Players simply select their instruments, and then move their Wii Remote™ and Nunchuk™ controllers as though they were playing the real thing. Wii Music transforms players' movements into great music, even if you've never picked up an instrument before.
– New DS title
– Play as special agent Jonathan Weaver
– Weaver has a power to see the past
– Koichi Yamaguchi producer of the game
– full-motion video for its characters, realistic character depictions
– Use the D-pad to move Weaver around 3D locations
– Right side has the view from the present, left has the view from the past
– Click where the past and present don't match up to trigger flashbacks (which provide you with clues)
– Scheduled to ship in Spring 2009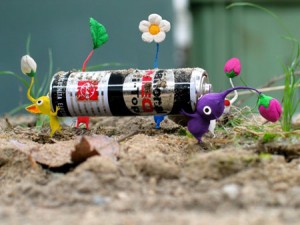 For those unlucky few who have missed out on classic titles on the GameCube will end up having another chance to experience them on Wii. Up until now, Nintendo has confirmed that the re-releases will obviously be available in Japan, and later, Europe. Strangely, Nintendo of America has not really provided any word on an NA timeframe, let alone an official confirmation. Based on new details coming from the ESRB however, there's a pretty good chance we'll at least be seeing Pikmin 1 and 2 in North America soon.
The ESRB has rated both titles under the Wii category. Previously, the two titles stood alone as GameCube games. The Pikmin titles are apparently the only two GameCube re-releases that have been rated for Wii – and have been announced by Nintendo. The ESRB doesn't always gurentee a release (ASH, for instance, as far as we know), though the odds are more than favorable for the re-releases to launch in North America in the future.
Thanks for the news tip, Jake!