HIGH VOLTAGE HOT ROD SHOW READY TO RACE ON WIIWARE

Hoffman Estates, IL – January 8, 2009 – High Voltage Software, Inc., one of the world's largest independent developers, today announced that High Voltage Hot Rod Show, the company's latest WiiWare title, has been scheduled for release via Nintendo's downloadable service on January 19th at a price of 1,000 Wii Points.

High Voltage Hot Rod Show is an arcade-style racing title that centers on a unique boost system which requires players to pull off dare-devil stunts in order to achieve maximum speed. The game was built using the company's proprietary Quantum 3 Game Engine technology, which provides stunning graphical performance.
1. DISSIDIA (PSP)
Square Enix
Launch: 12/18/2008
December Sales: 660,262 units
Total Sales: 660,262 units
2. Animal Crossing: City Folk (Wii)
Nintendo
Launch: 11/20/08
December Sales: 481,695 units
Total Sales: 895,302 units
3. Kirby Super Star Ultra (DS)
Nintendo
Launch: 11/6/08
December Sales: 403,279 units
Total Sales: 855,427 units
4. Wagamama Fashion Girl's Mode (DS)
Nintendo
Launch: 10/23/08
December Sales: 299,170 units
Total Sales: 549,348 units
5. Professor Layton and The Last Time Travel (DS)
Level 5
Launch: 11/27/08
December Sales: 267,365 units
Total Sales: 628,143 units
6. Pokémon Platinum (DS)
The Pokémon Company
Launch: 9/13/08
December Sales: 258,843 units
Total Sales: 2,287,337 units
7. Taiko no Tatsujin Wii
Bandai Namco
Launch: 12/11/08
December Sales: 251,183 units
Total Sales: 251,183 units
8. Rhythm Heaven Gold
Nintendo
Launch: 7/31/08
December Sales: 221,971 units
Total Sales: 1,350,671 units
9. Wii Fit
Nintendo
Launch: 12/1/07
December Sales: 211,651 units
Total Sales: 2,967,297 units
10. Gundam Musou 2
Bandai Namco
Launch 12/18/08
December Sales: 206,438 units
Total Sales: 206,438 units
01. [PSP] Dissidia Final Fantasy (Square Enix) 104,000 / 770,000
02. [NDS] Rhythm Tengoku Gold (Nintendo) 89,000 / 1,535,000
03. [NDS] Kirby Super Star Ultra (Nintendo) 77,000 / 998,000
04. [WII] Wii Fit (Nintendo) 74,000 / 3,125,000
05. [WII] Animal Crossing: City Folk (Nintendo) 73,000 / 949,000
06. [PS3] White Knight Chronicles (SCE) 71,000 / 278,000
07. [NDS] Wagamama Fashion: Girl's Mode (Nintendo) 68,000 / 615,000
08. [WII] Mario Kart Wii (Nintendo) 67,000 / 2,133,000
09. [PSP] Monster Hunter Portable 2nd G (Best) (Capcom) 62,000 / 271,000
10. [NDS] Momotaro Dentetsu 20th Anniversary (Hudson) 57,000 / 204,000
Update 2 A possible theory has been constructed about what the three main modes could be.
Game — Play through the game normally. Hint system is available but not forced. So hardcore gamers could just play the game regularly and enjoy the challenge while more casual gamers can get hints if they get really stuck
Digest — The game goes through important scenes (both movie and gameplay) in order. Essentially the game plays itself in this mode if you will. But you have the option of stopping the digest at any time and playing from that exact point. Plus when you choose to take control you are given the appropriate equipment and stats for that part of the game. No saving though, but it seems to be unneeded
Scenes — essentially playthrough any puzzle or scene again. Like digest you are given the appropriate equipment and such.
If it works this way, both casual and hardcore gamers will see benefits. The game won't exactly be bogged down by easiness, but casual gamers find it easier to complete it.
Update: Head past the break for a ton of descriptions that may fill in some of the blanks of the patent images.
A patent was discovered today that was apparently filed away with Shigeru Miyamoto as the inventor. There has been no confirmation that this patent is anything new, and if not, there's no clear indication about how old it is (nor is it confirmed that this will appear in any game at all). A few people have been doing a bit of investigating though. Interestingly, the details may be related to Zelda and might show that the series will take a more casual approach.
In one image, a picture of what we assume the television screen is. In the image, a hint button can be seen. So was Nintendo considering a hint system for a Zelda title? Or, are they willing to incorporate hints into the next Zelda?
There are a few other tidbits as well. In another one of the patent images, based on the information provided, it looks as though Nintendo had ideas about skipping ahead through the game granted the adventure became too difficult. This, coupled with the detail about, could possibly show how/if Nintendo plans to make the Zelda series more casual – Remember, Miyamoto stated that he the Zelda series needs to be accessible for casual gamers. However, keep in mind that, again, this could all amount to nothing. This news may be something new, or it might not.
Lastly, read the patent information below which originally led to this entire story:
Computer-readable storage medium having game program stored therein, and game apparatus

User saved-data storage means S19 stores user saved-data which is generated as a result of a game play performed by a user. Digest saved-data storage means S48 stores a plurality of pieces of digest saved-data which are previously generated so as to be associated with predetermined scenes, respectively, in a game. Game start means S14 starts the game process without using the user saved-data and the plurality of pieces of digest saved-data. Game resuming means S12, S13 starts the game process by using the user saved-data. Digest game start means S4 starts the game process by using any of the plurality of pieces of digest saved-data. Saving means S19 generates the user saved-data, only in the game process started by the game start means or the game resuming means.
Gameloft Partners With Mattel to Launch UNO(TM) Across Multiple Platforms

Gameloft Draws a Wild Card, Skips, Reverses and Shouts UNO! to Win and Develop This Popular Title

NEW YORK, January 8 /PRNewswire-FirstCall/ — Gameloft, a leading developer and publisher of video games for mobile phones and consoles, announced today a worldwide multi-year licensing agreement to develop, publish and distribute the popular card game, UNO(TM). In addition to the iPhone and iPod versions currently available, UNO(TM) will now also be available across mobile phones, PlayStation 3 Network, PlayStation Portable Network, WiiWare and DSi Ware. The game will be available for these platforms in 2009.

"This agreement is the first step towards a long and successful relationship between Mattel, one of the world's premier toy companies and Gameloft, the global leader in video game development," said Michel Guillemot, president, Gameloft. "UNO is one of the most recognized card games in the world and we are excited to extend it beyond mobile and onto a whole host of console executions."
We've heard stories of celebrities getting in on Wii action in the past, but according to the New York Times, President-elect Barack Obama is interested in the console as well. Obama purchased the Wii for his daughters this Christmas and has managed to sneak in some time to play Wii Sports Bowling.

"Mr. Obama said he'd have his hands full attempting to rescue the American economy. But he has gotten in a little practice in bowling lately on the Nintendo Wii his daughters received for Christmas. Mr. Obama, who famously struggled in bowling during last year's Democratic primaries, said he performs better in the video game." – New York Times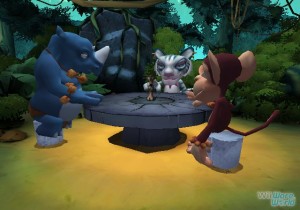 Vancouver, Canada (January 8th, 2008) – The internationally renowned, lightning-fast card game from Asmodee Editions, Jungle Speed, is coming to WiiWare on January 12th. It's fun for the entire family, where quick reflexes and a keen eye will put you on top. Flip your cards, pay attention and grab the totem at the right moment to win the game.

Jungle Speed is a twitchy, fast-paced WiiWare game that's fun for all ages. It's also the first Wii game to offer simultaneous play for up to eight players. Each remote and nunchuk pair can support two players at a time, making it a great game for get-togethers. Just watch the elbows!
Juggle Boys, Business and Best Friends While Climbing the Social Ladder This Spring

Bristol, U.K., January 8, 2009 – Be the most popular girl in town in Drama Queens, a new Nintendo DS™ game announced today by Majesco Entertainment Company (NASDAQ: COOL), an innovative provider of video games for the mass market. Whether it's bagging a big promotion or stealing another girl's boyfriend, players can choose how they claw their way to the top in this ultra dramatic virtual 3D board game.

In Drama Queens, players assume the role of one of four girls, each with her own personality and special attributes. As their chosen character, players spin the game wheel to advance her through the 3D board game environment that offers options at every branching path. Should she further her career by working towards the big promotion, build her relationships by going shopping with girlfriends or focus on finding that one true love? As each girl moves around the board, she also earns points that can be applied towards securing "Best Friends Forever" (BFFs), boyfriends, and new outfits from the Fashion Boutique. But just like in real life, things are rarely that smooth. Landing on a Drama Space can lead to all kinds of sticky situations, like getting fired or losing a boyfriend to a competing girl. Players can also create their own drama with secret cards that let them steal boyfriends or promotions and add BFF points. Four boards range from the shopping mall to the runway and dance club, while multiplayer mode lets up to four friends play a fierce cat fight to see who is the most popular queen diva.
The Conduit is currently one of the most anticipated hardcore Wii games that will be releasing over the next few months. Though, while that is true, core gamers might not be the only group that will be interested in picking up the game. Lead designer Rob Nicholls of High Voltage Software believes that The Conduit "will appeal to quite a few casual players."
"Naturally, while we would love it if it happened, we don't actually expect a lot of grandparents to be running and gunning with you. However, given the ease of our controls, the quality of our graphics, and the pleasing nature of our gameplay… we think "The Conduit" will appeal to quite a few casual players as well as the hardcore crowd."
Both Nicholls and High Voltage CEO Kerry Ganofsky also attempted to answer why the Wii lacks hardcore games.
"I think some developers and publishers were scared by the initial batch of games that were released on the Wii. It was hard to convince anyone that there even was a core market, let alone one that would support original games. Early on we asked ourselves, 'What kind of game do we want to play on the Wii?' and "What do we think other Wii gamers really want?" The answer to those questions and many more was 'The Conduit.'"
"Initially, we think it was because publishers and developers didn't really consider the Wii to be a 'next-gen' platform. It doesn't possess the same memory and processing power of an Xbox 360 or PS3, so it was written off as not being able to handle the type of games that hardcore gamers would want. Then the Wii's motion controls turned out to be surprisingly popular with casual gamers and folk who typically didn't play video games, such as grandparents. Publishers latched onto this new market and were able to put out a number of inexpensive casual games that made them money. But all of this left the hardcore market behind and by the tremendous online response we've had to 'The Conduit,' a hardcore market exists."