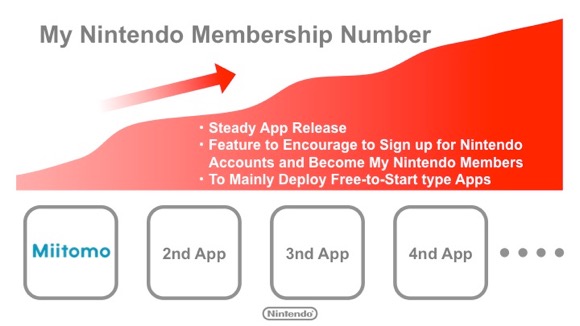 This information comes from Nintendo president Tatsumi Kimishima…
As we have previously discussed, we are aiming to further advance our "gaming population expansion" strategy and aim to "grow the population who have access to Nintendo IP (intellectual properties)." To achieve this goal, our increasing the number of My Nintendo members will be one of the most important missions.

Accordingly, after the release of Miitomo in March, we will steadily release game apps for smart devices.

Because we want as many people as possible to enjoy Miitomo, we have designed it so that creating a Nintendo Account and becoming a My Nintendo member is not required. But when we release smart device apps with our popular IP in the future, we will design them in a way that will encourage consumers to become My Nintendo members.

For each app, we will review and select the most appropriate payment system by taking into consideration the nature of each IP. But we are thinking of mainly deploying free-to-start type apps as we hope as many people as possible among hundreds of millions of people all around the world who own smart devices will experience our apps.

We are intending to significantly increase My Nintendo membership by all these measures.

We would like to set "100 million My Nintendo members globally" as our initial milestone. Since this number should be considered as a check point, we will make efforts in order to achieve this number at the earliest possible timing.

We believe that the bigger the size of My Nintendo, the greater the enjoyment and value we will be able to provide to our customers.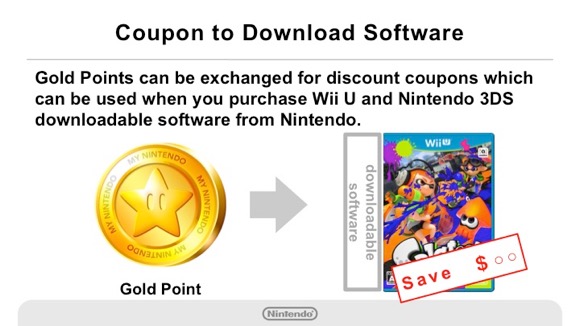 This information comes from Nintendo president Tatsumi Kimishima…
And now, I would like to dicuss Nintendo's new membership service and our new business on smart devices.

We will globally start the new membership service called "My Nintendo" this March.

My Nintendo is Nintendo's comprehensive service that all consumers with a Nintendo Account can access.

My Nintendo will offer services which make Nintendo's game experiences even more fun and more convenient, and that provide enhanced value for members.

We are planning to provide similar services for the new entertainment experiences that Nintendo will offer beyond gaming in the future.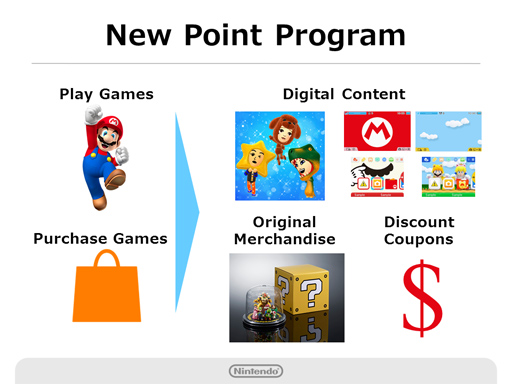 During Nintendo's financial results briefing today, Nintendo president Tatsumi Kimishima delivered an update about My Nintendo.
The My Nintendo point program will begin in March in 39 countries. There will be Platinum Points like the prior Club Nintendo and Gold Points for coupons. My Nintendo is starting with a points program, coupon, emails, and web downloads. It'll expand to friends list, cloud data, and in-store.
Kimishima also reiterated that the first goal is to quickly have 100 million people registered with My Nintendo.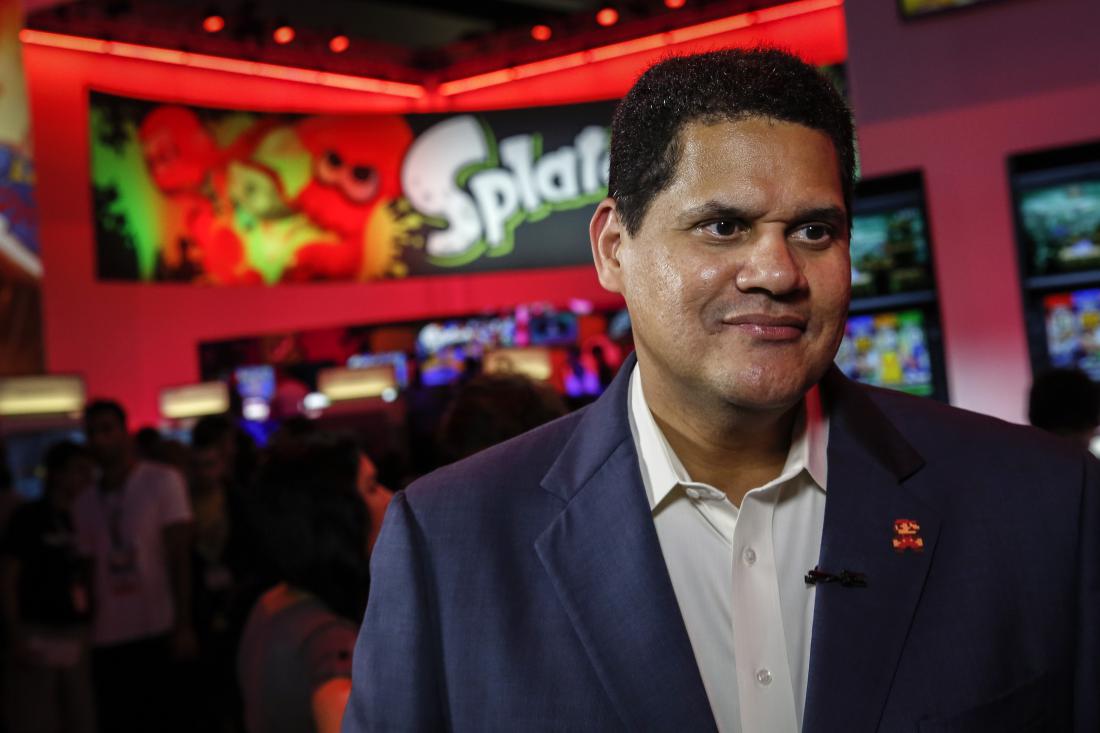 TIME has published a new interview with Nintendo of America president Reggie Fils-Aime. Reggie chatted about mobile (including Miitomo), My Nintendo, plus amiibo's success and how it's reflective of where the company is heading in terms of leveraging IP.
Head past the break for a roundup of the various comments. You can also check out TIME's article here.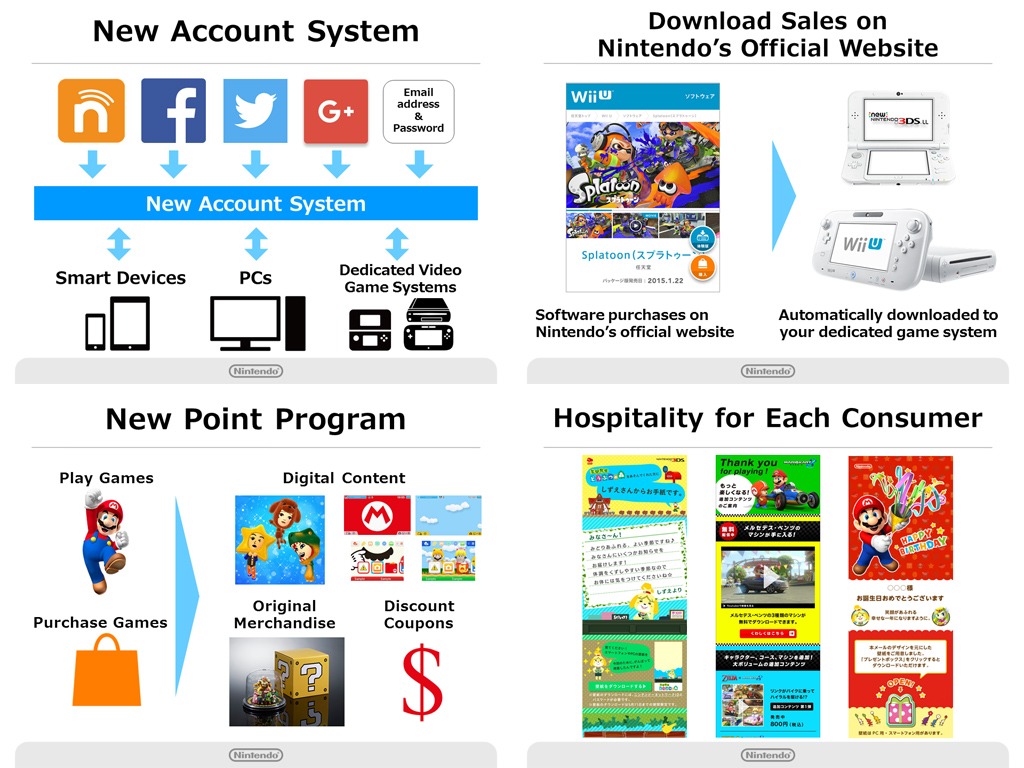 Nintendo shared first details about Nintendo Account (its new term for accounts) and My Nintendo (new membership service) during its financial results briefing today. Here's a breakdown of everything we know:
– Ease of creation/use of Nintendo Accounts being emphasized
– Register with NNID, Facebook, Twitter, Google, e-mail
– Purchase software downloads on the site, see purchases, play info, and game-related messages
– Nintendo will send notices and gifts
– Ex: Animal Crossing character called Isabel may send some information or a present to those who are playing with that game, Mario Kart players may receive a notice about add-on content and we may also send a message that enables the recipient to purchase some software at an attractive price point on his or her birthday
– Games purchased can be automatically downloaded to your system
– Receive points by using and playing games or purchasing them
– This applies to both console and mobile
– Use points on digital goods (maybe DLC), original goods, and coupons
– Use your account in conjunction with the theme park, as well as theaters and stores
– Make friends with those who enjoy playing games together by establishing "Friend" relationships
– Friend relationship can be established only between two people who know each other and have consented to the relationship
– This Friend relationship can be used for software for dedicated game systems and smart device applications
– Nintendo Accounts will provide cloud storage of character and save data
– Will provide membership service benefits in other real-life facilities such as theme parks, movie theaters and retail outlets
– My Nintendo will work as a bridge between dedicated game systems and smart devices
– My Nintendo out in March