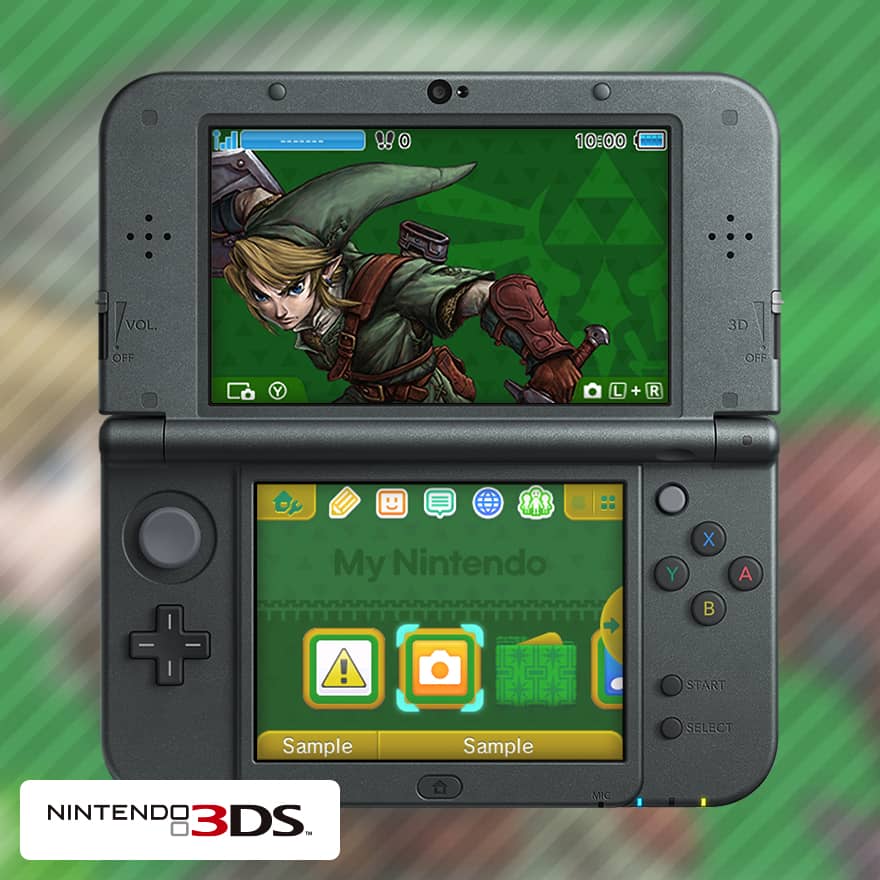 Earlier this month, Nintendo added in a new Link theme on My Nintendo. You can get a closer look at the reward in the video below.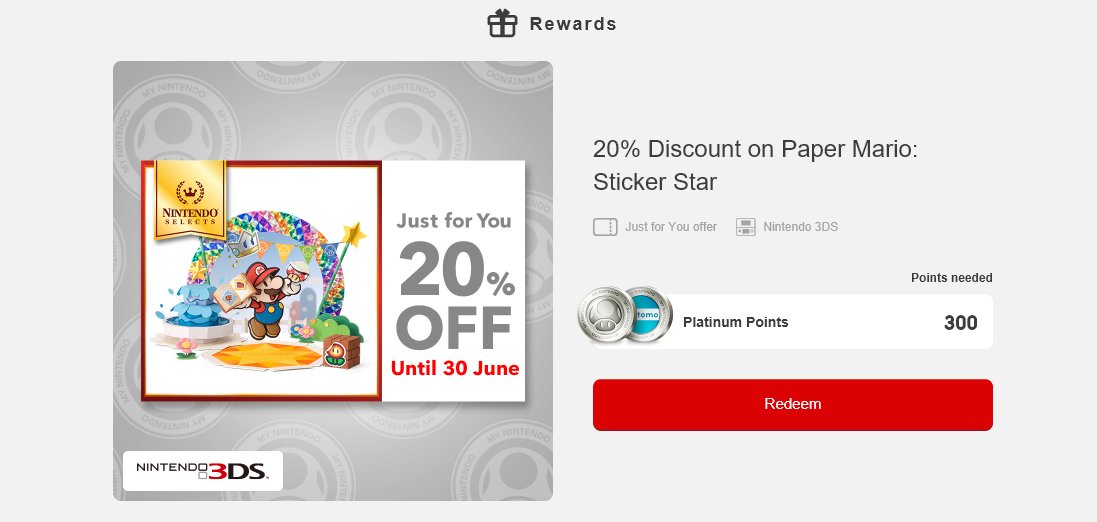 Two new discounts have been added to My Nintendo Europe. Both Paper Mario: Sticker Star and Nintendo Presents: New Style Boutique can be had for 20 percent off. The two rewards cost 300 Platinum Points each.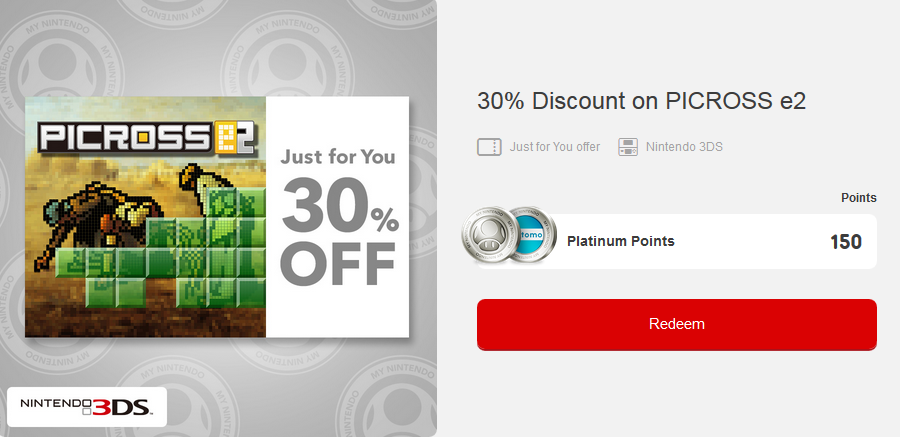 Two new rewards have just gone live for European My Nintendo users: 30% discounts for both Picross e and Picross e2 on 3DS. They each cost 150 Platinum Points and are available until September 1st.
Source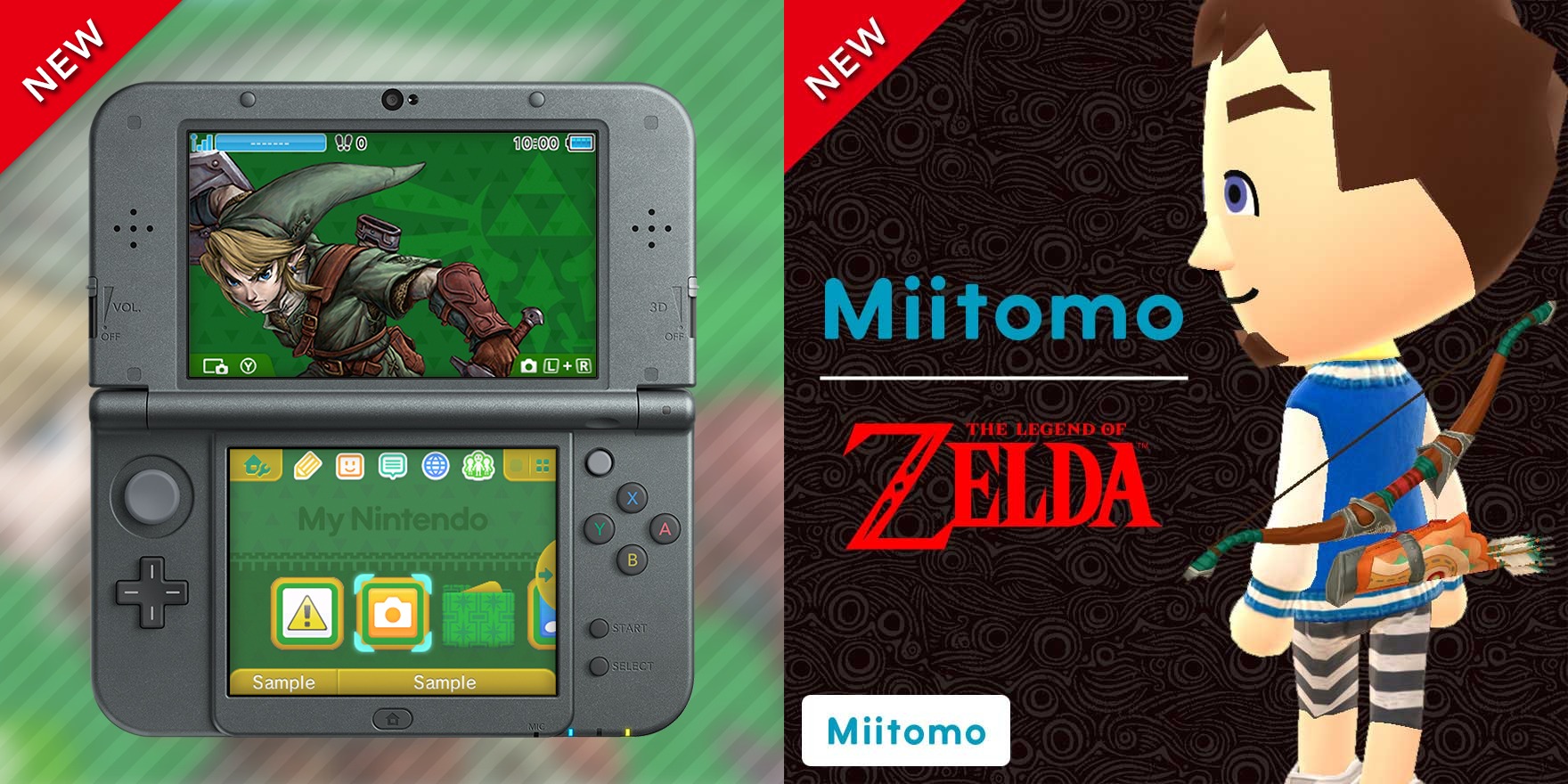 Two new rewards have been added to My Nintendo, and both are Zelda-themed. You can now pick up a Link 3DS theme as well as the "bow & arrows" item for Miitomo.
The new theme will set you back 200 Platinum Points. For the Miitomo item, you'll need to fork over 50 Platinum Points.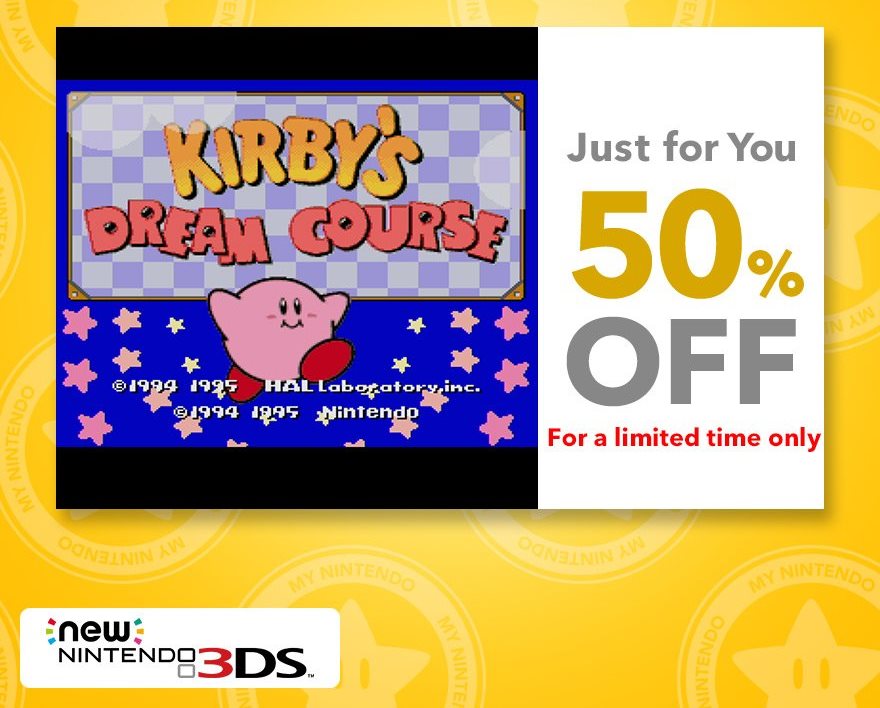 A pair of rewards have been added to My Nintendo Europe. For 25 Gold Coins, users can pick up a 50 percent discount on Kirby's Dream Course (redeemable for New 3DS). A 1-hour ticket for Wii Karaoke U can also be obtained in exchange for 100 Platinum Coins.
The Kirby discount will be up until June 23. The Wii Karaoke U ticket will be on My Nintendo until July 1.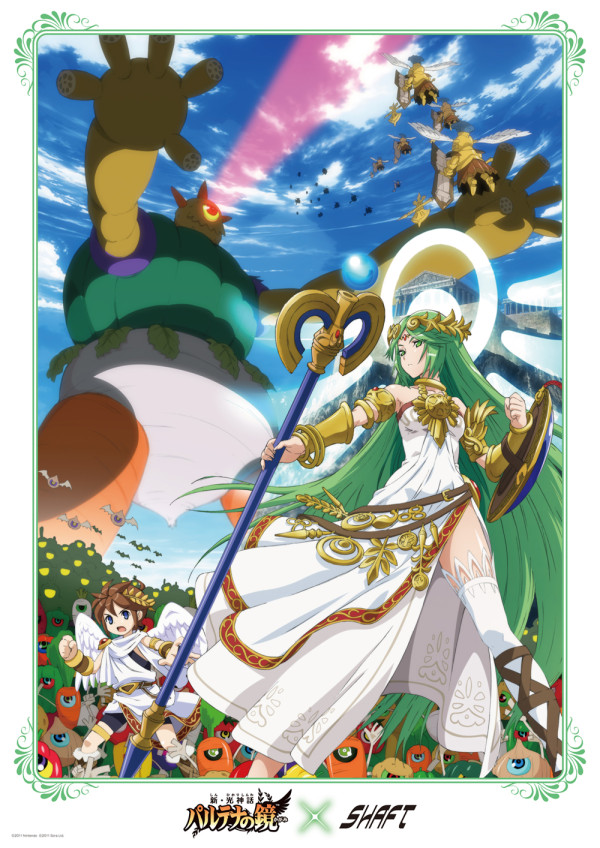 Some interesting new rewards will be available tomorrow on the Japanese version of My Nintendo: users can buy the three animated shorts that were released to promote Kid Icarus: Uprising back in 2012. Each of the three shorts was produced by different, prolific anime studio: Production I.G was responsible for "Thanatos Rising", Studio 4°C made "Medusa's Revenge" and Shaft produces "Palutena's Revolting Dinner".
Each short costs a mere 80 Platinum Coins. It's currently not known if they will be available in other regions at some point – however, English dubs of the shorts do exist, so it's not inconceivable.
Source Via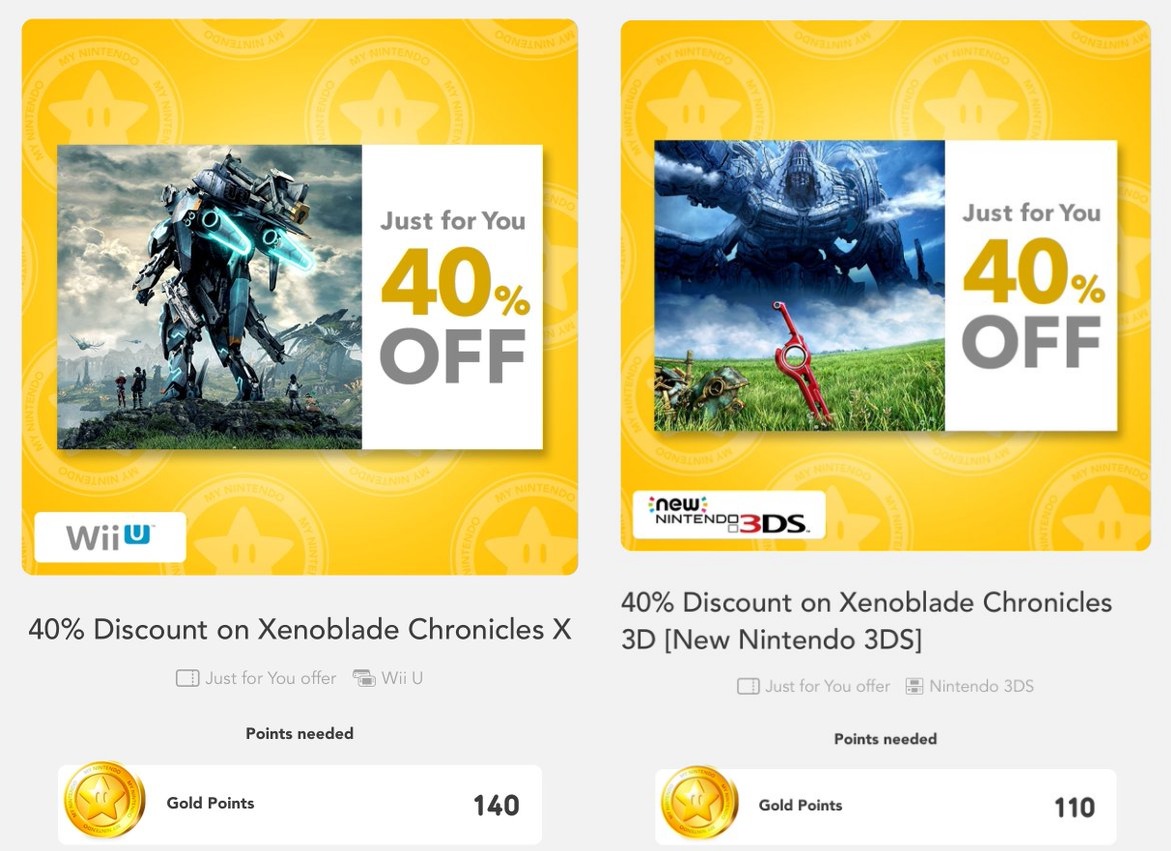 My Nintendo added a trio of Miitomo rewards in all regions earlier today. And in Europe, a couple of extra prizes were added.
If you have a European My Nintendo account, you can spend Gold Points on Xenoblade Chronicles X and Xenoblade Chronicles 3D. The two discounts require 140 and 110 points respectively.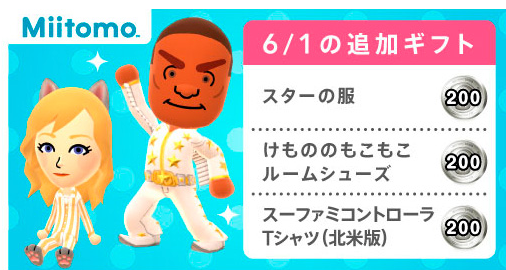 Update (6/1): The rewards are now live! You can check them out below, or redeem your coins for them at https://my.nintendo.com/rewards
---
Three new Miitomo rewards will be added to My Nintendo tomorrow. According to a Japanese newsletter, these items will be available:
Star Outfit: 200 Platinum Coins
Animal Slippers: 200 Platinum Coins
SNES T-Shirt: 200 Platinum Coins
Although this news originated from Nintendo's Japanese newsletter, the rewards should be going up in North America and Europe tomorrow based on precedent. We'll let you know if we hear otherwise.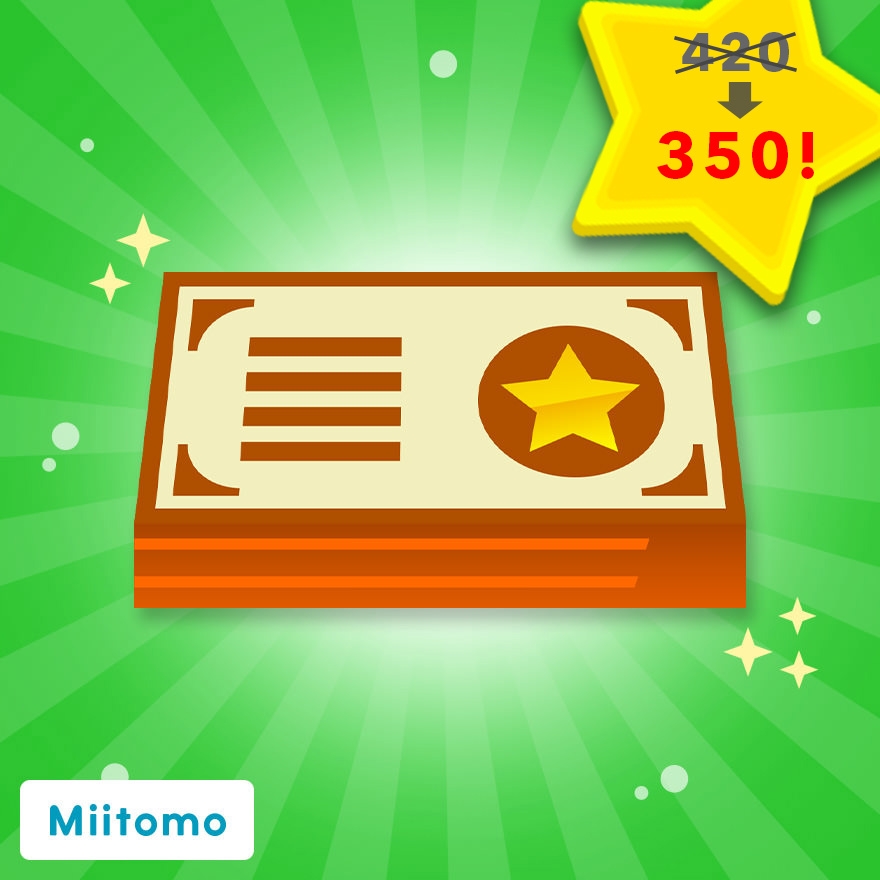 Over on My Nintendo, the pack of five Miitomo game tickets has been discounted. It's been reduced from 420 Platinum / Miitomo points to 350.
You can see the offer on My Nintendo right here. It'll last until June 20.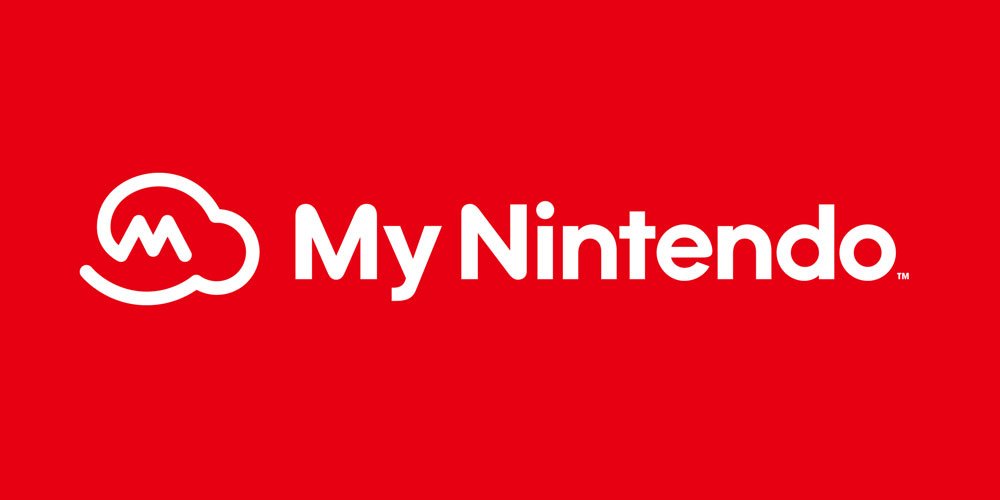 My Nintendo only just launched about a month and a half ago, but it will be expanded over time. That means new rewards will be added and the service itself will have more to offer.
One feature members can look forward to in the future are bonuses for email readers. In an official notice on the European version of the site, Nintendo mentions that these users will be able to receive "more benefits" such as "subscriber-exclusive Nintendo eShop discount offers or early access to certain content." That sounds quite intriguing!