Missed out on today's European Nintendo Direct? Then check out the press release below! It's a helpful summary of what was discussed.
NINTENDO DETAILS NEW Wii U AND NINTENDO 3DS GAMES, MAJOR UPDATES TO CURRENT TITLES, AND A WIDE RANGE OF NEW amiibo

amiibo cards, new Super Smash Bros. characters, Mario Kart 8 in 200cc and an Animal Crossing spin-off game, among the numerous announcements in today's Nintendo Direct

1st April 2015 – During a Nintendo Direct presentation aired today, Nintendo revealed brand new details about games in its line-up for 2015 and beyond, plus news about major updates to games that fans are already enjoying, as well as the latest on all things amiibo.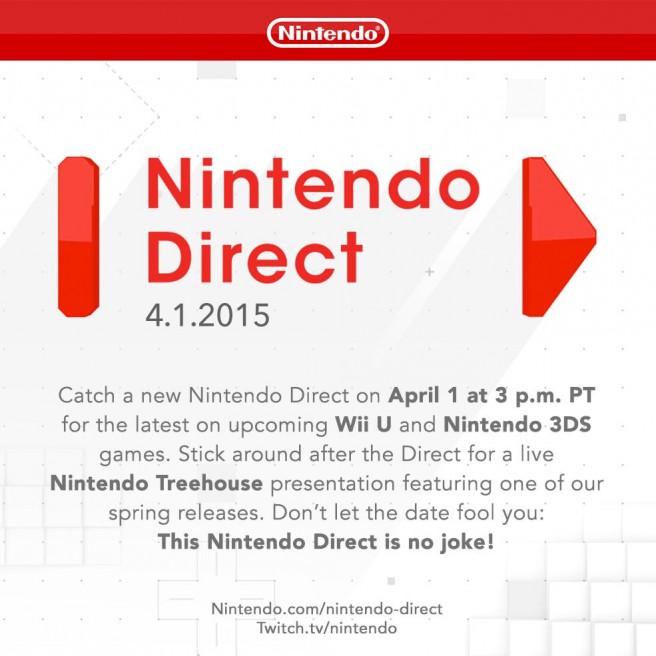 Today's Nintendo Direct will kick off at 6 PM ET / 3 PM PT (an hour from now). We've attached live streams for the various regional broadcasts below. Don't forget that the North American stream will be broadcasting a Spring 2015 game from the Treehouse after the Direct!
Note: Japanese Nintendo Direct is 51 minutes long. North American broadcast will be 48 minutes.
LyonHart / Dennis will be manning this post as he attempts his first live blog. In addition to that, I'll be posting news updates throughout and after the presentation.
Come join us in the comments below to talk about today's Nintendo Direct. Is there anything you want to see announced? Is there a title you're looking forward to seeing more of?
https://www.youtube.com/watch?v=8ebgO0KU9ZA
Updates will follow below. Important news will be published on the site immediately.
Super Smash Bros. for Wii U and 3DS:
– Mewtwo trailer revealed!
– APRIL 28th release date for Mewtwo
– $3.99 on 3DS or Wii U and $4.99 for both
– More Mii Fighters costumes on the way in the 1.0.6 update
– Lucas is returning to Super Smash Bros.!
– Lucas will be made available in June
– Smash Bros. Fighter Ballot now opened for YOUR SUGGESTIONS at SmashBros.com after the Direct!
– WAVE 5 OF AMIIBO JUST ANNOUNCED – will include Dark Pit and Palutena in July; Zero Suit Samus, Olimar, Bowser Jr., Dr. Mario and Ganondorf coming in September
Amiibo Tap:
– New free software coming to the Nintendo eShop this Spring
– You can tap amiibo and get samples of classic titles
Mario Maker:
– 30th anniversary of Mario
– Can upload, share and play levels made by people all over the world
– Releasing in September
Bill Trinen hype
Yoshi's Wooly World:
– Has Classic Mode and Mellow Mode
– Classic Mode is meant to be standard Yoshi difficulty, while Mellow Mode are for casual players
– YOSHI AMIIBO LINE ANNOUNCED, releasing this fall
– Will be cute and fuzzy, unlike the hard amiibo we're used to
Splatoon:
– Battle Dojo mode revealed
– Battle Dojo mode allows for 1v1 local battles, pop balloons
– Inkling amiibo anounced! Packaged and single bundles available
– Releasing alongside Splatoon on May 29th
N64 and Nintendo DS games FINALLY coming to the eShop:
– Configure controls and screen size of the titles to your liking
– N64 prices will be $9.99-$11.99 (Discounted $2 if you already own it), $6.99-$9.99 for Nintendo DS titles
– Yoshi Island DS and Super Mario 64 made immediately available after the Direct for $9.99
Octodad: Dadliest Catch:
– Heading to Wii U this summer
Mutant Mudds Super Challenge:
– Cross-buy enabled. When you buy one, you'll get the other free
– Loyalty Discount for those who own the original Mutant Mudds
Shin Megami Tensei x Fire Emblem:
– Finally an official trailer arrives and it is beyond beautiful
Fatal Frame 5:
– FINALLY BEING LOCALIZED FOR THE WII U
– Heading west this year
Boxboy:
– Releasing April 2nd
Pokemon Rumble World:
– Will be free to download on April 8th for the 3DS
Puzzle&Dragons Z + Super Mario Edition:
– Releasing May 22nd
Attack on Titan: Humanity in Chains:
– Officially being localized by ATLUS
– Releasing in May
Streetpass:
– Two new games on the way
– Ultimate Angler and Battleground Z, two new StreetPass Mii Plaza games, launch soon
Xenoblade Chronicles 3D:
– New trailer shown
– Shulk screams
– Releasing April 10th
Fire Emblem:
– Your created character is THE main protagonist of the game this time around, instead of a support
– New trailer shown, looks beautiful because Fire Emblem
– Oniichan
– Up to the player which side to take, either good or evil
– Storyline, battles and outcomes vary on how you play
– Available 2016
amiibo Cards Revealed alongside new Animal Crossing:
– Animal Crossing: Happy Home Designer
– amiibo cards will work with AC: HHH
– Fall 2015 release
– Will release alongside amiibo reader for the standard 3DS models
/end Bill Trinen hype
Iwata hype returns
Mario Kart 8:
– Footage of the new DLC
– New Animal Crossing track shown
– Dynamic seasons to the tracks, will change between them
– 3 racers, 4 vehicles, 8 courses
– Releasing April 23rd instead of initial May date
– New amiibo compatibility will add more costumes
– 200cc added! Hype!
– 150cc confirmed for casuals
– Update coming on April 23rd, includes the new 200cc class
Based on a new tweet, Curve Digital may have something in store for tomorrow's Nintendo Direct. It could be something extremely small such as being a part of an eShop reel. We really won't know until after the presentation airs. In any case, here's the relevant tweet:
Nintendo Direct tomorrow! Not saying we're definitely in there, but keep your eyes peeled for a little sprinkling of Curve magic possibly.

— Curve Digital (@CurveDigital) March 31, 2015
Nintendo Life has now published its full interview with Damon Baker, Nintendo of America's senior manager in marketing and licensing. You can find the full thing here, though we've grabbed some excerpts below. Topics include how the content for Nintendo Direct broadcasts is chosen, third-party Wii U support, and more.
New Fire Emblem Game and Next Line of amiibo Among Nintendo Announcements

 REDMOND, Wash.–(BUSINESS WIRE)– During a Nintendo Direct presentation, Nintendo announced that the New Nintendo 3DS XL system will launch in the U.S. on Feb. 13 at a suggested retail price of $199.99. New Nintendo 3DS XL offers a number of new enhancements designed to offer the smoothest and most engrossing portable gaming possible. New Nintendo 3DS XL features a wider range of controls with the addition of a C Stick and ZL/ZR buttons, super-stable 3D via face-tracking technology and built-in NFC functionality that allows for communication with amiibo figures.

All of the new features of New Nintendo 3DS XL make it the ideal way to experience upcoming portable games like The Legend of Zelda: Majora's Mask 3D, Monster Hunter 4 Ultimate and Code Name: S.T.E.A.M., as well as all other existing Nintendo 3DS software. The system also enhances certain games like Super Smash Bros. for Nintendo 3DS with amiibo functionality, faster processing speeds and more control options when compared to the Nintendo 3DS system. In addition to the standard hardware in New Red and New Black, two other New Nintendo 3DS XL designs will be available at launch: a system featuring artwork inspired by The Legend of Zelda: Majora's Mask 3D and one based on Monster Hunter 4 Ultimate available exclusively at GameStop with the game pre-installed. The three stand-alone New Nintendo 3DS XL models and the Monster Hunter 4 Ultimate bundle will all be available on Feb. 13 at suggested retail prices of $199.99 and $229.99, respectively.