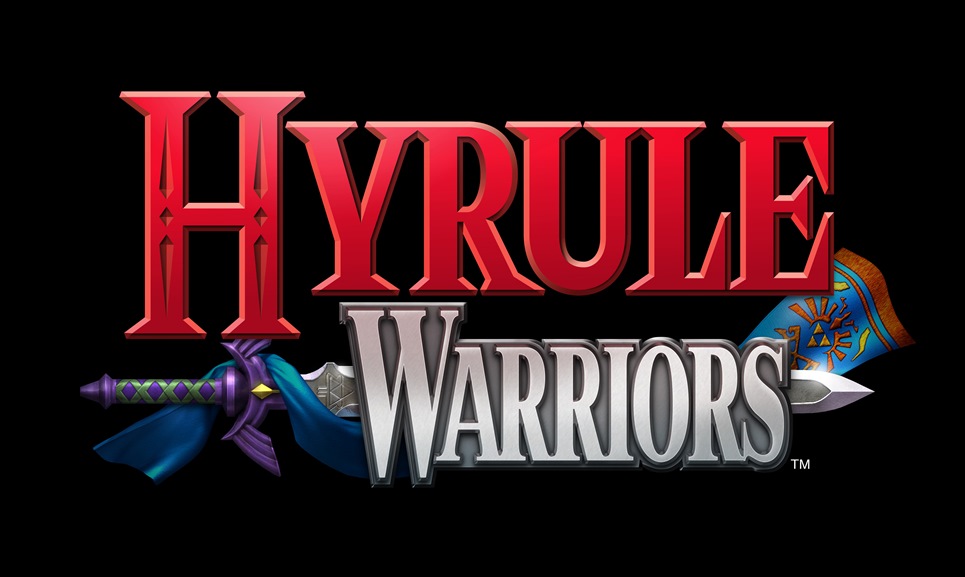 New playable characters have been confirmed for Hyrule Warriors, courtesy of today's Nintendo Direct presentation. Zant and Ghirahim will both be included on the roster. The two previously appeared in Zelda games.
Zant's signature weapon is his schimitar, which he swings around. Meanwhile, Ghirahim's signature weapon is his Demon Blade – just like in Skyward Sword he will be a savant in sword play.
The Hyrule Warriors Direct will begin one hour from now (11 PM ET / 8 PM PT). Our last couple of formats have worked pretty well, so we'll post tidbits from the presentation below. If there are major announcements (like new characters), we'll make separate posts as well.
Note: today's presentation will be roughly 26 minutes.
Updates to follow below…
A new Nintendo Direct will be hosted on Monday, all entirely dedicated to Hyrule Warriors.
Nintendo of America's confirmed on Twitter that the presentation will be held at 11 PM ET / 8 PM PT. A tweet from the company reads:
Watch a new #NintendoDirectNA on Monday, 8/4 at 8 p.m. PT for new details about #HyruleWarriors for #WiiU http://t.co/Chl8oa3dqv

— Nintendo of America (@NintendoAmerica) July 31, 2014
This is going up a few hours early, but that's okay! We've got you all set up with the stream and a live blog for Nintendo 3DS Direct: 3rd Party Publisher Games.
Today's presentation will kick off at 7:00 AM ET / 4:00 AM ET. Updates will be posted below throughout the event. We'll also make separate posts for new announcements if there are any!
Updates to follow below:
Final Fantasy Explorers
Plenty of gameplay footage shown, starring Final Fantasy III summon Ifrit
The game will feature up to 4 player online co-op
Coming to Japan this winter
Tales of the World: Reve Unitia
Re-confirmed October 23rd release date
Fresh gameplay footage shown
Dragon Quest X
Plenty of new 3DS footage shown, focusing the online interactions with other players
Game will be running on a cloud server so 3DS doesn't have to do much of the processing power
A slot mini-game was also briefly shown off
Coming September 4th for 3 800 yen
Kinki no Magna (Forbidden Magna)
A new SRPG from the developer that made Rune Factory 4
You form tight bonds with your spiritual companions and they gain special attacks
Street pass is a bit part of the game, allows for the ability to unlock stuff in your garden / aids in battle
Coming October 2nd. A sleep mask and CD will be included in a special edition
Kenka Bancho
A Kenka Bancho title was briefly teased during the direct but no further information has been given about the game
Monster Hunter 4G / Ultimate
 Coming October 11th
Game will be playable tomorrow in Akihabara
More footage of the game will be on Niconico following the Direct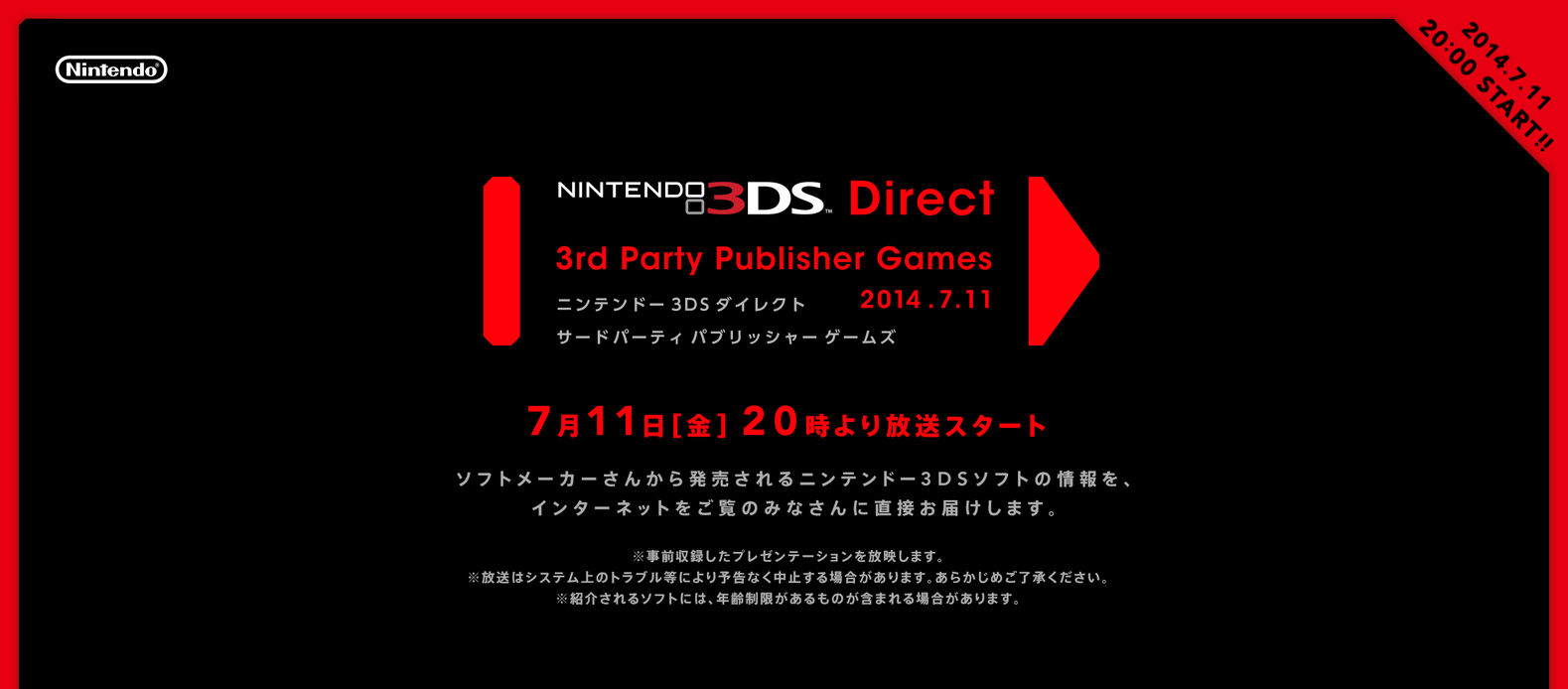 A special Nintendo Direct will air in Japan tomorrow, Nintendo has announced. The presentation will focus on third-party titles for 3DS.
The Nintendo Direct will kick off at 8 PM Japan time. That's 7 AM ET / 4 AM PT.
The Youkai Watch 2 Nintendo Direct will be going live shortly! You can check it out below live and the story will be updated with information as it comes out (Thanks NintenDaan!)
Direct was hosted by Level-5 president Akihiro Hino
Explained a lot of the gameplay mechanics and concepts, many of which we've seen before
Demonstrates a lot of the cross-media aspects relating to the anime, manga and other lines
World appears to be more expansive than in the first game
Riding the train in-game will bring you to new locations not available in the regular world (such as a beach or rural town)
One of the new Youkai's is an Onigiri Samurai
The game features various mini-games such as bike racing
Bosses can join your team, an example was shown in a bath house setting
Multiplayer net-play is available for regular battles and the new Youkai Watch busters mode where you play as Youkai
There are multiple version of Youkai Watch 2, preseumably with their own special Youkai
DLC will be featured in the game but it appears to be free
Special content available for those who owned the original
A special version of the Youkai Jibanyan will be available depending on whether you download or buy the packaged copy of the game
And that's a wrap! We've got the archive embedded below
A new Nintendo Direct of sorts will be shown this Friday, Nintendo has confirmed. The latest presentation will be dedicated to the Japanese release of Youkai Watch 2. Youkai Watch 2 Direct will be shown at 6 PM Japan time.
Nintendo announces new characters, launch windows, online functionality and new "Smash Run" mode

8th April, 2014 – A new Nintendo Direct video revealed numerous details about the upcoming Super Smash Bros. games for the Wii U and Nintendo 3DS systems. At the start of the video, series creator Masahiro Sakurai announced that the Nintendo 3DS version of the game is planned for this summer, with the Wii U version targeting winter 2014. Both games will be available in stores and on Nintendo eShop for their respective platform. Sakurai also detailed many of the stages and items in both versions, described the games' online functionality, revealed a new mode exclusive to the Nintendo 3DS version and announced fan-favourite Greninja, a Pokémon from the Pokémon X and Pokémon Y games, as a new playable character.

To view the Nintendo Direct in its entirety, visit http://nintendo.co.uk/nintendodirect. Today's announcements included: