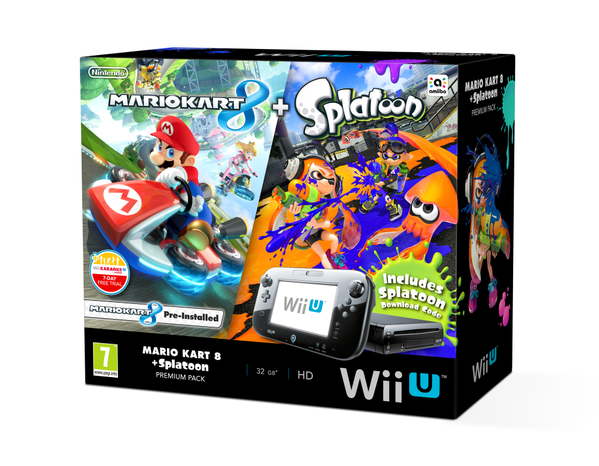 Double the pleasure! Nintendo of Europe has always been generous with their combo packs and extras; they've outdone themselves this time. Hoping to cash in on their best-selling games of the year, a Wii U bundled with Mario Kart 8 and Splatoon will release on October 30th. Physical copies of the game will not be included; instead, the Wii U will come with a pre-installed copy of Mario Kart 8 and a download code for Splatoon.
The Bundle will retail for £240.
There is currently no active link to the bundle on the Nintendo UK shop but we'll have one up as soon as it becomes available.
Nintendo's social media channels from all around the world have expressed their gratitude to fans once again following Iwata's funeral, which concluded earlier today. Fans all over the world have shared their condolence messages as Iwata's life was celebrated one last time. We've included a couple of Tweets here, but be sure to check the full list after the break:
??????? ? ?? ?????????????????????????????????????????????????????????????????????????????????????????????????????????????????????????????

— ??????? (@Nintendo) July 17, 2015
.@Nintendo Thank you so much for honoring our late President Satoru Iwata with your kind condolences. Also, we'd like to express our…

— Cheesemeister (@Cheesemeister3k) July 17, 2015
.@Nintendo …heartfelt gratitude to everyone who came to the wake or funeral in spite of bad weather and busy schedules.

— Cheesemeister (@Cheesemeister3k) July 17, 2015
.@Nintendo For all of your kindness, we humbly offer our thanks. (Nintendo Co., Ltd.)

— Cheesemeister (@Cheesemeister3k) July 17, 2015