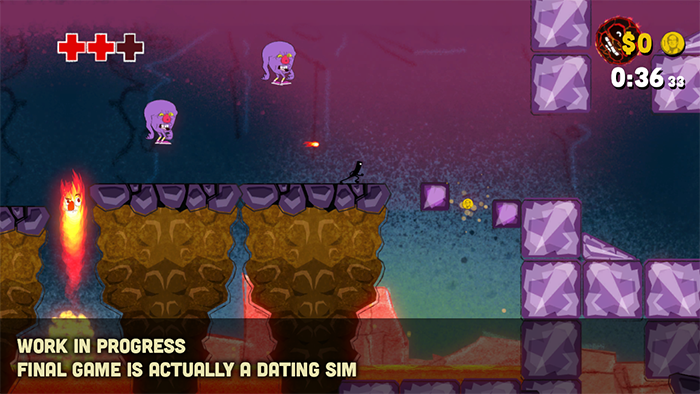 A new blog post on the Runner3 website has given us a glimpse into the retro challenge levels that will be in Runner3. These levels are different in their art style from the primary levels in Runner3, but unlike the retro challenge levels in past runner games the player will have full control over Commander Video.
In past RUNNER games, the Retro Challenges were much more simplified auto-running levels. In RUNNER3, these levels are serious business. Tons of unique enemies, loads of strange obstacles and puzzles and pitfalls, and all sorts of surprises to discover and explore. I'm very certain that you are going to have tons of fun times with this sub-game. But here's the secret sauce that's really going to freak out all you CommanderVideo fans: you're in total control of CV in these levels! That's right…run, jump….OR EVEN STOP! Writing that sentence even freaked ME out! Where am I?! What world is this that I live in?! What are these fabric tubes my legs are trapped in?!!? (Editor's Note: Jason, those are your pants.)
If the regular blog updates are anything to go by, Runner3 appears to be making steady progress to its 2017 release date. You can find the entire blog post here.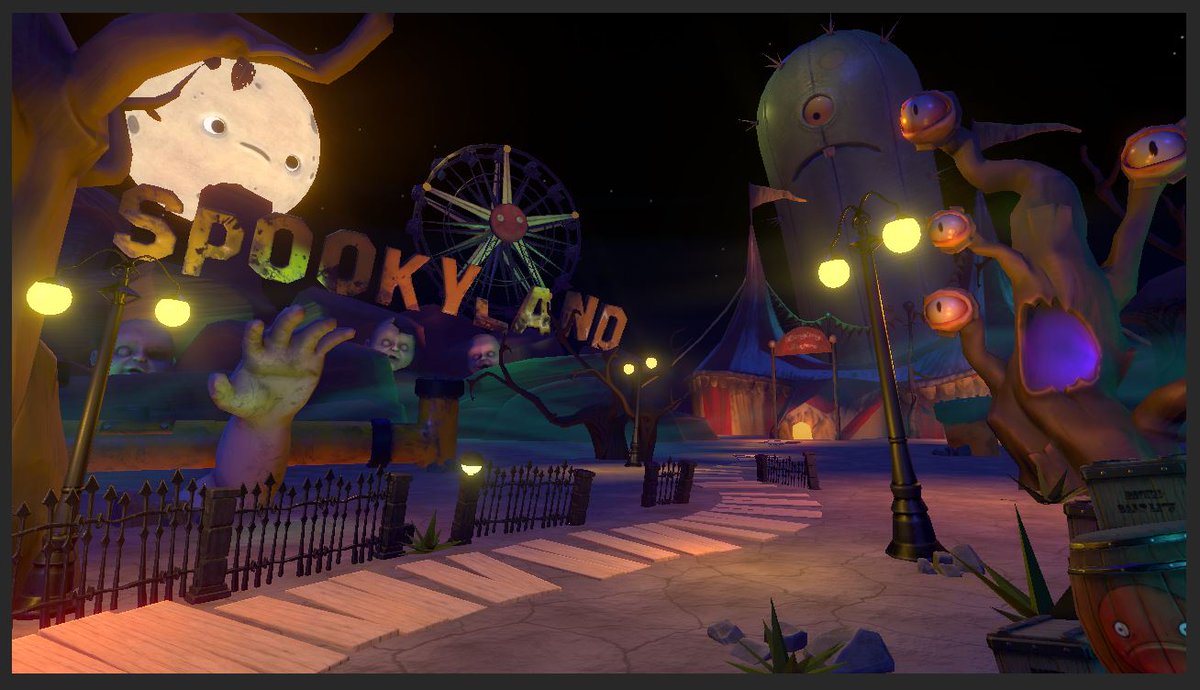 Choice Provisions has pulled back the curtain on one of the worlds to be included in Runner3. Yesterday, Spookyland was introduced.
Here's what Choice Provisions had to say about the world on its blog:
"Some of our previous reveals hinted at it, but we're excited to finally be able to come out and say it: One of the worlds in Runner3 is going to be a strange, peculiar place known as Spookyland. Pretty creepy, no? And yet, there's also a bit of an undeniable charm to it. I think it comes from the doll heads in the background. We have plenty more to share about Spookyland in the weeks ahead, including why it is that CommanderVideo and friends have made the crazy decision to go to such a place."
Runner3 has been receiving regular news updates since the initial announcement a little over a month ago. Expect that to continue going forward.
Choice Provisions is continuing to write up regular blog posts about Runner3. In the latest one, the studio provided fans with a first look at the project.
It should be noted that this is "a screenshot in engine". It lacks post-rendering effects, and the background features placeholder art. In other words, it's far from final. It does however show what has been talked about before – specifically how the path splits "up and down and a curving path going off down another route."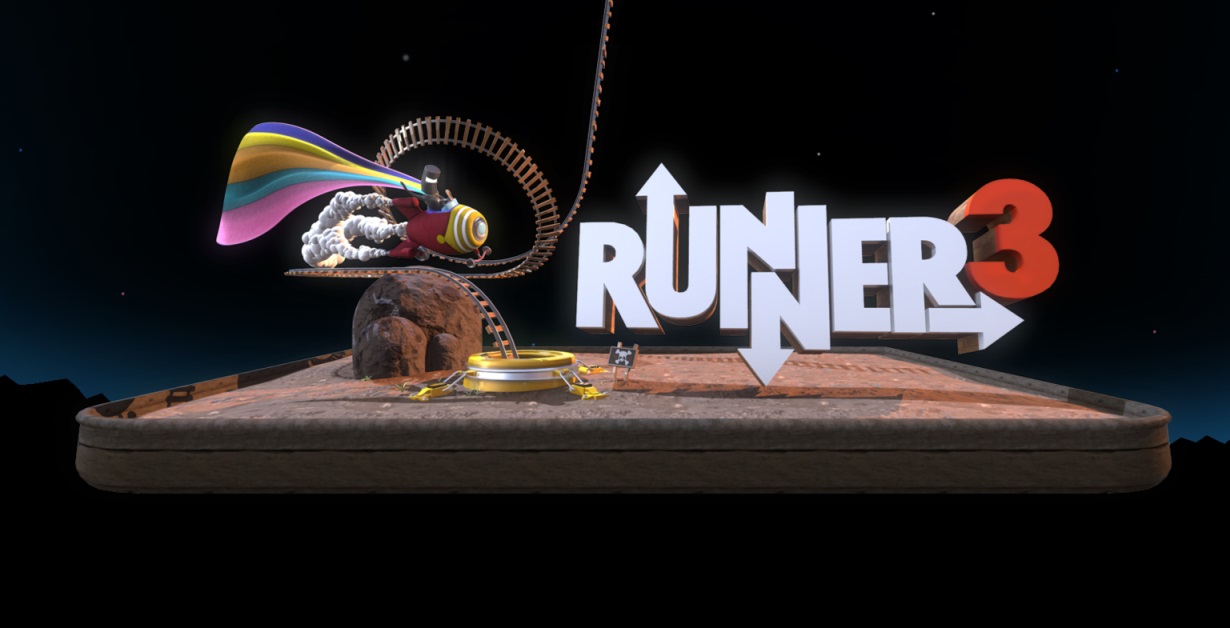 Choice Provisions recently made it known that Runner3 is on the way. However, not much was said about the actual gameplay. In a new blog update, Choice Provisions did touch on what's planned.
Runner3 will be building off of the gameplay found in the original two games. In this title, there will be "a whole new world, with ups, downs, lefts and rights, split paths, and of course forwards". Runner3 is also getting a controlled event mechanic, in which Commandervideo controls vehicles, animals, and more.
Continue on below for Choice Provisions' full blog update.
You might have noticed that our announcement image had ABSOLUTELY no running. This is fairly silly, considering the game is called Runner3. Well I am here to tell you that we are very silly people, but also, we are silly people that have already made two running games. We need to add as many herbs and spices to this tangy sausage as possible so that we can serve it to you with maximum flavor, aroma, and aftertaste.

Making a sequel is a bit harder than you might think. We are bound to the rules of gameplay that have already been set in place. The fans have an expectation that is based off the previous game, so you need to honor that relationship. That said, you also need to reinvent and evolve the game, so it's not the same ole bag of beans. If we aren't careful, we can paint ourselves into a corner.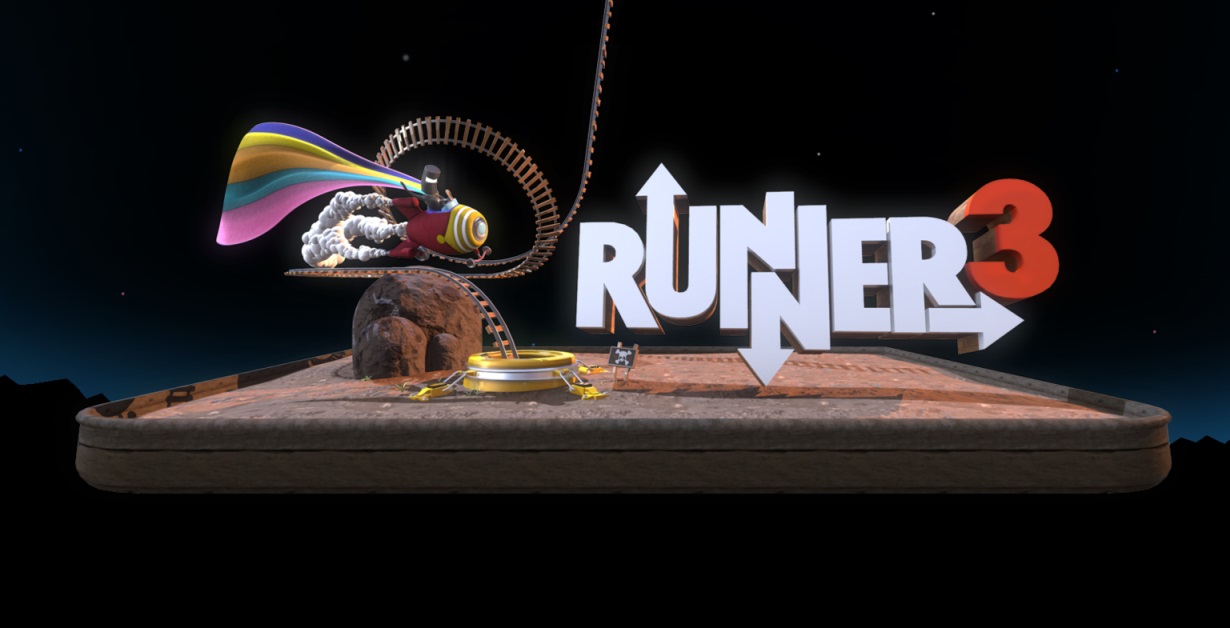 Update: Choice Provisions has confirmed that Charles Martinet will be returning to lend his voice to Runner3.
For those asking: Charles Martinet will indeed be returning for Runner3! #whataflavor

— Choice Provisions (@TotallyChoice) September 26, 2016
---
Original: Choice Provisions has announced Runner3, the next game in the Bit.Trip Runner series.
A notice posted on the project's new site reads:
Runner3 is the upcoming (and perhaps unsurprisingly) third entry in the BIT.TRIP RUNNER series. We're committed to making it the best game we've ever made, and we want you to hold us to it. You can follow the game's development over on our devlog, where we encourage you to chat with us in the comments section of our weekly updates.

We plan to be very open with you about the creation of Runner3, and we even plan to solicit feedback occasionally and offer user polls to give everyone a chance to chime in and help us think of things like level names, possible unlockable outfits, and more.

Let's work together to make Runner3 the best game it can be!
We also have the following teaser:
That's all for now. Runner3 is due out next year, so there's plenty of time to share information about the game. I'd say it's likely that we'll be seeing it on a Nintendo platform, though nothing is confirmed at the moment.
Bit.Trip Runner started out on WiiWare, and eventually headed to other platforms including 3DS as part of the Bit.Trip Saga. Runner2: Future Legend of Rhythm Alien was then released on Wii U and other platforms in 2013.