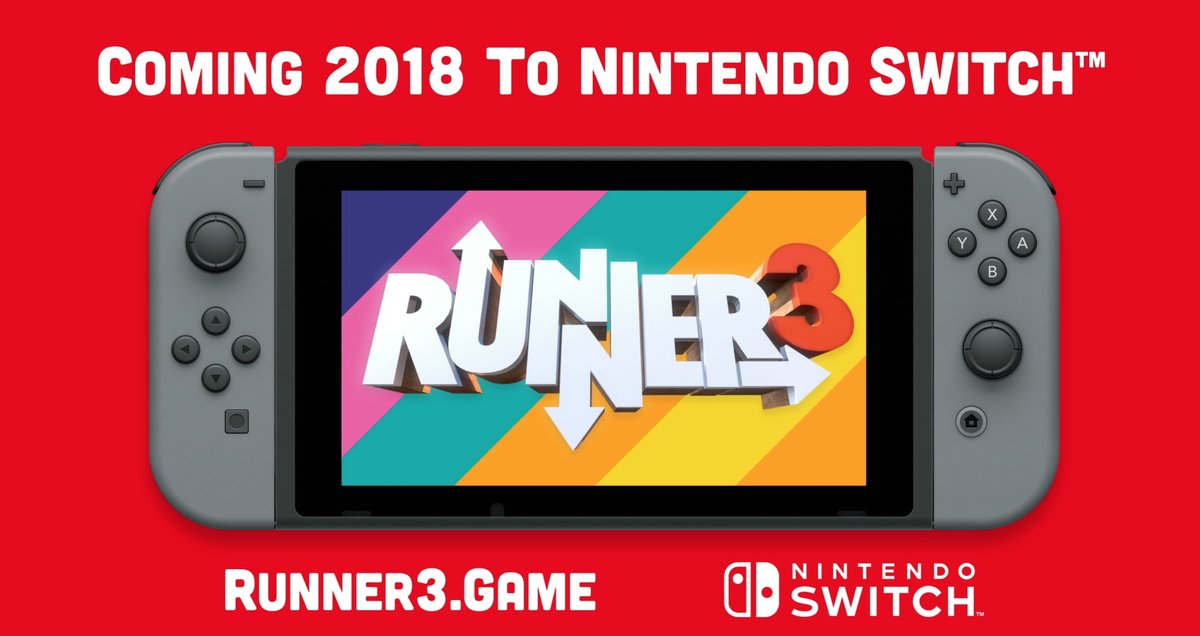 Runner3 has been delayed. On Twitter, developer Choice Provisions confirmed that the game is now hitting Switch in early 2018. It was originally planned for this year.
Choice Provisions wrote the following on Twitter:
For those curious, the delay occurred because we want to make Runner3 the best game it can be. We hope that's an acceptable reason 🙂

— Choice Provisions (@TotallyChoice) August 30, 2017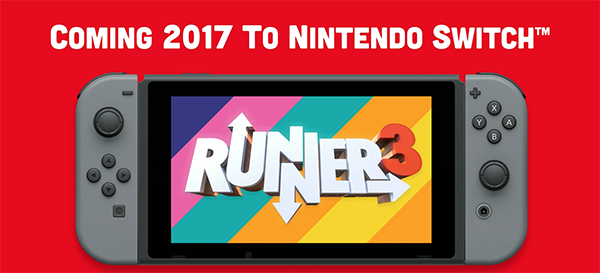 Runner3 essentially has a game within a game. Choice Provisions is packing in Retro Challenges, which feature unique worlds, nine levels, and a boss battle.
Among the environments planned for the Retro Challenges are the great outdoors, caves, and jungle ruins. Using this information, Choice Provisions wants fans to come up with some names they can use for the different levels.
You can submit your entry here. Suggestions will close on September 4 at midnight PT. Winners will have their names represented in Runner3.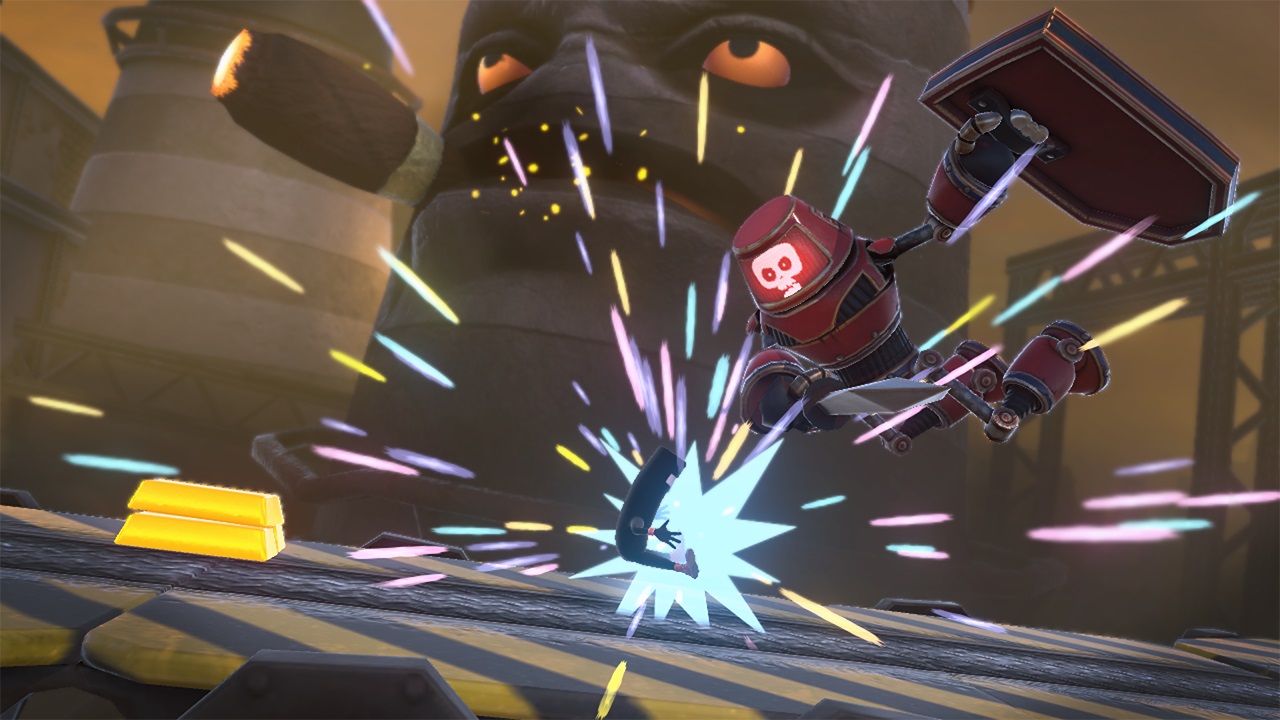 Choice Provisions published another blog post for Runner3 this week. For the latest entry, the developer tackles the new enemy Mechiknight.
Here's the full breakdown:
In Runner3, we're expanding the depth of interaction between CommanderVideo and his world—not only via the environment, but also via helpful elements like vehicles and harmful things like enemies.

Case in point, this handsome devil…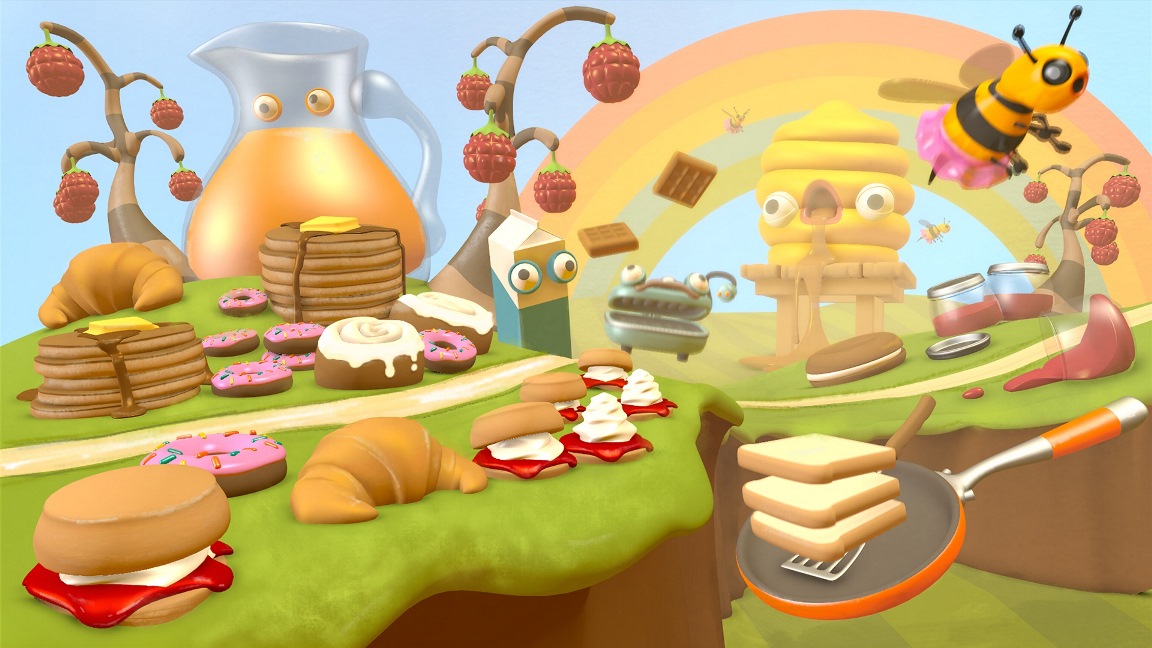 One of the new elements in Runner3 are "Puppet Shows". In a blog post this week, Choice Provisions explained what these are all about. 
Here's the rundown:
If you A) complete a world in Runner3 and B) collect the required items scattered all throughout, you'll be treated to a Puppet Show. You don't have to watch it, but doing so will provide you with a little more backstory for the game. For example, those who watch the Puppet Show for Spookyland will learn what life was like in that world before The Parliament of Owls arrived (spoiler: it was a lot better). 

Oh, and all of the Puppet Shows will be narrated by Charles Martinet. It was our hope all along to have more Martinet in this game, and this is just one example of how we've managed to pull that off!
We also have a look at one of the puppets: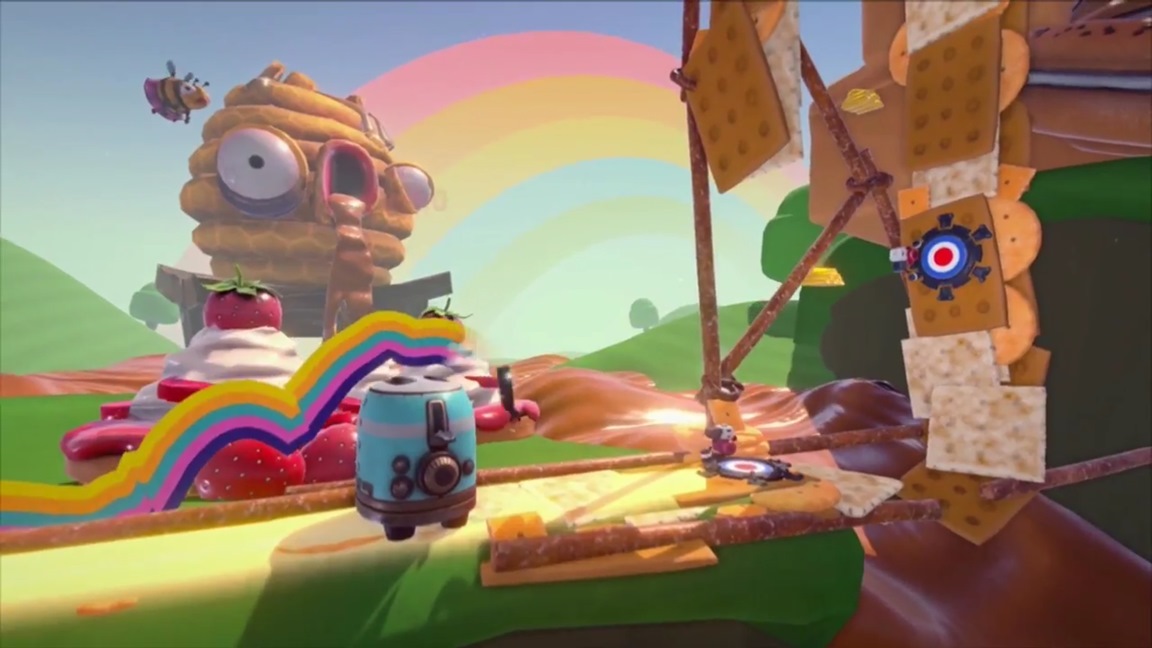 Nintendo World Report has shared a video containing 13 minutes of footage from Runner3. Have a look at the gameplay below.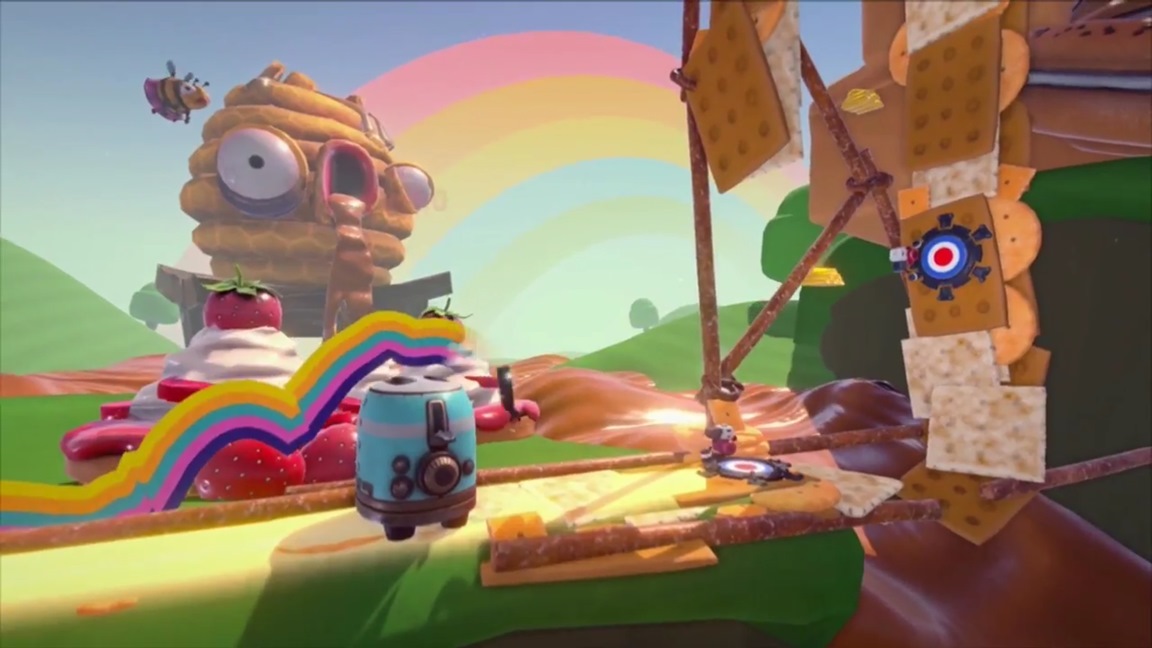 Runner3 was showcased during Twitch's E3 stream this past week. For a new look at the game, watch the video below with new footage.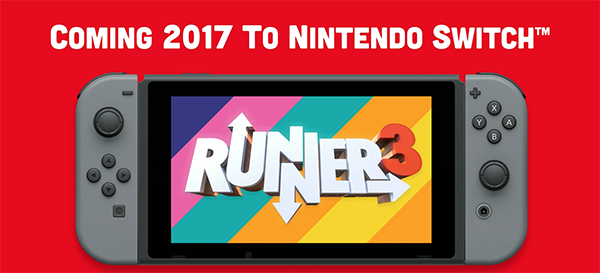 – Game has a lush green stage
– Crescendoing music as you grab EXTRA, MEGA, and ULTRA boomboxs
– Autorun action like the previous games
– "B" button to jump
– "Y" button for kicks
– Various combinations of the D-Pad directions result in slides, ducks and trampoline jumps
– As you approach oncoming obstacles you'll make snap judgements about what to do
– You can jump over a platform or slide under it, kick open a door or drop down to the path below, hit the right inputs on the beat
– One stage has a little rocket ship
– CommanderVideo hops onto it and rides it through the air
– Control his flight using the left stick
– Arc upwards and downwards to grab gold bars before hopping off again at the landing pad
– Game has checkpoints
– Branching paths are another new addition
– Paths have been distinguished vertically
– Jump up to get to a harder section, run straight to stay on the easier level, or the other way around
– Alternate routes wander off into the background
– Tap the "L" button to follow them
– New collectable: blue gems
– The gold bars you find along the path will contribute to your score
– The gems are only collectable once since they'll disappear from the level after the first time you pick them up
– Use these gems to buy new costumes and accessories in an in-game shop
– One level is a spooky nighttime run over rolling sea waves
– Double jump included
– One level in "Machine World" starts on a lonely, floating platform suspended high over a factory floor
– The stage is built around the conceit of assembling itself as it goes, with platforms, obstacles, switches and springboards swinging in underneath Commander Video's flying feet at nearly the last second
– Death counter pops up here in-between attempts
– Team is trying to add a lot of replay value
– Wants to give the feeling of a true adventure rather than a series of self-contained stages
– Hero Quests: side-quests which stop Commander Video in his tracks long enough to hear out the concerns of a friendly NPC, and then send you on a mission to help
– Redesigned retro stages feature tricky puzzle platforming in lieu of the usual auto-running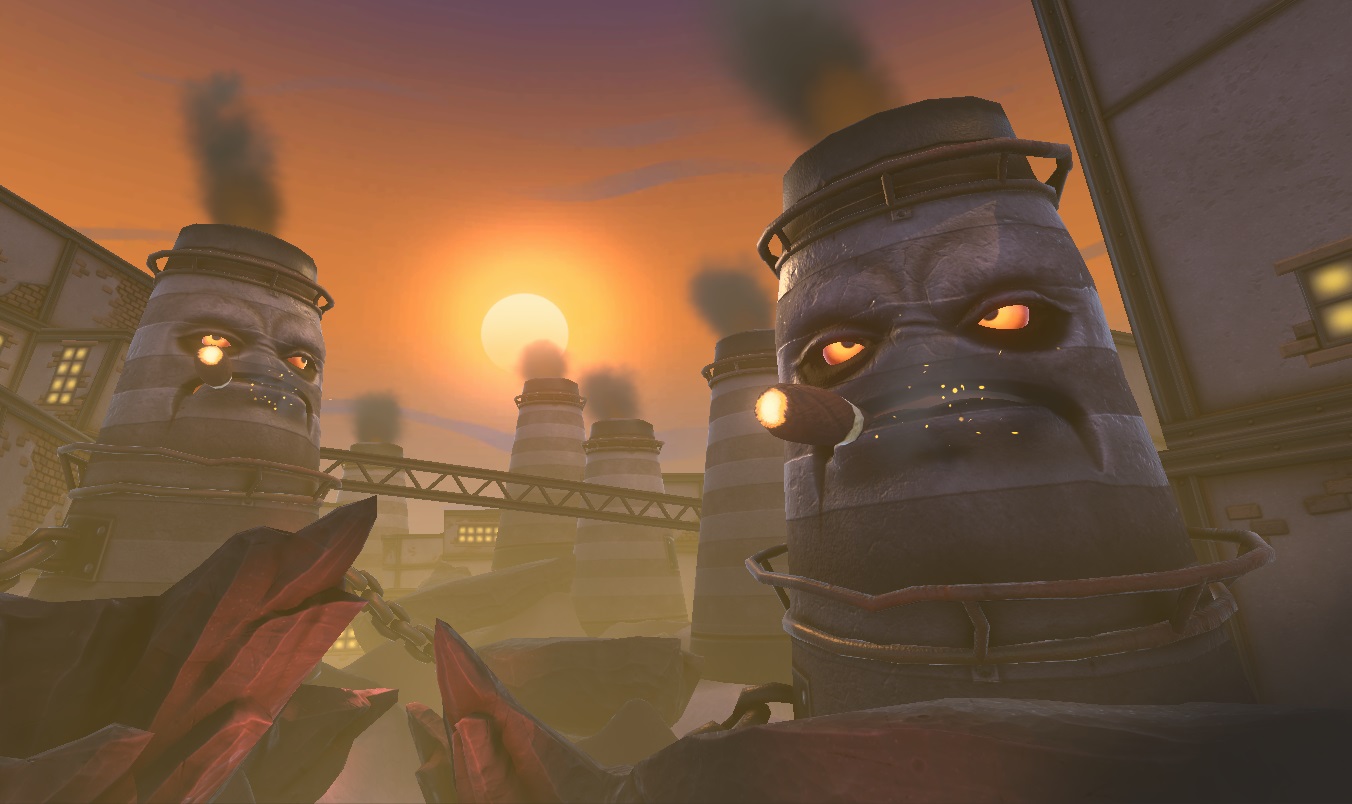 A little while back, Choice Provisions teased a new playable world in Runner3. The reveal took place today, with Machineland being announced.
Here's what Choice Provisions shared about the new area:
"Machineland is not exactly paradise, as evidenced by the cigar-smoking smokestack Titans shown above. It's cold, it's smelly, and it's polluted. As such, what better place is there for CommanderVideo and friends to spread their special brand of cheer?"
Choice Provisions also said today that Runner3 is in the "homestretch of development". You can count on much more information in the weeks and months ahead.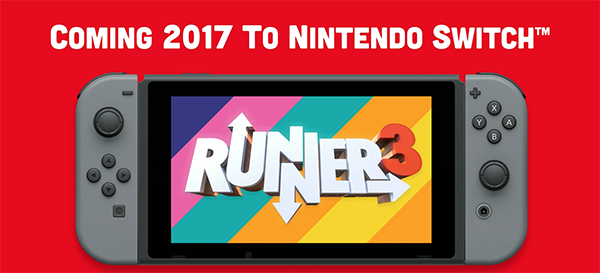 The official Runner3's devlog has been updated once again with an image that teases what the new world will be about.
This time we have a picture of a cute robot, which means that after Foodland and Spookyland, the next world will probably be based on mechanical stuff. Furthermore, developer Choice Provisions want us to guess the name, so go to their site and leave a comment on what do you think the new Runner3's world will be called.
Here's the tease for Runner3's new world: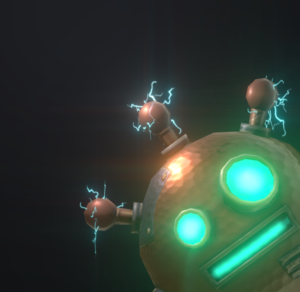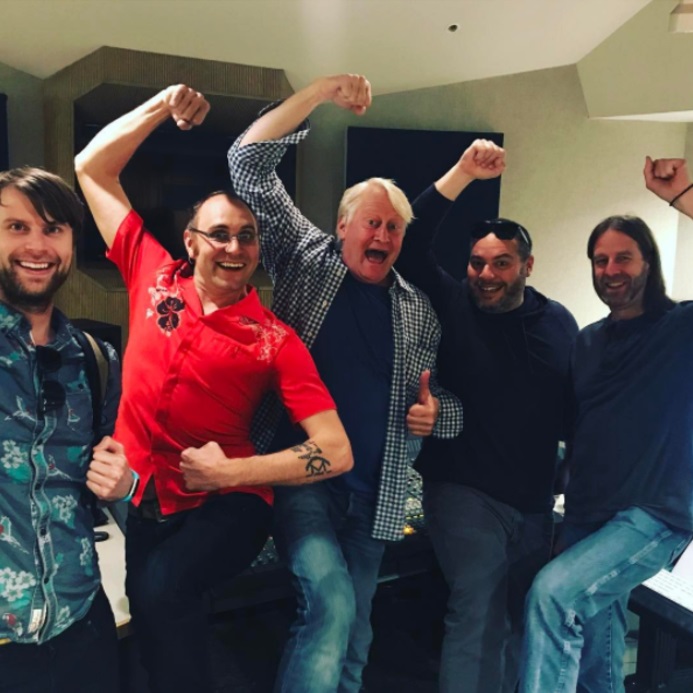 Charles Martinet – otherwise known as the voice of Mario – voiced several lines in Runner2. For Runner3, he reprised his role as The Narrator. Martinet's work just wrapped up this week.
Speaking about Martinet's involvement and the story in Runner3, Choice Provisions writes on its blog:
"As you may already know, Charles Martinet very graciously agreed to return for his role of The Narrator. What you don't know, however, is that he has quite a few more lines this time around! Like, way more!

The story of Runner3 is going to be a little more substantial than what you've seen in the previous Runner games. We won't let it obstruct the gameplay, certainly, but if you're the kind of player who's interested in learning a little more about the wacky world of Runner3, that option will be there for you. I don't want to tell you how to play your video game, of course, but I do highly recommend you seek out the story we've woven throughout the game. We'll do a blog post soon about what that kind of pursuit would look like."
Choice Provisions also has a preview of Martinet's voice in Runner3. Listen to it here.