– StreetPass Arena: the entrance to participate in StreetPass battles
– It's run by the infamous Passmaster Super Skeleton
– Talk to the character to participate in battles between two Shovel Knights like Mario Bros.
– Frenetic fun race to the gems or wild fight between Shovel Knights where you can use every relic at Shovel Knight's disposal
– Won't be fighting each other at the same time
– The StreetPass Arena instead asks that you record your battle strategy ahead of time without seeing your opponent
– 3 short, five second ruounds
– Collect gems while guessing where the opposing Shovel Knight will be and swiping at air hoping you'll hit your opponent
– Your opponent always starts on the right side and you will always start on the left side
– Get StreetPasses in the real world to activate this feature
– If you win, you'll receive a reward
Shovel Knight has received a final North America release date. On Twitter, developer Yacht Club Games confirmed that the title will arrive on June 26.
The studio said:
Yacht Club Games is extremely proud to announce that Shovel Knight will begin his adventure on June 26th. pic.twitter.com/NkC4vVDYzZ

— Yacht Club Games (@YachtClubGames) June 6, 2014
Shovel Knight will be available on Wii U and 3DS via the eShop. No word yet on the European release at this time. However, Yacht Club has "been working through localization and ratings specific to the European region."
Yacht Club Games' Nick Wozniak has commented on the possibility of future Shovel Knight games.
Making a new entry – as said by the studio before – is something that the team would "love to do". Yacht Club could explore more titles based on the 8-bit theme, though a new entry with a 16-bit style "or even a Shovel Knight 64" are also possible.
Wozniak told Red Bull:
"We don't have any plans set in stone but we would absolutely love to do another Shovel Knight. It would make a lot of sense to do one or two more in the 8-bit style, but we would also love to do a Super Shovel Knight done in a 16-bit style. Or even a Shovel Knight 64!"
We've briefly touched on Shovel Knight's unique Wii U and 3DS features in the past. Thanks to Destructoid's recent interview with Yacht Club Games, more information has surfaced.
On 3DS, players can change their items and view gear without having to stop the action. There's also the StreetPass Arena, which Destructoid describes as follows:
"You have to collect five gems in five seconds and defeat the other Shovel Knights, but there are no other Shovel Knights. But when you Street Pass someone, your recordings go head to head and you can watch the wild stabs at nothing after the fact."
The Wii U version of Shovel Knight will also have some unique elements of its own. This version will offer Digger's Diary messages on the GamePad in every area, somewhat like to Dark Souls – and drawing is allowed as well. Yacht Club Games also intends to bring multiplayer to the Wii U version through a future free update.
The video below gives us a glimpse at the 3DS version as well as a quick look at one new level: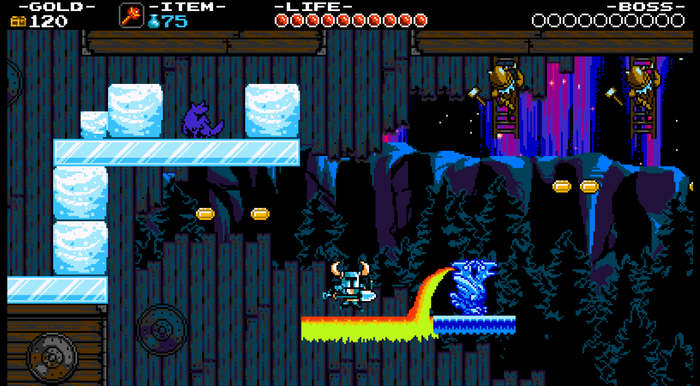 Yacht Club Games shared another small update about Shovel Knight's status on Kickstarter yesterday.
The studio "can see the light at the end of the tunnel" and the game "is essentially complete." As of now, Yacht Club is polishing and addressing remaining bugs.
Yacht Club's Kickstarter message in full reads:
We can see the light at the end of the tunnel! Shovel Knight is essentially complete, as we continue to polish and fix bugs that crop up. These little changes have made huge improvements in these final days. It's so close! As production winds down, we'll have a stable candidate for each version of the game for submission: and then we can announce a final release date!