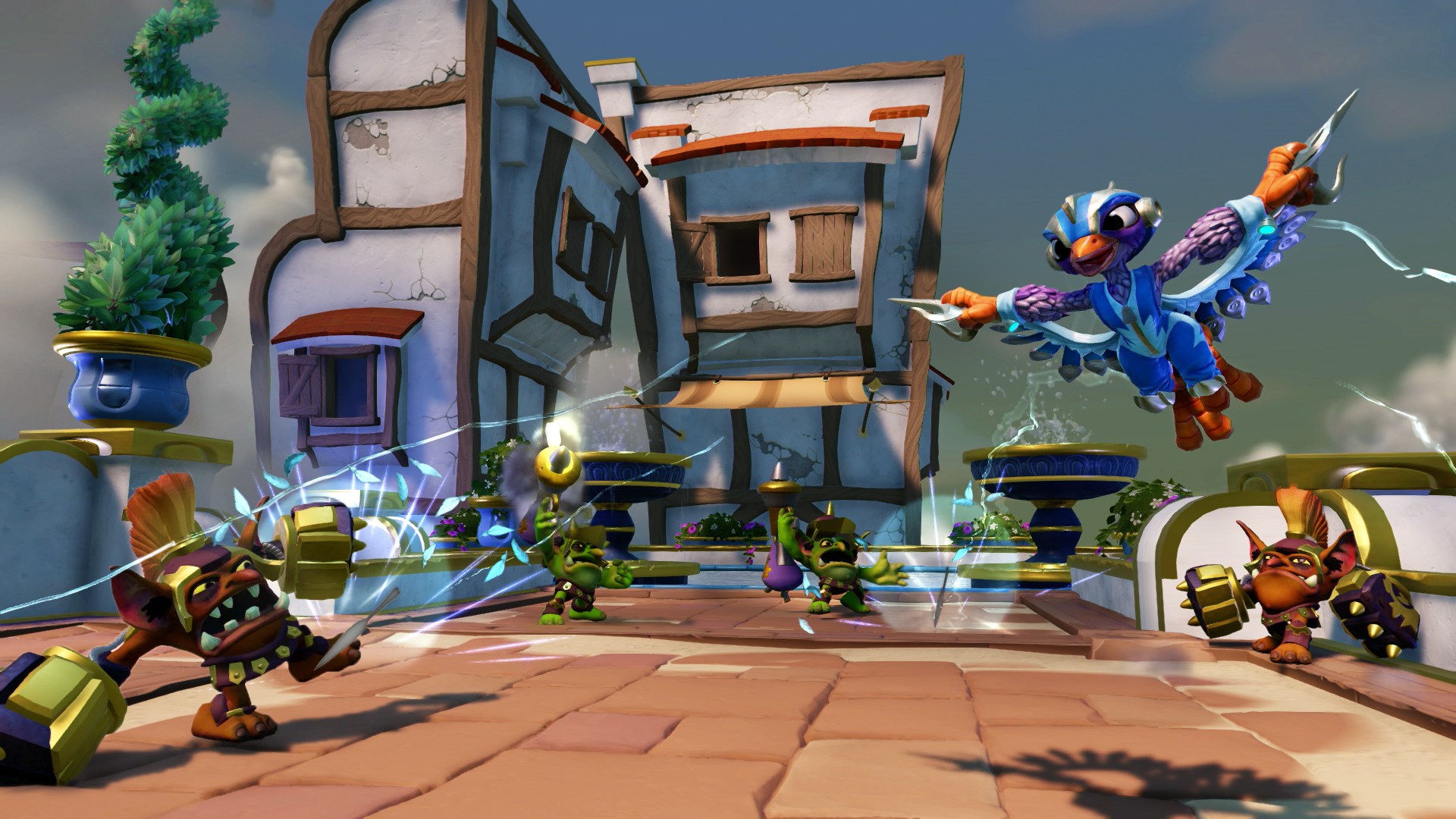 Prior to Skylanders SuperChargers' announcement, Activision allowed members of the media to go hands-on with the title. Nintendo World Report has since published its preview with plenty of the details about the game. Find the information summary below, and the full report here.
– Again, big hook here is vehicles
– Same style of gameplay as previous Skylanders
– 20 figures added to the mix
– 8 are new takes on old characters like Stealth Elf
– 20 vehicles
– Each new figure pairs with a vehicle to make them "supercharged"
– This adds more power to their abilities
– Vehicles are split into land, sea, and air categories
– Land segments feature a racing feel
– Take your race car or motorcycle on long stretches of road, drifting around corners and launching off of huge jumps
– In the sea sections, you'll be gliding across water in speedboats and hovercrafts
– Also dive down beneath the surface to find secret passages and avoid obstacles
– In the air, fly with jet planes and helicopters in gameplay that seems to resemble Star Fox to an extent
– The vehicle figures have wheels, so you can roll them in real life
– One of the sea toys has a propeller that spins
– Most of the new figures have a physical element to them
– Upgrade vehicles with mods
– These are found in hidden treasure chests throughout the game
– Mods change up their stats and gives them a different look
– One mod for a submarine involves a pool toy add-on named Mr. Squeaks that squeaks in game
– Upgrade your vehicle permanently using gear bits
– Gear bits are in each area
– Straightaway and arenas for the vehicle segments with boss fights and secrets
– They can all be played in two-player co-op, though that takes on a Mario Kart: Double Dash style of multiplayer as one player steers while the other fires weapons
– Same Diablo-lite gameplay as previous Skylanders
– Navigate through different worlds, fight enemies, solve puzzles, power up your Skylanders
– Vicarious Visions is trying to have levels with a central gameplay hook
– Ex: one level has clouds that obscures the world around you; clear those clouds so you can solve puzzles and progress
– Another level: shrink ray that grows and shrinks objects, which opens up other puzzle and combat concepts
– One later stage places you on the back of a dragon that alters the environment as he sways back and forth
– All previous figures work with Skylanders SuperChargers
– That includes last year's Traps
– Traps only add bonuses like upgraded mod boosts and unique Skystones cards
– New twists on popular mini-games
– Livewire Lock: lock-pick mini-game
– Livewire Lock has players charging up the the little lock gremlin guy
– The card games Skystones comes back as Skystones Overdrive, which adds new cards and gameplay mechanics
– Beenox working on the Wii and 3DS versions
– Wii version is a port of the Wii U game
– 3DS version will be an original version
– Wii U Starter Pack comes with Spitfire, Super Shot Stealth Elf, and the vehicle Hot Streak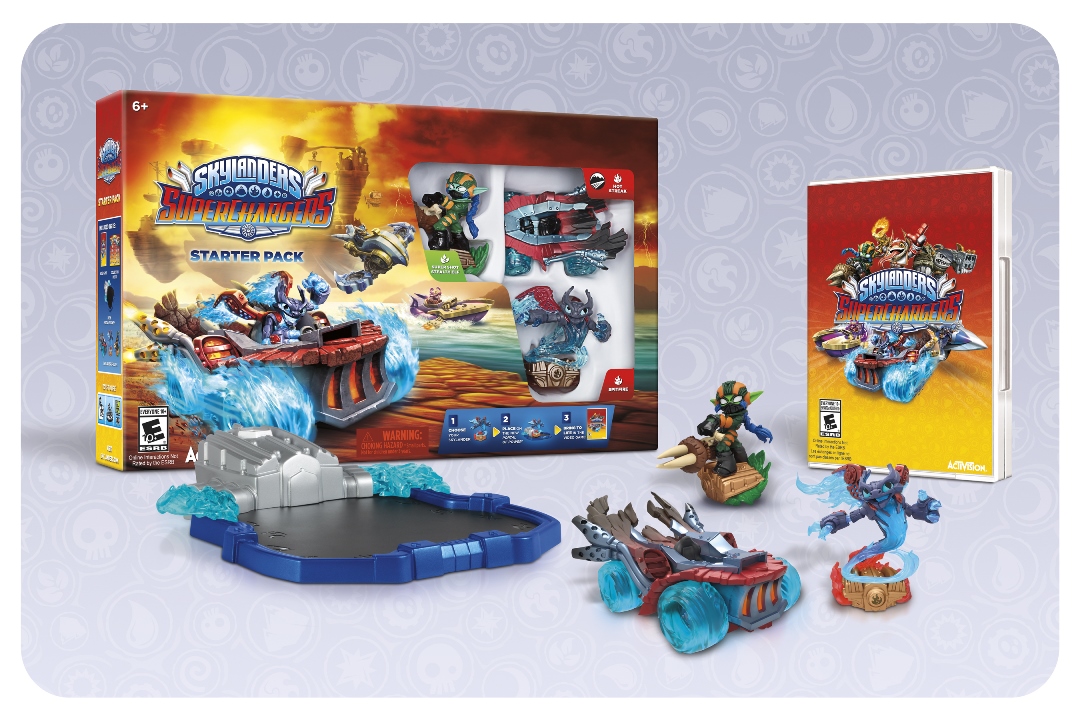 Activision sent out the first Skylanders SuperChargers assets today. Along with the Starter Pack image posted above, you'll also find the first screenshots below.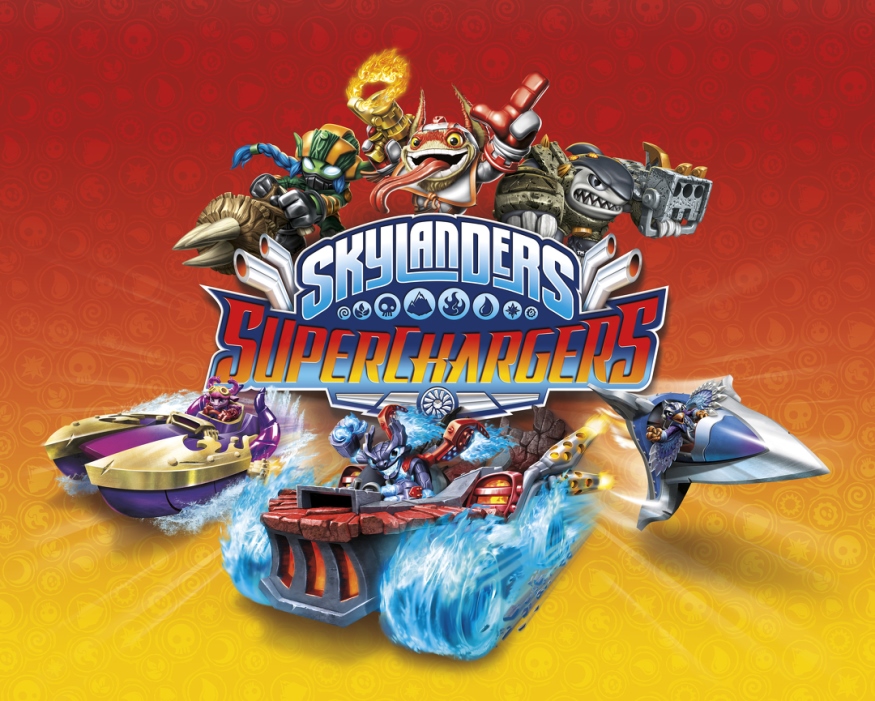 With various leaks that have surrounding the new Skylanders, it was quite clear that Activision would be making an announcement in the very near future. The publisher took the opportunity to do just that today, and has now made "Skylanders SuperChargers" official.
Here's the full breakdown:
At the helm of powerful, tricked-out land, sea and sky vehicles, Portal Masters can engage in a high-octane action-adventure videogame like never before. Kids can speed across Skylands' roads in vehicular combat, race down roaring rapids and engage in aerial dogfights as they barrel-roll through enemy swarms for the first time. Developed by Vicarious Visions, Skylanders SuperChargers offers a rich story-driven gameplay experience, filled with vehicle-based and on-foot adventures, combat, puzzles, mini games, activities and platforming, set within a variety of all-new compelling environments.

Skylanders SuperChargers features a brand-new class of heroes, called SuperChargers who are distinct with fresh moves, powerful attacks and all-new weapons. These SuperChargers also have special in-game abilities that help Portal Masters fight Kaos. Twenty new SuperChargers character toys and 20 new vehicle toys will be available.

Players will have the ability to customize all vehicles in-game with super cool modifications and upgradeable weapons. For the ultimate gameplay experience, players can pair a SuperCharger Skylander with its signature vehicle to create a SuperCharged combination, unlocking an exclusive mod that revs up the performance of both the vehicle and character. Not only are the vehicles playable in the game, but also many feature moving parts, making them fun to play with outside of the game. Additionally, Skylanders SuperChargers supports all 300+ Skylanders toys from previous games, enabling all Skylanders characters to pilot land, sea or sky-based vehicles.

The game's storyline focuses on Kaos' latest attempt to rule Skylands. In his efforts to take down the Skylanders, Kaos has unleashed his most sinister weapon ever – a massive "Doomstation of Ultimate Doomstruction" capable of eating the sky itself! Fortunately, Master Eon has seen the warning signs and assembled a special team of Skylanders to pilot an unstoppable fleet of land, sea and sky vehicles with the power to travel through the reign of destruction to stop Kaos!
Just like previous entries in the Skylanders franchise, Skylanders SuperChargers is heading to Wii U, 3DS, and Wii. A Starter Pack will be sold for $74.99, which comes with two new Skylanders characters, a first-of-its kind Skylanders vehicle, newly designed Portal of Power+, and the full game.
Skylanders SuperChargers launches on September 20 in North America, September 24 in Australia/New Zealand, and September 25 in Europe. Check out the first trailer below.
Source: Activision PR