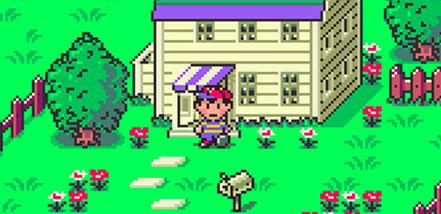 ---
Here we go again…
---
---
Hey look, the Book Club is back, and we're playing recently released SNES classic EarthBound! You can purchase the game on the Wii U eShop for $10 or on the internet as a Super Nintendo cartridge for several hundred dollars.
Don't know what the Book Club is? Well golly, let me explain! Once upon a time, the hosts of NintendoEverything's weekly podcast decided that they wanted to play and discuss the same game with one another instead of all playing different games. Thus, the idea for the "Book Club" was born.
Every few weeks we all decide on a game to play and then play it over the course of a month or so, discussing the intricate details of the level design, gameplay, story, and anything else that may cross our path while we play. It's meant to be a super detailed and intricate discussion akin to a real-life book club, and we would love if you played along! Check out the FAQ below for more details.
---
"How far do I have to get this week?"
Deadline for email submissions this week: Saturday, August 10th
I've never played Earthbound before, but from a bit of research I've done I think we're going to try and make it to the location in the game called "Winters". I've been told that's roughly 5 hours into the game, which is a lot of time, so don't feel bad if you don't make it there. We may not make it either.
Also, please do not send us emails discussing portions of the game beyond where the book club is. We want to avoid spoilers and we don't want to feel unable to answer your questions/respond to your comments, so if you've gotten ahead of everyone (which is fine!) do your best to only talk about the parts that we've all agreed upon. :]
---
Hit the break for info on how to participate in a discussion, plus other 'Frequently Asked Questions'!