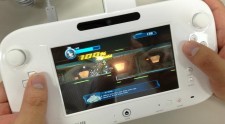 32 minutes ago
By
Brian
(
@NE_Brian
)
1 Comments
A few days ago, Inti Creates CEO Takuya Aizu posted a photo of Mighty No. 9 running on the GamePad via his Twitter account. You can get a look at it above.
Aizu wrote the following in his message:
It's good that all console versions of Mighty No. 9 are happening! The [making of] the Wii U version was harsh due to specs, but people who were responsible for porting really did their best, so it will be finished nicely!
Mighty No. 9 launches for Wii U in mid-September. A 3DS version is also in development, but will be released a bit later.