This information comes from the latest edition of Iwata Asks…
"In my personal opinion, I think it would be great if Nintendo DSi became a device allowing children to experience the Internet for the first time. I think there's an immense value in being able to experience the Internet in the way you like using a handheld rather than a personal computer. In order to put your mind to rest when children use it, you can sign up for I-filter, which blocks objectionable content." – Satoshi Furukawa, DSi Browser developer






"Tying directly into your single-player experience, there will be plenty of different ways that we'll be able to keep the player checking out the site in-between play sessions. All of your stats and progress will be tracked online, so at any given time, you'll be able to hop on and see where you stand with all of the missions, OddJobs, and rampages in the game. You'll even be able to see the city's surveillance-camera guy and watch what happens as you take down all 100 in the game.
Beyond that, there will be plenty of other surprises in store for players in terms of contests and prizes! A lot of that stuff is still being sorted out, but rest assured, our most talented players will be rewarded as long as they're signed up with the game and continue to synch their stats via Wi-Fi Connection, so stay tuned!" – Gordon Hall, president and founder of Rockstar Leeds


We now have a confirmation that this game will indeed launch on the North American WiiWare service.
ESRB rating description:
"Rating: Everyone
Content descriptors: Comic Mischief
Rating summary: This is an arcade-style adventure game in which players guide a character through colorful mazes, blow bubbles, and shoot them at colorful little creatures (e.g., wind-up toys, dragons, etc.). Players can also shoot tiny lightning bolts at larger boss characters to progress to the next level."



Celebrate the Release of SouthPeak Interactive's Fast-Paced Shooter by Downloading the Award-winning Official Soundtrack from www.bigbangmini.com

Leicester, March 6th, 2009 – SouthPeak Interactive Corporation (OTC Bulletin Board: SOPK; SOPKU; SOPKW; SOPKZ) is pleased to announce that its unique Nintendo DS™ shoot-'em-up Big Bang Mini will be available across Europe today. What's more to commemorate the release, developer Arkedo Studio is officially releasing the game's award-winning soundtrack for everyone to enjoy.

In Big Bang Mini, your objective is to destroy wave upon wave of enemies, which in turn lights up the night sky with bursts of colorful fireworks. Use the stylus to dodge enemy fire and debris while collecting stars. Specifically designed with the Nintendo DS Touch Screen in mind, Big Bang Mini packs a challenge that any casual or hardcore shooter fan will enjoy.




PS3 36,513
DSi 35,827
PSP 35,588
Wii 17,876
Xbox 360 11,795
DS Lite 11,774
PS2 5,099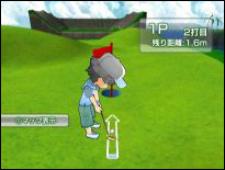 – Called Okiraku Pata-Gorufu (Family Golf Putter)
– Choose from 4 characters
– Putt golf ball into different holes, do trick shots
– Wiimote control only
– Swing after shot power is set
– 500 points


A Classic Returns with Updated Graphics and Controls, Coming to Europe in 2009

PARIS, FRANCE – 6 March 2009 – NAMCO BANDAI Games Europe announced today that Klonoa will be available in Europe for Wii in 2009. Klonoa's long-awaited return offers vibrant graphics, motion control and new secrets to discover in this update to the series' debut adventure. Highly revered as one of the best platform games of the past 10 years, Klonoa will ignite Wii owners' imaginations with addictive gameplay, exciting stages and a memorable story.

Help Klonoa save Phantomile, a land formed by the dreams of its inhabitants, and recently besieged by an unknown evil. Klonoa's breathtaking journey takes him through a series of increasingly difficult stages across multiple kingdoms as he strives to save his friends and homeland. Throughout his quest, Klonoa is aided by his friend Hewpoe, a benevolent spirit who resides in the ring from which Klonoa is able to fire his Wind Bullet. The Wind Bullet gives Klonoa the ability to grab and inflate his enemies and use them to his advantage.