Some of you may have seen Chris Bringhurst's original picture with 100 video game characters. Recently though, he made a new image with 200 characters (see below). Chris explained to PixiGeek how the original idea started: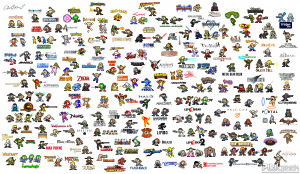 "Well, I work at a call center that has some pretty long stretches of nothing, and I get bored pretty easily. I had thought before how cool it would be if Master Chief and the Halo franchise were given the Mega Man treatment. So I took about two days – yes, that long – and tried to create the best Master Chief Mega Man sprite I could in between calls at work. People liked it and asked me to do others, so I tinkered with Mortal Kombat a little, then Nathan Drake from Uncharted, and I realized that there were literally hundreds of characters in the video game universe who might really work with that retro look that we all love. Two months later, here I am."
Chris says that he takes requests, so if you'd like to see a video game character reimagined as a Mega Man sprite, make sure to let him know!.




It's true that the sprite comparisons are at the same angle, but you can't deny that there King Hippo and Donkey Kong are alike in many ways. Just look at the positions of the characters' arms. Heck, even their facial expressions are comparable!
Thanks to TT for the tip!


It's hard to believe that Wave Race: Blue Storm is almost nine years old. It feels like yesterday when the game arrived! Yet even though Blue Storm has been out for a number of years, there is a particular code that seems to have gone unnoticed until very recently, or simply wasn't publicized much until now. Here's how you go about entering/using the code:
1) Go to the options menu, and then audio settings
2) Pressing the Z button will change the waveform display at the bottom – tap until the waveform resembles a vertically rising fog
3) Then, press up, up, down, down, left, right, left, right, A, X, and Z on the d-pad; an audio cue can be heard if you execute the commands correctly
4) Return to the main menu
5) Begin a race, choose the first character
The code doesn't really change anything in terms of gameplay, but you will hear some insulting, albeit very humorous commentary while you race. Phrases include:
"You've chosen poorly."
"That turbo's wasted on you."
"If you don't win this race, I'm not gonna love you anymore."
"Your wins are like diamonds: very rare."
"You don't have an inferiority complex. You're just inferior."
There are a number of other phrases as well, though you can check out a few of them in action in the video above. I recommend trying the code out yourself!




Thanks to Will B for the tip!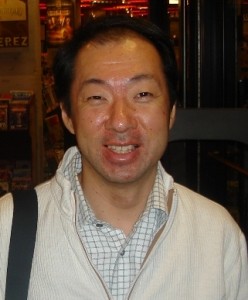 Wouldn't the world have been a sadder place had Koji Kondo decided to take on a profession other than composing video game music? We would have missed out some absolutely fantastic tunes, such as the main themes in Super Mario Bros. and The Legend of Zelda. The legendary composer turned 50 today and has been with Nintendo for more than half of his life. Let's hope he sticks around with the company for many more years to come!
Thanks to Robert for the tip!


Thanks to Ross M for the tip!


Bawang, an ape living at the San Francisco Zoo, had his first encounter with a video game on Friday after a boy accidentally dropped his DSi XL into the gorilla exhibit. Bawang seemed to be quite interested in figuring out how the handheld worked, as the animal was seen flipping it over and examining it in front of its eyes a few times. A younger gorilla, Hansai, tried to take the DSi XL away, though Hansai refused to hand it over.
Shortly thereafter, one of the zoo's trainers came over to retrieve the device. Bawang willingly threw the DSi XL into the crowd, and was rewarded with an apple. Apparently the gorilla's at the zoo have been trained to do that, as Christina Spicuzza, the photographer at the scene, explained:
"The gorilla was very interested in trying to figure it out… She (the trainer) told us that they trained them to do that. If anything falls in there they are trained that they get a reward if they throw it back up."
So, what was the fate of the DSi XL? According to the boy and his family, it's in perfect working condition. All's well that ends well!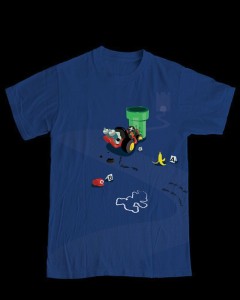 Thanks to Kevin D for the tip!