This actually isn't the first "Real life Mario Kart" video. You can check out the original right here. The first video received quite a bit of publicity when it was released!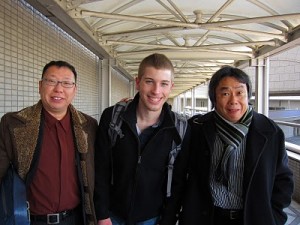 Yes, this is a completely random post, but Miyamoto's face just looks too funny for me to pass up on sharing the photo with you guys! The man on the left is Takashi Tezuka, who has worked on a ton of titles for Nintendo.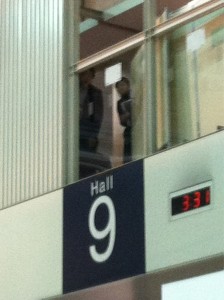 The photo is blurry, but Shigeru Miyamoto is definitely at Nintendo World. I don't think anyone should be surprised by that, though!


Are you a gamer? Do you want to look your best even when you're stuck wearing just your boxers and socks? Boy do I have something for you!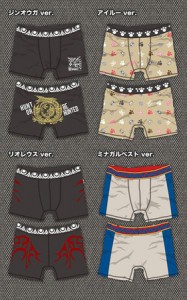 Why does Japan get all the cool stuff?


While it isn't completely Nintendo-related, you will find a few GoldenEye and Perfect Dark references in the video above!
Thanks to JT for the tip!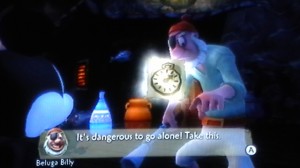 Well, we know Warren Spector is a fan of Zelda! The image above is a nice, little tribute to the the Old Man's famous line from Link's first adventure.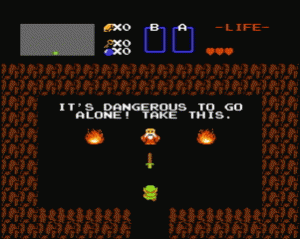 Much like the Chrono Trigger marriage proposal from 2008, Matt modified a copy of Earthbound in order to ask his new fiancé, Liz, to marry him during the "EarthBound Fanfest." It's pretty sweet – The dog was there to celebrate as well!


I suppose that's interesting, but that just doesn't look like a ton of fun to me. I'd prefer to play Super Mario Bros. with a regular controller.




Some of you may have seen Chris Bringhurst's original picture with 100 video game characters. Recently though, he made a new image with 200 characters (see below). Chris explained to PixiGeek how the original idea started: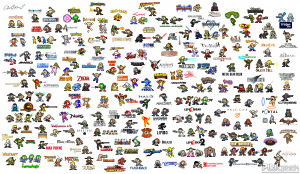 "Well, I work at a call center that has some pretty long stretches of nothing, and I get bored pretty easily. I had thought before how cool it would be if Master Chief and the Halo franchise were given the Mega Man treatment. So I took about two days – yes, that long – and tried to create the best Master Chief Mega Man sprite I could in between calls at work. People liked it and asked me to do others, so I tinkered with Mortal Kombat a little, then Nathan Drake from Uncharted, and I realized that there were literally hundreds of characters in the video game universe who might really work with that retro look that we all love. Two months later, here I am."
Chris says that he takes requests, so if you'd like to see a video game character reimagined as a Mega Man sprite, make sure to let him know!.