Zen Pinball 2 is heading to the European Wii U eShop this Thursday. But by the look of things, it won't be out in North America until later.
On its blog, developer Zen Studios noted that the North American release is "coming very soon". A more specific date was not provided.
This week's European Nintendo Downloads are as follows:
Wii U download software
Zen Pinball 2 – free
Wii U DLC
Zen Pinball 2 – €2.99- €9.99 / £2.39-£7.99
Wii U retail
Batman: Arkham City Armored Edition – €59.99 / £49.99 UK
3DS video
€0.99 / £0.89
Source: Nintendo PR
The 3DS Virtual Console release of Super C is far from a straight port of the original. Along with 2-player download play, Super C also contains a Spectator mode. This feature allows one person to play the game while another watches.
On Monday, Nintendo will carry out "emergency" maintenance for its various online services. The Wii U eShop, 3DS eShop, DSi Shop, and Wii Shop Channel will all be inaccessible. Additionally, the Pokemon Black/White and Pokemon Black/White 2 services will be affected, as will Warriors Orochi 3 Hyper's online functionality.
Most of the maintenance will start and end on Monday. The full downtime listings can be found below.
This month's Game Informer review scores are as follows:
DmC Devil May Cry – 9.0
Guardians of Middle-earth – 7.5
Ni no Kuni – 7.0
The Elder Scrolls V: Skyrim – Dragonborn – 8.5
Skulls of the Shogun – 8.5
Ratchet & Clank: Full Frontal Assault – 7.5
Transformers Prime (Wii U) – 6.5
Little Inferno – 8.5
Planets Under Attack – 7.25
Chasing Aurora – 6.5
Rise of the Guardians – 6.5
Crashmo – 8.5
Tank! Tank! Tank! – 4.5
Family Guy: Back to the Multiverse – 4.5
Nintendo's North American website for the Wii U VC Trial Campaign is now open. Access it here.
According to the page, the service's seven trial games will be available for 30 cents each between the following dates:
Balloon Fight: 1/23 – 2/21
F-Zero: 2/20 – 3/2
Punch-Out!! Featuring Mr. Dream: 3/20 – 4/18
Kirby's Adventure: 4/17 – 5/16
Super Metroid: 5/15 – 6/13
Yoshi: 6/12 – 7/11
Donkey Kong: 7/15 – 8/13
Puddle will finally be coming out on the North American eShop next week. Developer Neko Entertainment has confirmed a January 31 release.
The wait for Puddle has been abnormally long in the US. Originally, the game launched on the European eShop for the Wii U's launch.
If you're one of the folks waiting patiently for Zen Pinball 2, you shouldn't have to wait much longer according to the game's developer:
---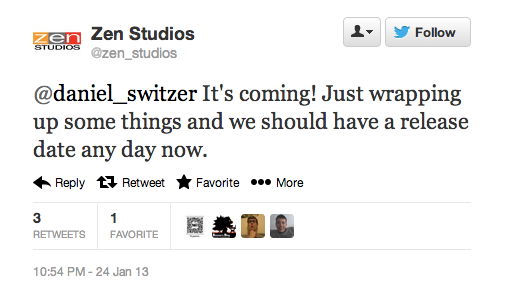 ---
The game was supposed to come out back in December, and now the tentative release date is "January". My guess is that it's going to be early February though, because I don't think they can finish it up, send it to Nintendo, get it approved, and get a release date before the end of the month. It just doesn't seem like it'd happen!