Nintendo of Europe has done a standout job with eShop sales thus far. 3DS VC titles have been discounted regularly, and even Wii U eShop titles have started to see temporary price drops.
The same can't be said for the situation in North America. Sales have been few and far between, and the Wii U store has yet to see a single discount.
One does have to wonder why there haven't been any Wii U sales yet. Broken Rules co-founder Felix Bohatsch recently wrote on Twitter that the studio would like to have a sale for Chasing Aurora, "but we can't yet".
Bohatsch tweeted:
"We'd love to put @Chasing_Aurora on sale in the US as well, but we can't yet… you'll have to ask @NintendoAmerica what the exact reasons are…"
Trine 2: Director's Cut could be just the start of Frozenbyte's Wii U support. Sales and marketing manager Mikael Haveri has said that the studio is "very interested" in working on the console once more.
"We are very interested in working on it again. Who knows, but if everything goes well maybe even sooner than many might suspect."
Haveri also commented on sales of Trine 2: Director's Cut thus far. Haversi said the title is selling "fairly well according to our calculations".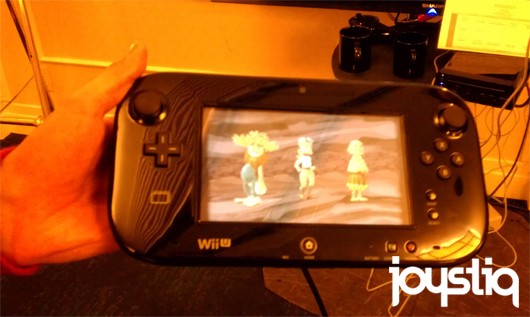 SEGA and Double Fine's The Cave was finally playable on Wii U during a press event last week. On Nintendo's console, players can expect the GamePad to act as a character selector and means of controlling the camera. If you tap on a character, you'll jump to them. If you double tap, the camera's focus moves to them. Characters do not move independently off-screen in the game.
Double Fine's Chris Remo said the following about the Wii U version of The Cave:
"So other than that, it pretty much plays like all the other versions. We did work really hard to ensure that visually everything you're seeing is identical to the Xbox 360 and PS3 versions, so there's no downscaling, there's nothing going on that is not up to par with the other next-gen systems. There's nothing super wacky going on, but it's a completely full-featured version of the game."
The latest Wii U eShop charts are as follows:
Software
1. Trine 2: Director's Cut
2. Nano Assault Neo
3. New Super Mario Bros. U
4. Mighty Switch Force! Hyper Drive Edition
5. Little Inferno
6. Sonic & All-Stars Racing Transformed
7. ZombiU
8. Scribblenauts Unlimited
9. Assassin's Creed III
10. Darksiders II
11. Chasing Aurora
12. Ninja Gaiden 3: Razor's Edge
13. Tekken Tag Tournament 2: Wii U Edition
14. Nintendo Land
15. Batman: Arkham City Armored Edition
16. Madden NFL 13
17. Marvel Avengers: Battle for Earth
18. Warriors Orochi 3 Hyper
19. Just Dance 4
20. Epic Mickey 2: The Power of Two
Videos
1. Nintendo Direct: December 5, 2012
2. Trine 2: Director's Cut Video
3. Nano Assault Neo Video
4. Marvel Avengers: Battle for Earth Video
5. New Super Mario Bros. U Video
6. Mighty Switch Force! Hyper Drive Edition Video
7. Chasing Aurora Video
8. Scribblenauts Unlimited Video
9. Little Inferno Video
10. ZombiU Video
11. Little Inferno Video 2
12. Darksiders II Video
13. ZombiU Video 3
14. Tekken Tag Tournament 2: Wii U Edition Video
15. Ninja Gaiden 3: Razor's Edge Video
16. Puddle Video
17. Batman: Arkham City Armored Edition Video
18. ZombiU Video 2
19. Rabbids Land Video
20. Warriors Orochi 3 Hyper Video
Source: Wii U eShop
This week's European Nintendo Downloads are as follows:
3DS download software
escapeVektor (Nnooo, €9.99 / £TBC)
Gunman Clive (Bertil Hörberg, €1.99 / £TBC)
3DS download software price reduction
Rising Board 3D (Odenis Studio, permanent reduction to €1.99 / £TBC)
3DS Virtual Console "Hero Sale"
Super Mario Bros. (Nintendo, €3.99 / £TBC until 27th December)
Dr. Mario (Nintendo, €1.49 / £TBC until 27th December)
3DS Retail DLC
New Art Academy (Nintendo, €1.99 / £TBC per lesson) — Glass and Light, Expressionism
Wii U download software sale
Chasing Aurora (Broken Rules, €5.99 / £TBC until 3rd January 2013)
Little Inferno (Tomorrow Corporation, €9.99 / £TBC until 4th January)
DSiWare
Castle Conqueror – Heroes 2 (CIRCLE Entertainment, 500 Nintendo Points)
Cake Ninja XMAS (Cypronia, 500 Nintendo Points)