Mario Golf: Super Rush giving new batch of Shy Guy colors for Ranked Match reward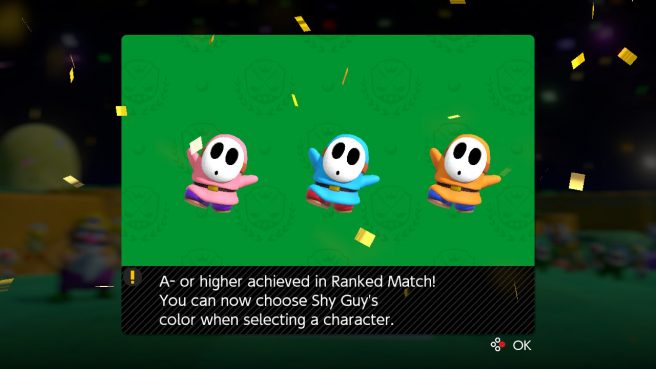 Mario Golf: Super Rush is kicking off August with a new batch of Shy Guy colors that can be earned by playing the Ranked Match mode online. We have a look at the different options above.
These colors can be unlocked after hitting the rank of A- or above in the online Ranked Match mode. You'll start off at C rank before moving on to B and eventually A. Increase your rank by earning points, which can be done by simply playing, doing well in matches, and taking down higher ranked opponents. After unlocking the colors, visit the character select screen, hover over the character, and press the "L" button to swap.
Players may recognize that this is the second wave of new colors for Shy Guy. Back in March, the first round was made available in Ranked Match. Other rewards include the Boo visor, a few new colors for Toad, new colors for Koopa Troopa, Mario's classic overalls, a NES Open Tournament Golf outfit for Mario (and one for Luigi), Yoshi colors, Luigi's overalls, Wario's overalls, and Waluigi's overalls.
Mario Golf: Super Rush first made it to Switch in June 2021. You can find more information about the game on the official site here.
Leave a Reply