[Nintendo Everything Podcast] – episode #10 – Games in 2019, Part 1: Predictions & Information!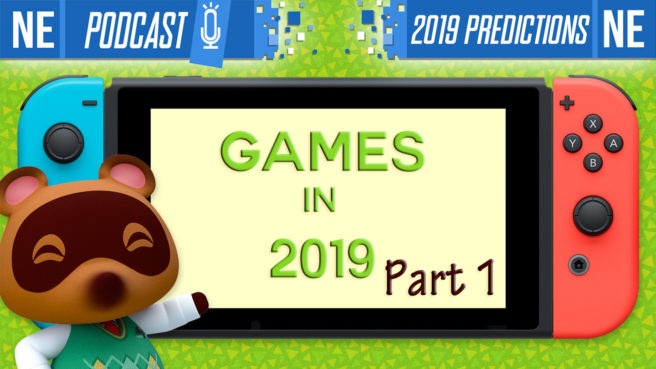 What up, kids and squids?!
This week on NEP, Oni and Galen cover the news and rumors spoiler-free, and go crazy on discussion over announced games for Nintendo platforms in 2019. There are actually SO MANY to talk about that we had to split it up! Tune in for part 1 and let's talk about what games we're hyped for!
Timestamps:
06:39 – Kickin' off the news!
24:22 – Predictions, speculation and information on 2019 games!
Yoshi's Crafted World, Fire Emblem: Three Houses, Marvel Ultimate Alliance 3: The Black Order, Mortal Kombat 11, Final Fantasy, Resident Evil, RPG Maker MV, Mario Kart Tour, Metroid Prime 4, Bayonetta 3, Animal Crossing, Persona Q2 and more!
1:06:40 – Additional DLC
Additional DLC:
Send us an email and we'll discuss it!
NintendoEverythingPod [at] gmail [dot] com
Listener Bonus: Start your 2019 off right by sending some love to us with your ☆5 STAR☆ iTunes review, likes and comments on YouTube, and share the Spotify playlist with your Nintendo-loving buddies!
Thank you!
YouTube
iTunes
https://itunes.apple.com/podcast/nintendo-everything-podcast/id1441241130?mt=2
Spotify
https://open.spotify.com/show/0zifaLm4st7KtUzDEojWBh
Direct Download
http://nintendoeverything.libsyn.com/
Follow Us, We Tweet!
@NinEverything
@Oni_Dino
@mobius087
A HUGE thank you to Headphones of Listening for NEP's intro music!
Check him out on soundcloud!
This week's background music is the OST for the indie game Oxenfree, by the artist scntfc.
And our outro music this week is… it's Galen singing a New Year's carol but he replaced the words with Nintendo eShop inspired ones. It's awful. Tell him it's awful. Shame him.
Leave a Reply