[Nintendo Everything Podcast] – episode #88 – Pikaboobs, Bakugan backlash, Deadly Premonition discourse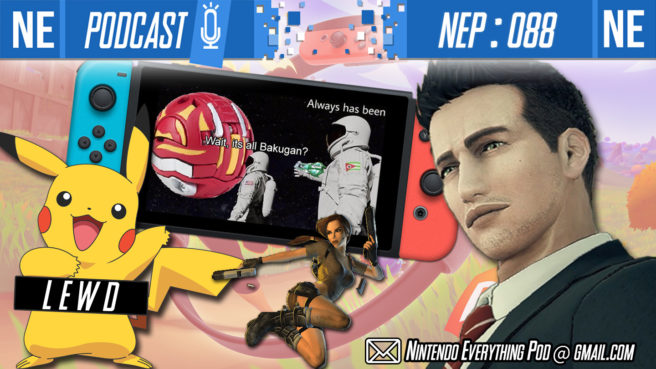 This week on Nintendo Everything Podcast, Oni Dino finally gets his hands on a copy of Ring Fit and realizes he's super out of shape. Galen eschews social distancing and parties with Jackbox. The gang covers news from rumors to controversies. Oni Dino vividly remembers the cheat code for Lara's Bum in Tomb Raider II. (Psst… Lara Croft for Smash) Deadly Premonition 2 challenges what a video game is and neither critics nor consumers are in agreement about anything. Galen brings up comparisons of Tommy Wiseau's The Room. And the big discussion is on the Nintendo Treehouse live stream, Bakugan, and how the hype machine bit itself in the butt.
Check out links and timestamps below, and come hang out.
If you're enjoying NEP, please consider giving us a 5 star review on Apple Podcasts, and share us with a friend. It's incredibly helpful in getting us exposed to new listeners through algorithms, so we would greatly appreciate your help. Thank you for listening!
Timestamps:
07:23 – Adventure Log: Ring Fit Adventure pandemic and Jack Box party pack… 10? I dunno.
35:16 – News blast: Pikaboobs. LRG Showcase and Shantae GBC reprints. Live A Live lives?! Tomb Raider herself comes back to Nintendo? Deadly Premonition 2: a video game that doesn't behave like a video game.
1:12:06 – News: Nintendo Treehouse Livestream and Bakugan… Let's talk.
1:39:15 – Additional DLC
1:43:00 – Listener Mail: Physical VS Digital
Additional DLC:
– Are Western and Japanese RPGs so Different? (Game Maker's Toolkit) https://www.youtube.com/watch?v=fJiwn8iXqOI
– Pharrell Williams – Happy (Trombone cover by Christopher Bills)
https://youtu.be/ZxODzxY6AvI
Business inquiries and listener mail contact:
#nintendopodcast #gamingpodcast #podcast
YouTube
Apple Podcasts / iTunes: https://apple.co/2xLl0C5
Spotify: https://spoti.fi/2Gdgoch
Direct Download
PocketCasts: https://pca.st/IQVa
Stitcher: https://bit.ly/30uxOZR
PlayerFM: https://bit.ly/2yfCu9P
ListenNotes: https://bit.ly/2SINTbG
PodTail: https://bit.ly/2yfDgDL
Oni Dino's YouTube "Gayme Married": https://bit.ly/2JK21xd
Oni Dino's Twitter: @Oni_Dino
Oni Dino's Insta: Oni__Dino
Galen's Twitter: @mobius087
Galen's Insta: true_mobius
HUGE thank you to Headphones of Listening for NEP's intro music! Check him out on soundcloud!
Ending song by I am Jemboy on YouTube!
Leave a Reply