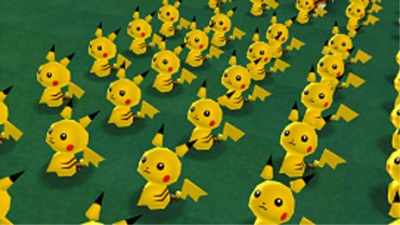 Discover the joys of a carefree life in the countryside with My Pokémon Ranch. Available for download via WiiWare from July 4, My Pokémon Ranch places you in charge of a green and pleasant patch of land that doubles as a playground for hundreds of Pokémon. Click here to visit our official gamepage and find out the straight story about life on My Pokémon Ranch!

My Pokémon Ranch is available for download on WiiWare from 4 July, only on Wii.

FFTA2: GotR 87%
GH: Aerosmith 70%
Alone in the Dark 64%
Space Invaders Extreme 83%
Pokemon Mystery Dungeon 75%
Opoona 65%


Virtual Console
1 (1) – Super Mario Bros. 3
2 (2) – Super Mario Bros.
3 (3) – Super Mario World
4 (5) – Super Mario Bros. 2
5 (4) – Mario Kart 64
6 (6) – The Legend of Zelda: Ocarina of Time
7 (9) – Punch-Out!!
8 (8) – Super Mario 64
9 (7) – The Legend of Zelda
10 (10) – Donkey Kong
11 (11) – Pac-Man
12 (12) – Donkey Kong Country
13 (15) – Paper Mario
14 (14) – Double Dragon
15 (17) – Star Fox 64
16 (19) – The Legend of Zelda: A Link to the Past
17 (18) – Kirby's Adventure
18 (16) – SAMURAI SHODOWN
19 (20) – Kirby 64: The Crystal Shards
20 (13) – DIG DUG
WiiWare
1 (1) – My Pokemon Ranch
2 (2) – Dr. Mario Online Rx
3 (3) – Defend your Castle
4 (10) – Gyrostarr
5 (4) – Final Fantasy Crystal Chronicles: My Life as a King
6 (8) – Cocoto Fishing Master
7 (5) – TV Show King
8 (7) – Block Breaker Delux
9 (6) – LostWinds
10 (9) – Family Table Tennis
11 (13) – V.I.P. Casino: Blackjack
12 (11) – Pop
13 (12) – Toki Tori
14 (14) – Protothea
15 (N) – Magnetica Twist
16 (15) – Critter Round-Up
17 (16) – Star Soldier R
– Numbers in parenthesis indicate slot in previous week
– N stands for new title


I really want to know – is this a WiiWare exclusive or not?! As I've said before, I don't think a multiplatform release would be too terrible, but Capcom recently said that Mega Man 9 would be releasing for WiiWare only.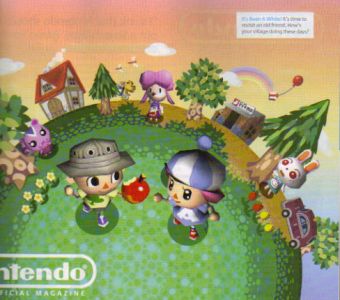 Who said magazines are currently obsolete due to the instant access of information through the Internet? Well, magazines have certainly been getting the edge over online news in some areas as of late. Nintendo Power gave us the lowdown on Mega Man 9 and Castlevania Judgement, and now the Official Nintendo Magazine may have just given a lucid indication that Animal Crossing Wii news is on the way. In the teaser page for its next issue, the Official Nintendo Magazine writes, "Its been a while! It's time to revisit an old friend. How's your village doing these days?'" We all know that E3 is next month, so it's quite possible that in the next 30 days (at E3, most likely), we'll finally see/hear about Animal Crossing Wii. The magazine also promises two exclusives on spaking-new Wii titles next month as well.
Thanks to Ducky9 for the news tip.

LOS ANGELES, July 2 /PRNewswire/ — Square Enix, Inc., the publisher of Square Enix(TM) interactive entertainment products in North America, announced today that it will release CHRONO TRIGGER® in North America this Holiday season. Remastered exclusively for Nintendo DS(TM), this marks the first time that the groundbreaking RPG will be available on a handheld console.

Originally released in 1995 on Super NES® and shipping more than 2.5 million copies worldwide, CHRONO TRIGGER has been hailed as one of the greatest games of all time by critics and fans alike. With a unique and multifaceted storyline, the game revolutionized the world of RPGs with never-before-seen features, including an unprecedented soundtrack and multiple endings determined by side quests and the player's actions.

With artwork by famed manga artist Akira Toriyama and an unprecedented and inspiring musical score created by Yasunori Mitsuda, CHRONO TRIGGER represents the best-in-class of the video game world. This newly revamped edition maintains all of the game's original elements and spirit while introducing the portability, dual-screen presentation and Touch-Screen functionality of Nintendo DS. Players will soon be able to rediscover the exhilarating RPG experience, breathtaking storyline and innovative gameplay in the palm of their hands.

"It's taken over three years to make Brawl but I actually stopped trying to include new ideas early on in development. What happened in the next year and a half was that we distilled the game down, worked out which ideas we had time to include and which we didn't. Sadly, we had to trim out many great concepts just to keep within the time contraints. I had a lot more characters, for example.. but sadly I can't discuss which ones didn't make it. There are 39 characters in the game this time around and just adding a few more wouldn't be enough to justify a new game in my opinion; I'd have to draw a line in the sand and have a new approach to make it worthwhile. As long as the fans enjoy it, though, that's what matters and in the distant future, I guess that might be something I have to consider." – Masahiro Sakurai, creator of Super Smash Bros.
I have to wonder…Were one of those "cut" characters Geno? Or how about Ridley? Either way, I do believe Brawl's character roster is respectable, although in the future, some more fan favorites would be great.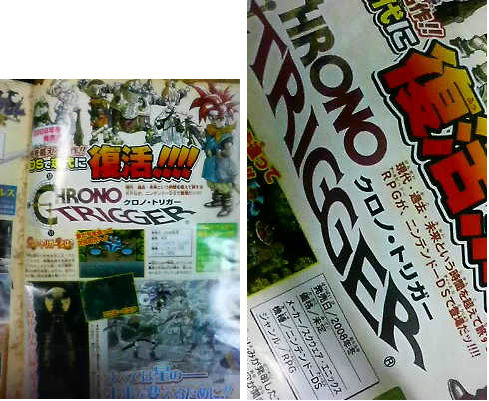 Chrono Trigger is being ported to the DS and it looks like we'll hear more about the game on July 7 (based on Square Enix's teaser page. Also, that teaser page confirms that the game will be coming stateside!