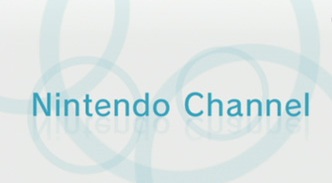 I can't say for sure whether or not this "feature" was available last week, though some DS Downloads offer expiration dates. The following titles will be removed from the Nintendo Channel on May 18th:
– The Spiderwick Chronicles
– Apollo Justice: Ace Attorney
– Eco-Creatures: Save the Forest
– My Word Coach
– Iron Man
For some strange reason, not all titles have expiration dates. Brain Age, Brain Age 2, and the Crosswords DS demo have no dates posted for their removal. Is Nintendo planning on keeping these downloads around for a long time?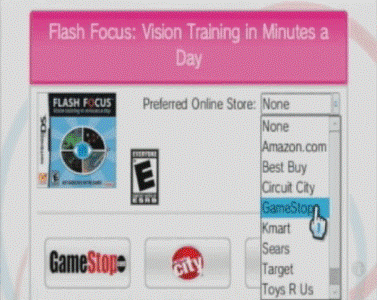 Recently, a discovery was made on the Nintendo Channel that when one was redirected to a "purchase" page, most stores that sell video games, such as Best Buy and Circuit City were listed as retailers. GameStop, on the other hand, was not. This no longer seems to be an issue, as GameStop is listed along with numerous other stores. Nintendo doesn't hate you after all, GameStop!

SANTA MONICA, Calif., May 12, 2008 (BUSINESS WIRE) — Activision, Inc. (Nasdaq: ATVI) announced today "Pitfall: The Big Adventure" for Wii(TM) is in development at Edge of Reality and will swing onto shelves this Fall. With more than 10 million Pitfall titles sold to date, Pitfall: The Big Adventure will introduce the franchise to a new generation of gamers while bringing a fresh Pitfall experience to long time fans.

"Pitfall is one of the most legendary franchises in the history of videogames, so we look forward to releasing a new version exclusively for Wii," said Dave Oxford, Activision Publishing. "What could be more fun than using the Wii Remote(TM) to swing on a vine over blood thirsty crocodiles as retro-cool Pitfall Harry?!"

Set in the Peruvian jungle, Pitfall: The Big Adventure combines the action of reptile dodging and vine swinging with clever puzzles. The game will feature over 60 levels spanning lush rainforests, creature-filled caves, and glacial mountains. Within these dynamic worlds, players will explore cavernous jungles, discover lost treasures, battle shamen, narrowly escape treacherous traps and outwit creatures using innovative, accessible game mechanics developed specifically to take advantage of the Wii motion sensing controls.

"Wii is a natural and perfect fit for a Pitfall game, and it's been fantastic to revolutionize this classic franchise through the application of the innovative Wii game mechanics. It's a completely new experience for the gamer," said Binu Philip, President, Edge of Reality.

Further information about Pitfall: The Big Adventure is available at www.activision.com
Source: GamesPress

Defend Your Castle
1-4 players
500 Wii points
121 blocks [121 needed]
Final Fantasy Crystal Chronicles: My Life as a King
1 player
1500 Wii points
287 blocks
Pay-to-Play
LostWinds
1-2 players
1000 Wii points
258 blocks (1 save block) [259 needed]
Pop
1-4 players
700 Wii points
110 blocks [110 needed]
Nintendo Wi-Fi Connection
TV Show King
1-4 players
1000 Wii points
290 blocks
V.I.P: Casino Blackjack
1-4 players
700 Wii points
207 blocks

Demos
– Brain Age
– The Spiderwick Chronicles
– Apollo Justice: Ace Attorney
– Eco-Creatures: Save the Forest
– My Word Coach
– Iron Man
Videos
– Who's Playing WiiFit: Vol. 1
– FFCC: My Life as a King trailer
– LostWinds Promo
– Defend Your Castle Trailer
– Pop
– TV Show King Trailer
– V.I.P. Casino: Blackjack Trailer,
– Crosswords DS Info Video
– Mushroom Men: Here Wii Come
– Imagine Figure Skater Trailer
– De Blob Trailer
– Boogie Intro
– Naruto Clash of Ninja Revolution gameplay
– Kung Fu Panda Trailer
– Star Wars: The Force Unleashed
– Digest Video

Just so you guys know, I can confirm that there will be no Virtual Console games released today. Some people have been doubting the leaked press releases because a video on the Nintendo Channel featured Dr. Mario, though I checked my mail and noticed that Nintendo sent me – word for word – the notice about no Virtual Console games today. Since that press release is correct, I'd assume the WiiWare one isn't fake.
Well, I suppose we'll know for sure in a few hours!
Update: I received another email with the WiiWare press release, and I can also confirm the information I posted the other day was indeed correct.

Interview with Shigeru Miyamoto
Nintendo Channel Info Video
What's WiiWare?
Wii Fit Info Video
Mario Kart Wii Info Video
Mario Kart Wii TV Commercial – Wheel
Pokémon Mystery Dungeon: Time/Darkness Info Video
Pokémon Mystery Dungeon: Time/Darkness TV commercial 1
Super Smash Bros Brawl Intro 1
Professor Layton Intro Video
Endless Ocean Info Video
Brain Age 2 Info Video
Flash Focus Info Video
Super Mario Galaxy Info Video
Mario Party 8 Info Video


– A contest: Yep it'll be an easy contest, one in which can be entered with little effort.
– More 3D images: Will there be more Metroid Prime 3 images, or will I take a shot at a different series? Return to NE to find out!
– Articles: I might not release articles this week, but I do have two in store for you guys to take a look at.
– The return of the vs. feature: Yeah, I sort of forgot about this for awhile. Though, it will be back!
I'm sure I'm forgetting a few things, but the items mentioned above should give you a good idea of what to expect this week.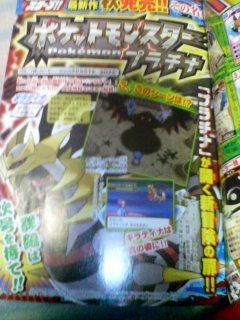 Confirmed info
– Pokémon Platinum is the official name
– Basically like Pokémon Yellow of the red/blue Pokémon games (not a new, original game)
– Revealed in the latest issue of Coro Coro Magazine
Rumored info
* Pokémon Platinum, set for September release. Giratina on the box
* Volkner no longer gym leader of Sunyshore City
* The Underground is now Wi-Fi enabled
* An island called Battle Island, works in the same manner as the Battle Frontier
* Several new Pokémon 'forms' exist in the game; Giratina's Origin Form, Regigigas' Sky Form, Shaymin's Another Form
* Giratina & Regigigas' new forms are said to be able to get the Levitate ability and Shaymin's Another form may be at least part Ice Type

Best Buy
High School Musical: Sing It (Wii) – $39.99
Circuit City
Buy 1 get 1 50% off (Wii) – Lego Star Wars: The Complete Saga, Super Mario Galaxy, Super Smash Bros. Brawl, Mario & Sonic at the Olympic Games, Mario Kart Wii, Tiger Woods PGA Tour 08
Rayman Raving Rabbids (Wii) – $19.99
No More Heroes (Wii) – $19.99
Winter Sports: The Ultimate Challenge (Wii) – $19.99