13th May 2008 – The opportunity to create the next groundbreaking video game for Wii has well and truly arrived for developers as WiiWare hits Europe, launching on 20 May 2008. Developers, no matter how big or small, will be able to create exciting new downloadable games to be sold through the Wii Shop Channel. Changing the way developers create Wii games and players access them, WiiWare will make it possible for smaller, creative titles to take centre stage. Developers will be able to see their big ideas step into reality, without risk or the need for a big budget.

With WiiWare games, the possibilities are endless – only limited by the imaginations of the developers. Expect to see a raft of new, fresh and original games head to Wii from an entire range of genres. Utilising the Wii's unique control methods from the Wii Remote and Nunchuk to potentially the Wii Balance Board and Wii Wheel, developers have the freedom to create the game of their dreams in an affordable way, with low entry barriers and flexible criteria in front of them. Such is the opportunity that, already developers who have never created or published games for Nintendo are working on a host of potential ideas.

Laurent Fischer, Managing Director of Marketing & PR of Nintendo of Europe comments, 'We are excited by the positive response we have received from third-party developers to the announcement of WiiWare. We hope that this opportunity and the inspiration to produce original and exciting games will allow developers of all sizes to bring new concepts, genres and game play experiences to Wii. Opening this creative door will also provide Wii users access to a huge choice of games that they can easily download and enjoy.'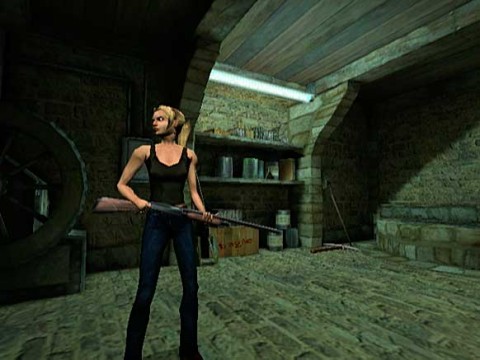 "There is a chance; we love all the games we work on. We don't want to be pigeon-holed [into a genre], we want to be known for strong content…There's a strong chance we'll return to it, but there's no announcements yet." – Denis Dyack,Silicon Knights

AGOURA HILLS, Calif.–(BUSINESS WIRE)–May 13, 2008–THQ Inc. (NASDAQ: THQI) today announced that Viva Pinata(R): Pocket Paradise(TM) is scheduled for release this fall for Nintendo DS(TM). The game is based on Microsoft Game Studios' highly-rated original Viva Pinata game for Xbox 360(R) video game and entertainment system from Microsoft. Viva Pinata: Pocket Paradise features an array of content exclusive to Nintendo DS and an intuitive control scheme designed to take full advantage of the DS touch screen and stylus, making it a breeze to navigate through the garden.

"Nintendo DS is the perfect platform for the Viva Pinata franchise because players can have direct interaction with the environment and their pinatas using the stylus," said Bob Aniello, senior vice president of worldwide marketing, THQ. "We are thrilled to introduce Microsoft's critically-acclaimed Viva Pinata series to an entirely new segment of the gaming community."

It hasn't even been two years since the Wii was released in America, yet Game Informer believes we could see a new Nintendo console in 2010. Analysts, meanwhile, have thought the Wii could last up to seven years. Considering the enormous success of Nintendo's console, releasing a new system in 2010 would not be the wisest move. Nintendo may have used up many of their franchises already, but there are still many opportunities Nintendo can take advantage of.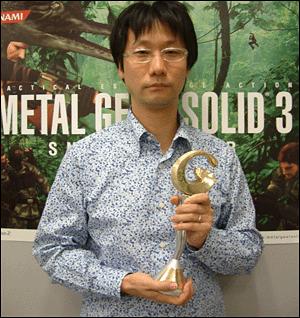 As development on Metal Gear Solid 4 for the PlayStation 3 comes to a close, Hideo Kojima, the head honcho of the Metal Gear Solid series, has offered some insight into the future. At the ceremony for MGS4's completion, Kojima candidly admitted that a title is in development for the hardcore gamer. Details about the game were not discussed. However, given Kojima's credibility in the gaming industry, it would not be difficult to assume that his newest game will be fantastic.

PSP – 380, 697
Wii – 187, 121
DS Lite – 169,911
PS3 – 37,676
PS2 – 34,312
Xbox 360 – 8,193
While Nintendo had a fairly impressive month, the PSP overtook the apparent invincible DS Lite. Moreover, the PSP managed to sell more than double the amount of Wii units moved in April.


– Dr. Mario & Germ Buster (Nintendo) – 1000 Wii Points (GBP 7 / EUR 10 approx)
– Final Fantasy Crystal Chronicles: My Life as a King (Square Enix) – 1500 Wii Points (GBP 10.50 / EUR 15)
– LostWinds (Frontier) – 1000 Wii Points (GBP 7 / EUR 10 approx)
– Pirates: The Key of Dreams (Oxygen)
– Pop (Nnooo) – 700 Wii Points (GBP 5 / EUR 7 approx)
– Star Soldier R (Hudson) – 800 Wii Points (GBP 7 / EUR 10 approx)
– Toki Tori (Two Tribes)
– TV Show King (Gameloft) – 1000 Wii Points (GBP 7 / EUR 10 approx)

This bit of information can be found on Frontier's LostWinds page…
"Click here to REGISTER FOR ADVANCE INFORMATION on Frontier's forthcoming LostWinds sequel containing amazing new gameplay as Toku and Enril's incredible adventure to save Mistralis continues…"
Wow, that was quick, wasn't it? I'm extremely pleased to know a sequel is in the works, and I'm glad Frontier has enough confidence in the series to begin developing a sequel.

Guitar Hero 4 (PS3, 360, Wii, PS2)
– Create a song. Although these exclude vocals due to storage and possible copyright issues.
– You'll be able to name your song as well as creating album art. After you've done all that you can upload it to GH Tunes where anyone can download it.
– You'll be limited to 5 songs at first. But depending on the ratings you get you'll possibly be able to upload 10 or more.
– The song sharing mode will be in the Wii and PS2 versions also, but GI says it's unlikely that it'll be as robust as the PS3 and 360 versions.
– Drums, bass, vocals guitar
– Create a rocker
– Create a guitar and drums
– All songs will be master tracks
– They don't want to discuss specifics on track listing out of fear of being scooped by the competition. However they confirmed 4 bands: Van Halen, The Eagles, Linkin Park and Sublime.
– A new guitar designed by Red Octane that includes a new input mechanic that'll "impact the way you play GH in the future".
– GI saw see through notes while playing that Neversoft said was the new input mechanic and that they were trying to patent.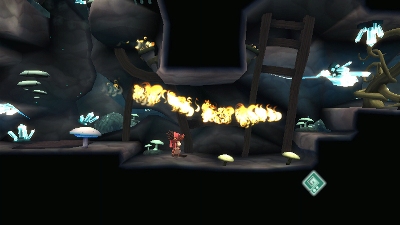 Although it took Nintendo more than a year to offer original, downloadable games for Wii owners, WiiWare has finally made its North American debut. LostWinds, the flagship title for Nintendo's newest service, is by far the best available game to purchase on WiiWare.
While LostWinds does posses a story, understanding it isn't important to the gameplay. The meat of LostWinds lies in the ability to control Toku, the hero, and his wind spirit companion. Players use the pointer on the Wiimote to aim at the screen, and assume the role of the wind to manipulate objects in the environment. At the same time, Toku can be controller with the nunchuck. Even though this may seem a bit complicated, the learning curve in LostWinds is basically nonexistent.
The set up of LostWinds can be best compared to New Super Mario Bros. Objects (and the environments) are rendered in beautiful 3D, but Toku can only sidescroll through the levels akin to Mario's outing on the DS. While progressing through each level, there are a few puzzles thrown at the player, usually testing newfound abilities. The player will lift boulders and throw them in the air and force fire to travel in specific paths.