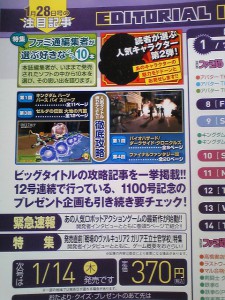 Famitsu has always been a great publication to learn about the latest games from Japan. In fact, the magazine often reveals games before any other outlet. All readers should once again keep their eyes peeled on next week's issue, as the magazine will share the first information on a popular "robot action game." There will be a 5 page preview as well as a developer interview to accompany the announcement. As is usually the case with these types of secrets, there is no confirmation yet as to which platform(s) the game is being created for. However, in about a week's time, we'll find out.
Kingdom Hearts: Birth By Sleep (PSP) – 10/9/9/9
Batman: Arkham Asylum (PS3/360) – 10/8/8/8
Last Window (DS) – 9/8/8/7
Resident Evil: The Darkside Chronicles (Wii) – 8/7/7/7
Operation Flashpoint: Dragon Rising (PS3/360) – 7/7/7/7
Thanks to Tosh for the news tip!
First Time the FightStick is Available on the Nintendo Wii

San Diego, January 05, 2010

Mad Catz® Interactive, Inc. (AMEX/TSX: MCZ), a leading third-party interactive entertainment accessory provider, today announced the licensed Tatsunoko VS. Capcom Arcade FightStick for the Nintendo Wii expected to ship alongside the US launch of TASUNOKO VS. CAPCOM™: ULTIMATE ALL-STARS in January 2010.

TATSUNOKO VS. CAPCOM: ULTIMATE ALL-STARS pairs well-known characters from Capcom®'s roster of games with some of Japan's most beloved characters from anime powerhouse 'Tatsunoko Production'. With a roster of more than 20 colorful combatants to choose from, gamers can create the ultimate video game tag-team combination, in a title which is sure to appeal to hardcore fighting fans as well as gamers new to the genre.
This information accounts for data from December 29, 2008 to December 27, 2009.
2009 Market Size
HW Value = 216.49 bln yen (-13.6% YoY)
SW Value = 326.16 bln yen (-1.8% YoY)
Total Value = 542.64 bln yen (-6.9% YoY)
2009 Hardware Sales
NDS – 4,025,313 (29,160,589)
PSP – 2,307,971 (13,386,455)
Wii – 1,975,178 (9,501,999)
PS3 – 1,727,041 (4,391,407)
360 – 331,706 (1,197,873)
2009 Software Top 5
1. [NDS] Dragon Quest IX – 4,100,968
2. [NDS] Pokemon HeartGold/SoulSilver – 3,382,597
3. [WII] New Super Mario Bros. Wii – 2,485,150
4. [NDS] Friend Collection – 2,311,948
5. [PS3] Final Fantasy XIII – 1,698,256