Tales of Graces
– Game alone is t ¥7,329
– Bundle contains console, Classic Controller Pro, Tales of Graces for ¥27,800
Samurai Warriors 3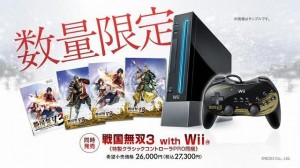 – Black Wii bundle
– Bundle contains Samurai Warriors 3, Wii console, black Classic Controller Pro, post cards for ¥27,300.
– Game itself costs ¥7,140
– Sengoku Musou 3 Special Classic Controller Pro Set will cost ¥8,715
– Sengoku Musou 4 Treasure Box will cost ¥11,865, contains the game, Classic Controller Pro, mini figure, original soundtrack CD, art/strategy book
– Game releasing on December 3
Thanks to Thomas N for the news tip!
Will become 100th game released for WiiWare by Nintendo of Europe.

8th October 2009, Cambridge, UK. Frontier Developments Ltd. ('Frontier') today announced that LostWinds®: Winter of the Melodias will be released on Friday 9th October 2009 by Nintendo of Europe, making it the 100th game to be released by Nintendo of Europe on the innovative WiiWareTM service.

David Braben, Frontier's Chairman and Founder, said: "We launched the original LostWinds game on WiiWare with much anticipation, as it was such an exciting and new way to access games. We are now thrilled to be able to mark the 100th game launch on WiiWare with LostWinds: Winter of the Melodias."
A few weeks ago, it was confirmed that North American would finally be seeing a controller variation in the black Wiimote. Japan, meanwhile, is a few steps ahead. Nintendo shared at their retailer briefing a short while ago that two new Wii controller colors – pink and blue – will be releasing on December 3. This is again, of course, information provided by the reputable Japanese blog Sinobi.
Media Create has published the latest official software sales figures from Japan. We've posted the top 30 results below.
01./00. [WII] Wii Fit Plus (Nintendo) – 340,000 / NEW
02./00. [NDS] Inazuma Eleven 2: Kyoui no Shinryakusha – Fire/Blizzard (Level 5) – 281,000 / NEW
03./02. [NDS] Pokemon Heart Gold/Soul Silver (Pokemon) – 267,000 / 2,285,000
04./00. [PSP] Gran Turismo (SCE) – 134,000 / NEW
05./00. [PSP] Macross Ultimate Frontier (Bandai Namco Games) – 81,000 / NEW
06./01. [NDS] Tomodachi Collection (Nintendo) – 68,000 / 1,288,000
07./00. [PS3] Ninja Gaiden Sigma 2 (Tecmo) – 42,000 / NEW
08./06. [WII] Wii Sports Resort (Nintendo) – 27,000 / 1,253,000
09./00. [PS3] Dynasty Warriors: Strikeforce (Koei) – 27,000 / NEW
10./04. [PS3] Tales of Vesperia (Bandai Namco Games) – 26,000 / 292,000
11./05. [PSP] Jikkyou Powerful Pro Yakyuu Portable 4 (Konami)
12./08. [NDS] Dragon Quest IX: Hoshizora no Mamoribito (Square Enix)
13./22. [NDS] Love Plus (Konami)
14./00. [PSP] Minna no Sukkiri (SCE) – NEW
15./11. [PSP] Monster Hunter Portable 2nd G (BEST) (Capcom)
16./07. [NDS] SaGa 2: Hihou Densetsu – Goddess of Destiny (Square Enix)
17./00. [PS3] Trinity Universe (Idea Factory) – NEW
18./12. [WII] Monster Hunter 3 (Capcom)
19./00. [PSP] Winning Post 7 2009 (Koei) – NEW
20./10. [PSP] Yu-Gi-Oh! 5D's Tag Force 4 (Konami)
21./00. [PSP] Mana Khemia 2: Ochita Gakuen to Renkinjutsushi Tachi Portable+ (Gust) – NEW
22./00. [PS2] Hiiro no Kakera: Shin Tamayorihime Denshou (Idea Factory) – NEW
23./13. [PS3] Call of Duty 4: Modern Warfare (BEST) (Square Enix)
24./00. [360] Dynasty Warriors: Strikeforce (Koei) – NEW
25./15. [PSP] Ys Seven (Nihon Falcom)
26./21. [WII] Mario Kart Wii (Nintendo)
27./14. [NDS] Sloane to MacHale no Nazo no Monogatari 2 (Level 5)
28./18. [NDS] Penguin no Mondai X: Tenkuu no 7 Senshi (Konami)
29./09. [360] Halo 3: ODST (Microsoft)
30./20. [NDS] Nihon Keizai Shinbunsha Kanshuu: Shiranai Mama dewa Son wo Suru – Mono ya Okane no Shikumi DS (Nintendo)
Nintendo just finished hosting a retailer meeting, in which a few announcements were made. For the most part, there weren't any huge surprises, other than some sort of new Pokemon title. According to well-known Japanese blog Sinobi, PokePark Wii Pikachu's Great Adventure was revealed, although actual details seem to be unavailable at the current moment. I'd imagine it's a WiiWare title, however, as the game will be releasing on December 5. We'll fill you in with additional information as it becomes available.