– Mario Kart Wii (Wii, Nintendo): 1,678,151 copies sold
Release: 4/10/08
– Wii Sport (Wii, Nintendo): 3,104,720 copies sold
Release: 12/2/06
– Monster Hunter Portable 2nd G (PSP, Capcom): 2,396,642 copies sold
Release: 3/2/08
– Tales of Vesperia (Xbox 360, Bandai Namco): 128,204 copies sold
Release: 8/7/08
– Mario Kart DS (NDS, Nintendo): 3,182,186 copies sold
Release:12/8/05
– Soul Calibur IV (PS3, Bandai Namco): 109,318 copies sold
Release: 7/31/08
– Animal Crossing: Wild World (NDS, Nintendo): 4,717,648 copies sold
Release: 11/23/05

We reported a few weeks back that EA was struggling with the decision of bumping back the newest Harry Potter video game. EA has finally made up its mind and will release the title with the movie in 2009.
EA AND WARNER BROS. INTERACTIVE ENTERTAINMENT CONFIRM HARRY POTTER AND THE HALF-BLOOD PRINCE VIDEO GAME TO SHIP WITH FILM IN SUMMER 09

Harry Potter Video Game is THE place for fans to live the thrills, action and excitement of Harry Potter next summer

LONDON, UK – September 8, 2008 – Electronic Arts Inc (NASDAQ:ERTS) and Warner Bros. Interactive Entertainment today confirmed that the Harry Potter and the Half-Blood Prince™ video game will be released globally Summer 2009, alongside the Warner Bros. Pictures' film based on JK Rowling's sixth Harry Potter book.

"We're excited about the Harry Potter and the Half-Blood Prince video game in development and its high level of authenticity and playability," said Robert Nashak, Vice President EA Casual Studios. "We are creating an immersive game experience that Potter fans around the world will really enjoy playing as they fly and duel their way through the story of the film. The game will feature new Wii gestures and increased gameplay capabilities across all of the platforms."

Videos
Groovin' Blocks Info Video
Dragon Quest IV: Chapters of the Chosen
Need for Speed: Undercover Info Video
My Secret World TV Spot
Viva Pinata: Pocket Paradise Info Video
Red Bull BC ONE Info Video
Commando: Steel Disaster
Helix Developer's Voice 2
Digest Video
Demos (expire 9/14)
Crosswords DS-Wordsearch Demo
Spore Creatures Demo
Air Traffic Chaos
Arknoid DS

REDMOND, Wash.–(BUSINESS WIRE)– There's a mystery afoot, and only someone with a keen eye and attention to detail can solve it. Today's launch of Mystery Case Files™: MillionHeir™ brings a new style of puzzle-solving adventure game to the portable Nintendo DS™. The game begins with instant intrigue: Eccentric millionaire Phil T. Rich has disappeared and only you – the Master Detective – can find him. Players progress through an interactive detective story, visiting more than 30 richly illustrated environments to find more than 1,000 cleverly hidden objects in an effort to find the rightful heir to Phil T. Rich's fortune.

"Mystery Case Files: MillionHeir is an interactive seek-and-solve scavenger hunt that everyone can enjoy," said Cammie Dunaway, Nintendo of America's executive vice president of Sales & Marketing. "The compelling story paired with the enchanting graphics and unique seek-and-solve style of game play will appeal to hard-core gamers, casual gamers and franchise fans alike."

Mystery Case Files: MillionHeir is part of the popular Big Fish Games franchise. This new mystery was developed exclusively for Nintendo DS.

Wii-kly Update

One WiiWare Game and Two Virtual Console Games Added to Wii Shop Channel

School's back in session, but it's not the only place to get your brain buzzing. This week's additions to the Wii™ Shop Channel include a challenging new puzzle game available via WiiWare™, plus a pair of crackling Virtual Console™ actioners to keep your imagination raging between classes. Even if your school days are behind you, this latest lineup of downloadable titles will help get you fired up for fall, fueled by the one-of-a-kind fun of Nintendo's top-selling Wii™ system.

Nintendo adds new and classic games to the Wii Shop Channel at 9 a.m. Pacific time every Monday. Wii owners with a high-speed Internet connection can redeem Wii Points™ to download the games. Wii Points can be purchased in the Wii Shop Channel or at retail outlets. This week's new games are: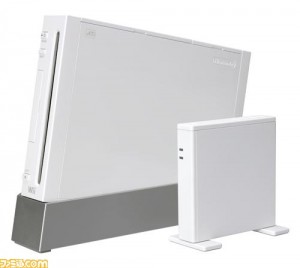 – available starting 18th September
– 5800 Yen ($54 or €38)
– only available via order at Nintendo's homepage
– can be used with Wii or DS

Stourbridge, England, 8th September 2008. Data Design Interactive – a successful video games publisher and games developer are pleased to unveil their latest game to be released on their dedicated Nintendo Wii label Popcorn Arcade; Farmyard Party – featuring the Olympigs.

Farmyard Party: Featuring the Olympigs brings farmyard fun to the Nintendo Wii. The game has eight Olympig events which are divided into four categories: all-round, speed, power, and skill. Game modes include a marathon challenge, party modes themed around event styles, single event fun and some hilarious bonus games.

Final Fantasy XIII, 2009 Release, Trailer
Final Fantasy Versus XIII, TBA, Trailer
Final Fantasy Agito XIII, TBA, Trailer
Dragon Quest IX, 2008 Release, Trailer
The 3rd Birthday, TBA, Trailer
Chrono Trigger, 11/27/08, Trailer
Kingdom Hearts 358/2 Days, Winter 2008, Trailer, Demo
Kingdom Hearts Birth by Sleep 2009 Release, Trailer, Demo
Kingdom Hearts Coded, Winter 2008, Trailer
Valkyrie Profile, 10/30/08, Trailer, Demo
DISSIDIA Final Fantasy, 12/18/08, Trailer, Demo
The Last Remnant, 11/20/08, Undecided
Star Ocean 4, Spring 2009, Undecided
Infinite Undiscovery 9/11/08, Trailer
Chocobo and the Magic Picture Book Winter 2008, Trailer, Demo
Final Fantasy Fables: Chocobo's Dungeon DS+, 10/30/08, Trailer, Demo
Valkyrie Profile, 10/30/08, Trailer, Demo

The people have spoken…And, well, I think it's pretty clear you guys want to see more screenshots on the site! From here on out, I plan to include screenshots in the daily news updates. However, I'm not going to clog up posts just with screenshots. Basically, I plan to compile a list of screenshots that point to the respective sites where the images are being hosted in one post. That way, every other post won't simply be about screenshots! The only exception to this will be for the screenshots that are very important. For instance, let's say there were new screenshots of Zelda. I'm pretty sure that most of you would be very interested in seeing those. So again, only in those types of cases will I make seperate posts.
Let me know if this method works with you guys. If anyone has a different idea/suggestion, make it known! I'll gladly consider anything that's thrown out there.