Best Buy

$5 off all Wii Fit accessories
Guitar Hero On Tour Bundle (DS) – $44.99
Mario Kart DS (DS) – $24.99
Mario & Sonic at the Olympic Games (DS) – $24.99
Spore Creatures (DS) – Free T-Shirt with purchase
Target
Boom Blox (Wii) – $39.99
Groovin' Blocks is a music-based game like no other. It adds innovative musical gameplay to an addictive action/puzzle game. The game features 27 different stages for everyone, from casual to hardcore. It also includes 15 levels of unlockable bonuses, cooperative play and a head-to-head mode.

The game will be available for download on Nintendo's WiiWare™ service starting September 8th for 800 Wii Points™.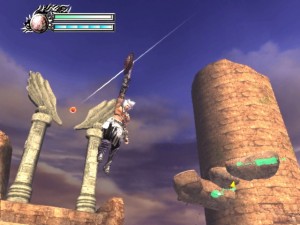 Rygar on Wii doesn't seem to be dead. New screenshots of the port surfaced a few days back which gives a pretty good indication that Tecmo hasn't abandoned the project. What about the long delay, though? 1UP's James Mielke has written a blog post which explains why Rygar has not already been released on the Wii. Believe it or not, the port has given Tecmo huge trouble. The company essentially had to retool the entire project after initial "disastrous results."
"But both companies [Koei and Tecmo] are legendary for their cheapness (see: Tecmo's repurposing of a 5 year-old PS2 game — Rygar — as a $500,000 quickie port to the Wii, a project which proved so disastrous and unportable that Tecmo had to go back to the drawing board with it, at nearly three times the cost of what they were trying to achieve in the first place)."
"We are talking with quite a few companies in and outside of Japan. We are routinely in such talks." – Square Enix president Yoichi Wada
Nintendo Wii
North America:
1. Wii Fit (Nintendo)
2. Mario Kart Wii (Nintendo)
3. Rock Band (EA Games)
4. Wii Play (Nintendo)
5. We Ski (Namco Bandai)
Japan:
1. Wii Fit (Nintendo)
2. Mario Kart Wii (Nintendo)
3. Wii Sports (Nintendo)
4. Zero: Gesshoku no Kamen (Nintendo)
5. Captain Rainbow (Nintendo)
UK:
1. Wii Fit (Nintendo)
2. Wii Play (Nintendo)
3. Tiger Woods PGA Tour 09 (EA Sports)
4. Mario Kart Wii (Nintendo)
5. Mario & Sonic at the Olympic Games (Sega)
Nintendo DS
North America:
1. New Super Mario Bros (Nintendo)
2. Brain Age (Nintendo)
3. Brain Age 2 (Nintendo)
4. Mario Kart DS (Nintendo)
5. Lego Indiana Jones (LucasArts)
Japan:
1. Rhythm Tengoku Gold (Nintendo)
2. KORG DS-10 (AQ Interactive)
3. Dragon Quest V: Tenkuu No Hanayome (Square Enix)
4. Fire Emblem: Shin Ankoku Ryuu to Hikari no Ken (Nintendo)
5. Daigasso! Band Brothers DX (Nintendo).
UK:
1. Dr. Kawashima's Brain Training (Nintendo)
2. Guitar Hero: On Tour (Activision)
3. 42 All-Time Classics (Nintendo)
4. More Brain Training (Nintendo)
5. Mario & Sonic at the Olympic Games (Sega)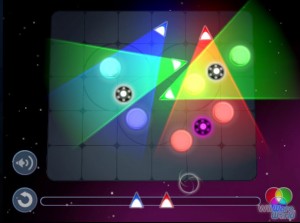 Liight is a puzzle solving game where the pieces are colored lights and the goal is to make cool music! Anyone can play! Just illuminate all the targets in each puzzle with light of the matching color… but it's not always so easy! You'll have to mix colors, cast shadows and make the most of your limited resources to solve these brain teasers. Solve 100 challenging puzzles! Create your own puzzles, and Share them with your friends via WiiConnect24. Host a Contest to see who can solve your puzzle the fastest. If you're ready, take on Nonstop mode, a whole new way to play where arcade-style scoring meets split-second strategy!

So there you have it! With Liight, we wanted to hit a halfway point between casual and core games, and I think it's coming out right on the money. The core puzzle solving gameplay is tight, and everyone who played the prototype had a lot fun. Anyone really can play it, I showed it on an airplane to a lady who had never played a video game before, and even she was enjoying the easier puzzles. Thats not to say it's not fun for real gamers though. Nonstop mode can get pretty hardcore as far as gameplay goes. I'm looking forward to playing it myself, actually. You know like, on something other than a dev-kit, where my score actually counts.

For the record, you can pronounce it anyway you want. I just say it like "light", but I think "leet" is ok, too.
DS Lite 56,439
PSP 41,664
Wii 35,755
PS3 9,775
PS2 8,810
Xbox 360 3,124
212,995 Super Mario Bros 3
209,441 Super Mario Bros
Remember, these numbers only count users who have downloaded the Nintendo Channel and have agreed to allow Nintendo access their Wii data.
151,881 Super Mario World
146,219 Mario Kart 64
131,024 Super Mario 64
100,509 Legend of Zelda
97,498 Ocarina of Time
87,696 Wario's Woods
85,756 Paper Mario
82,935 Kirby's Adventure
80,520 Link to the Past
79,868 Super Mario Bros 2
78,235 Punch-Out!!