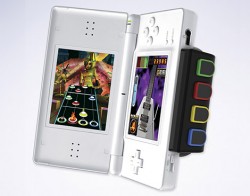 – World Tour mode, Band Career mode (4 player online), Battle of the Bands mode (4 Vs. 4 online)
– Drum setup: 3 pad, 2 cymbals, 1 bass pedal
– drum pads are 'velocity sensitive'
– New guitar: "newly designed" and "more responsive."
– New gameplay mechanic yet to be announced
– customizable rocker, logo, album art, and more
– 'Jam Mode' has been taken out…for now. Jam Mode let you play over any song in the game, without the need to follow notes
– Music creation: "We've embraced the whole custom community and we're giving fans what they want. It's a full recording studio and an online repository, a library for people to post their songs."
– Difficulty: "The Expert level will still be what it is: you'll play every note in the song. If it's a really hard song, it's going to be really hard to play in the game. And that's what the hardcore fans want. But for the rest of the people, we're trying to make the ramp [from Easy to Hard] a little more linear."
01./02. [PSP] Monster Hunter Portable 2nd G (Capcom) – 53,000 / 2,045,000
02./01. [WII] Mario Kart Wii (Nintendo) – 42,000 / 1,269,000
03./00. [NDS] Luminous Arc 2: Will (Marvelous Entertainment) – 41,000 / NEW
04./00. [PSP] Bleach: Heat the Soul 5 (Sony) – 39,000 / NEW
05./03. [WII] Wii Fit (Nintendo) – 35,000 / 2,074,000
06./00. [WII] Battalion Wars 2 (Nintendo) – 24,000 / NEW
07./13. [NDS] DS Beautiful Letter Training (Nintendo) – 15,000 / 218,000
08./04. [WII] Link's Crossbow Training (Nintendo) – 14,000 / 156,000
09./05. [NDS] Taiko Drum Master DS: Seven Island Adventure (Bandai-Namco) – 14,000 / 147,000
10./08. [WII] Wii Sports (Nintendo) – 10,000 / 2,989,000
Beer Pong, a game born on a college campus in the early 80s, has grown from a college drinking game to a competitive sport in bars across the country. In mid June 2008, Beer Pong is going to be available for WiiWare™, Frat Party Games™ – Beer Pong is the first slated game in the Frat Party Games™ series.

Featuring two distinct competitive games, Frat Party Games™ – Beer Pong will offer a traditional tournament-style game of Beer Pong for one to four players and Speed Pong, during which two to three players compete at the same time, each trying to be the first to eliminate all of his or her cups.

Frat Party Games™ – Beer Pong has been designed exclusively for WiiWare™, with accurate and easy to use controls. Frat Party Games™ – Beer Pong will feature three different play environments and allow players to choose from multiple tabletops to enhance the playing environment.
Wii Reviews:
Okami – 91
Boom Blox – 87
Opoona (US) – 85
Battle of the Bands – 55
Secret Files: Tunguska – 63
Obscure: The Aftermath (US) – 50
Baroque (US) – 55
Namco Museum Remix – 50
Death Jr: Root of Evil – 40
Sports Island – 70
Target Terror (US) – 14
Dream Pinball 3D – 50
Detective Conan 2 (JAP) – 61
DS Reviews:
Race Driver: Grid – 80
Bokura Ha Kaseki Holder (We Are Fossil Holders?!) (JAP) – 65
New International Track & Field – 65
Spitfire Heroes: Tales of the Royal Air Force (US) – 51
Matchstick Puzzle by DS (JAP) – 70
Double Sequence: The Q-virus Invasion – 34
7 Wonders of the Ancient World – 63
Doctor Who: Top Trumps – 53
High School Musical: Work it out – 44
Dementium (DS) – MA 15+
Insecticide (DS) – G
Sonic Chronicles: The Dark Brotherhood (DS) – G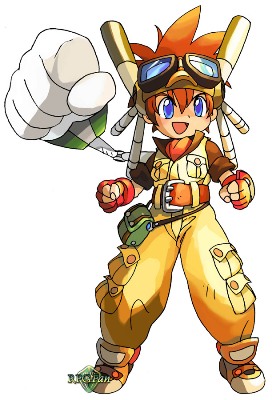 Sting, a company who has developed the Evolution series, may be bringing a new Evolution title to the Nintendo Wii. The only two Evolution games were originally released on the Dreamcast, and were eventually ported to the GameCube. The Evolution titles focused the adventures of Mag Launcher and involves dungeon crawling RPG elements.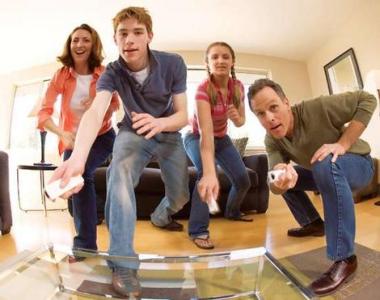 According to Cammie Dunaway, of Nintendo of America, Wii gamers are hardcore. At the Electronic Gaming Summit, Dunaway noted:
– Wii male gamers = 79% (most are over 18, have an income of $50,000)
– More than half game five hours or more per week
– 45% of other members in the house who play Wii are female (38% of which are older than 25)
– 65% play more than 2 hours a week
– 32% play more than 5 hours a week
So, who said that only children play Nintendo products?
Wii
* Fatal Frame IV
* Wii Chess
* Disaster: Day of Crisis (delayed)
* Mario Super Sluggers
* Wii Music
* Kirby
* Animal Crossing Wii
DS
* Glory of Hercules
* Pokémon Platinum
* Band Brothers DX
* DS Air
* Hoshi no Kirby: Ultra Super Deluxe
* Fire Emblem DS
* Wander Donkey
WiiWare
* Dr. Mario Online Rx
* Everyone's Pokémon Ranch
* Magnetica Twist
* Yakuman Wii

Archaic Sealed Heat, most formally known as ASH, seems to be heading stateside. ASH is a RPG game developed by Mistwalker and Racjin, and was released in Japan way back in October of last year. The ESRB has given the game a rating of E10+ for "Fantasy Violence, Mild Language, and Mild Suggestive Themes."
Other updates include:
Helix (Wii) – E
FINAL FANTASY FABLES: Chocobos' Dungeon (Wii) E10+
Looney Tunes: Cartoon Conductor (DS) – E
Etrian Odyssey II: Heroes of Lagaard (DS) – E10+
Biomiracle Bokutte Upa (Wii VC) – E
City Connection (Wii VC) – E