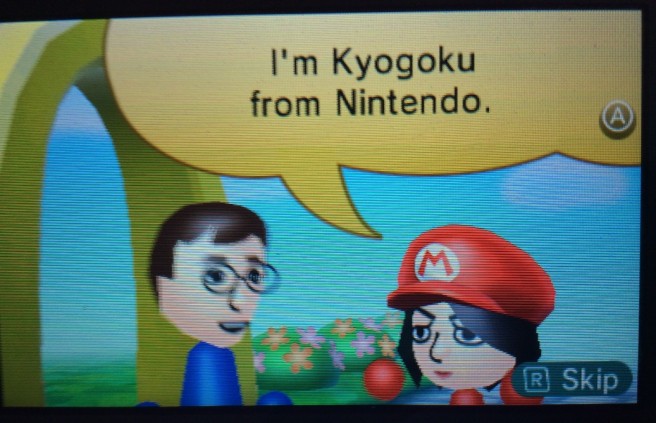 E3 2015 is over, but Nintendo hasn't stopped sending out Miis to celebrate the event. The latest addition is Aya Kyogoku, the director of Animal Crossing: Happy Home Designer. You should be getting the Mii via SpotPass soon.
Later this month, the Animal Crossing Plaza service will be coming to a close. Nintendo is planning on removing the software from the eShop after December 22.
While time is running out on Animal Crossing Plaza, it sounds like there could still be some exciting things in the works for Animal Crossing overall. Well, maybe. An official message posted on Miiverse makes note of how news will be posted to the Animal Crossing News Community in 2015.
Here's the full post from Nintendo's Aya Kyogoku:
USgamer has published a massive feature in which it delves into the topic of Nintendo's quest for inclusivity. It features plenty of comments from EAD manager and original Animal Crossing director Katsuya Eguchi as well as Animal Crossing: New Leaf director Aya Kyogoku.
Among the topics discussed is Nintendo's mission to create games that appeal to all types of players. Eguchi started off by saying:
Four Animal Crossing games have been released spanning over four console generations. Where might hte series go from here?
Nintendo's Aya Kyogoku offered some vague words to GiantBomb in a recent interview, noting that she hopes more Animal Crossing games will become available and will appeal to both longtime fans and newcomers.
She said:
"It's hard to say what Animal Crossing is going to look like in 10 years, but I do hope it's still around and it's reached out to an even wider range of audience. At the same time, I really hope it stays as franchise that's both enjoyable to newcomers and people who've enjoyed the franchise for all this time."
Producer Katsuya Eguchi added some words of his own, too:
"In 20 [or] 30 years, when the users in that time are playing, I would like to say 'when mom and dad were young, we were playing Animal Crossing, too!'. It would be great if we could say something like that. It might actually turn out that I'm more of a grandpa or grandma, but even then, it'd be great to say 'back in my day, we used to play like this!'"
Animal Crossing: New Leaf director Aya Kyogoku and producer Katsuya Eguchi just wrapped up a postmortem for the game at GDC 2014 a short while ago. You can find photos from the event above, and some information shared during the session below.
– Ms Ayogoku was the first female game designer at Nintendo EAD when she started just a few years ago
– She emphasizes that we need more female developers in the industry
– Nearly 50% of the Animal Crossing: New Leaf team was female – co-director Aya Kyogoku
– Big success on New Leaf – it saw shortages in Japan
– Suggests development was "smooth sailing" but it wasn't without challenges
– After the Wii version, New Leaf had to address series fatigue
– Therefore the team remembered its core: "Animal Crossing is a communication tool"
– Like the Zelda team, Animal Crossing: New Leaf rethought the series' conventions
– Communication was the common thread. It's its core
– New Leaf didn't have 11th hour stress at the end of development due to subdued pace
– In-game events helped team mood
– Aya Kyogoku recommends New Leaf to other developers if working on their games becomes too stressful
– The team communicated and celebrated with each other during development using themes from the game
– No matter your role, #ACNL team members were free to contribute new ideas for characters, furniture, etc
– 7.38 million units sold worldwide to date