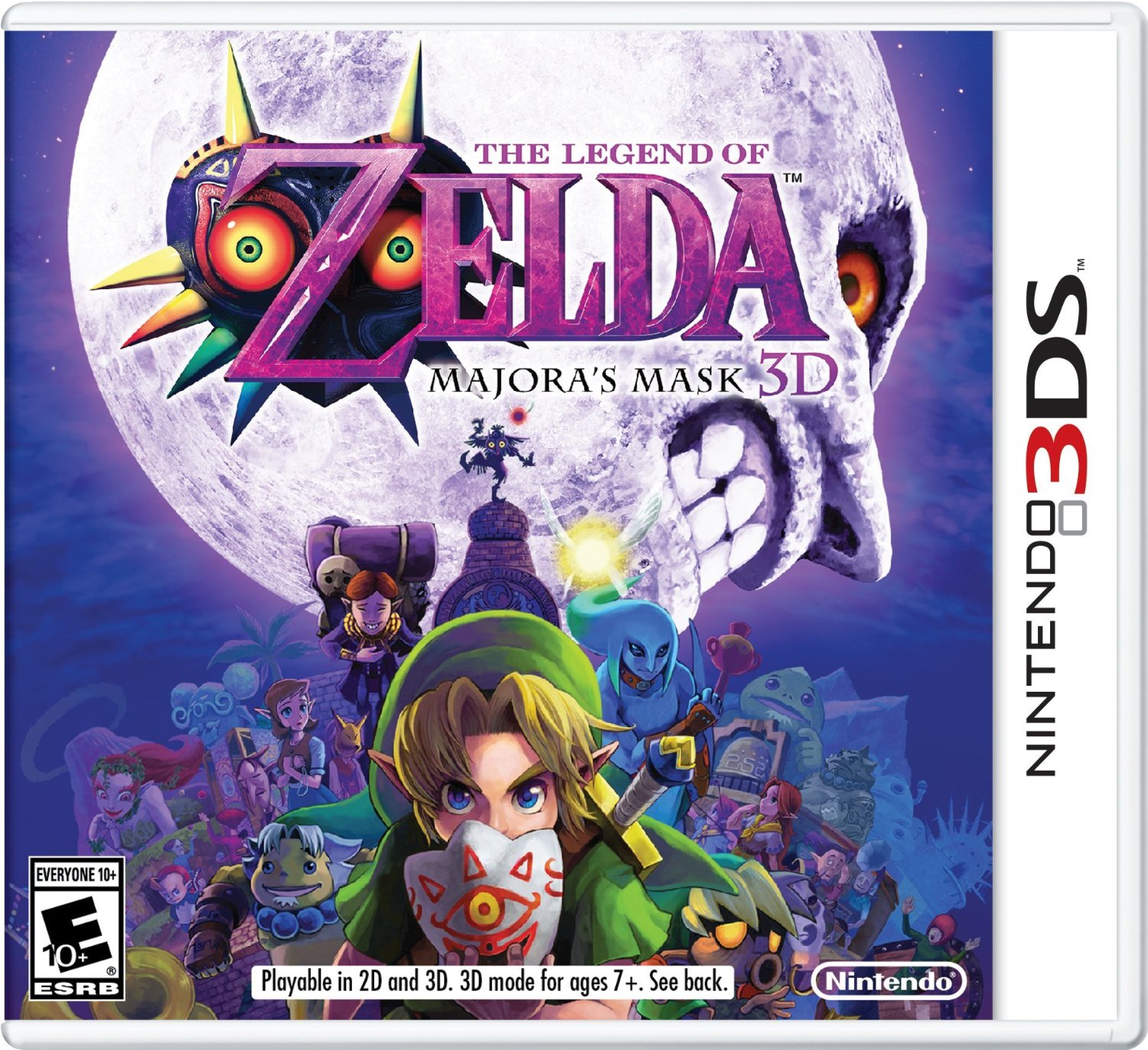 Update 2 (4/13): Smash Bros. 3DS also price-matched on Amazon
. Code Name: S.T.E.A.M. is also available
for $33.49.
---
Update: Majora's Mask price-matched on Amazon
.
---
There are a few sales taking place over at Best Buy. First up, you can save $5 on Zelda: Majora's Mask 3D, Super Smash Bros. for 3DS, and Code Name: S.T.E.A.M. Best Buy also has Watch Dogs for $20. All of these prices should be valid through April 18.
Best Buy stores across the U.S. will be holding a demo event for the New 3DS XL on Sunday. Fans can give the system a try, and play demos for Code Name S.T.E.A.M., The Legend of Zelda: Majora's Mask 3D and Monster Hunter 4 Ultimate.
You can look to see if a Best Buy store near you is holding a demo event here. It will take place from 1-4 PM.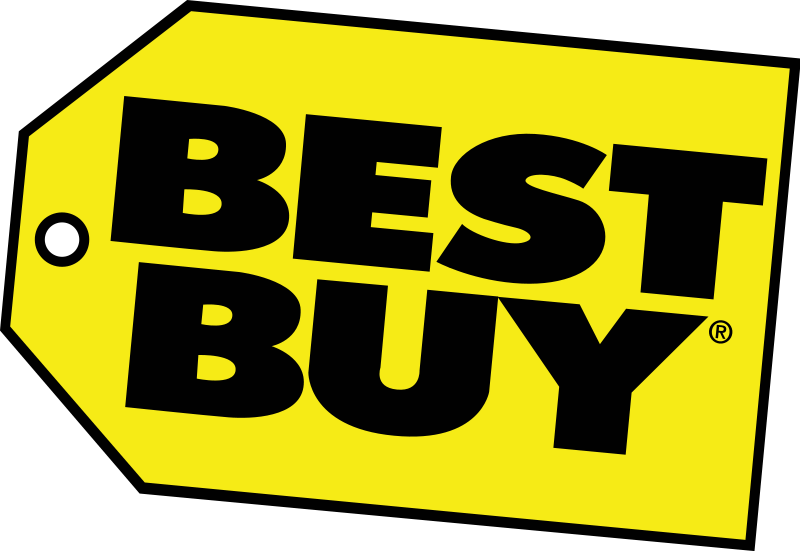 Best Buy is running a short sale on video game products right now. The lineup includes 3DS XL systems for $150 (save $25), Ninja Gaiden 3: Razor's Edge for $10 (save $20), and Steel Diver for $3 (save $17).
All deals can be found here. Keep in mind that the sale ends at 4 PM ET / 1 PM PT.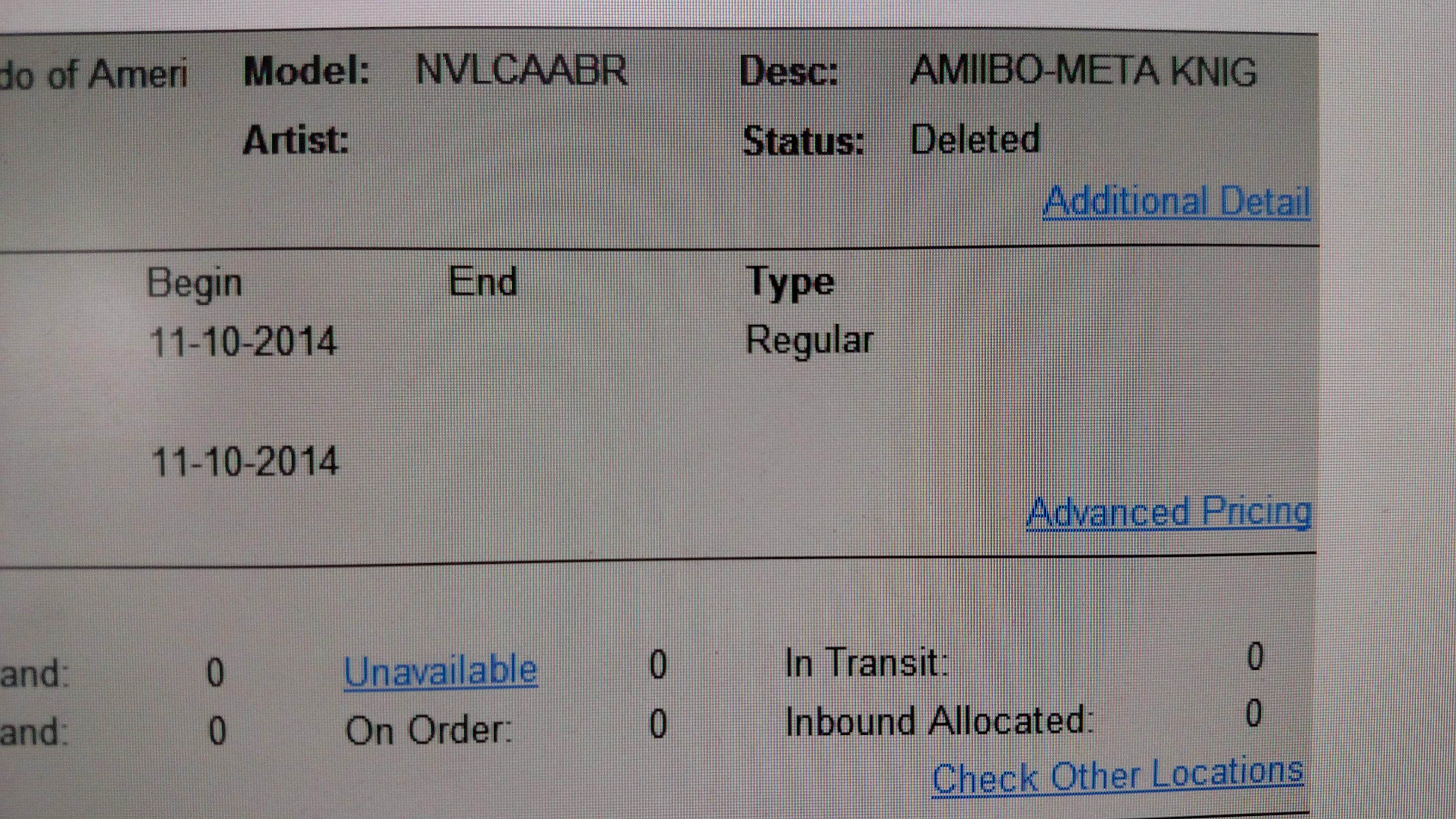 Update: Double rumor! There's now speculation that Meta Knight will return sometime this summer at Best Buy. A corporate-level employee at the retailer has apparently said that the restock will be happening, but a date hasn't been shared yet.
---
The Meta Knight amiibo appears to have been discontinued at Best Buy.
On Saturday, Best Buy listed the figure as "Active". But today, that changed to "Deleted". Because items tend to stay "Deleted" once they've reached that status, the assumption is that Meta Knight won't be returning to Best Buy in the future.
We'll let you know if we hear anything official about the Meta Knight amiibo going forward.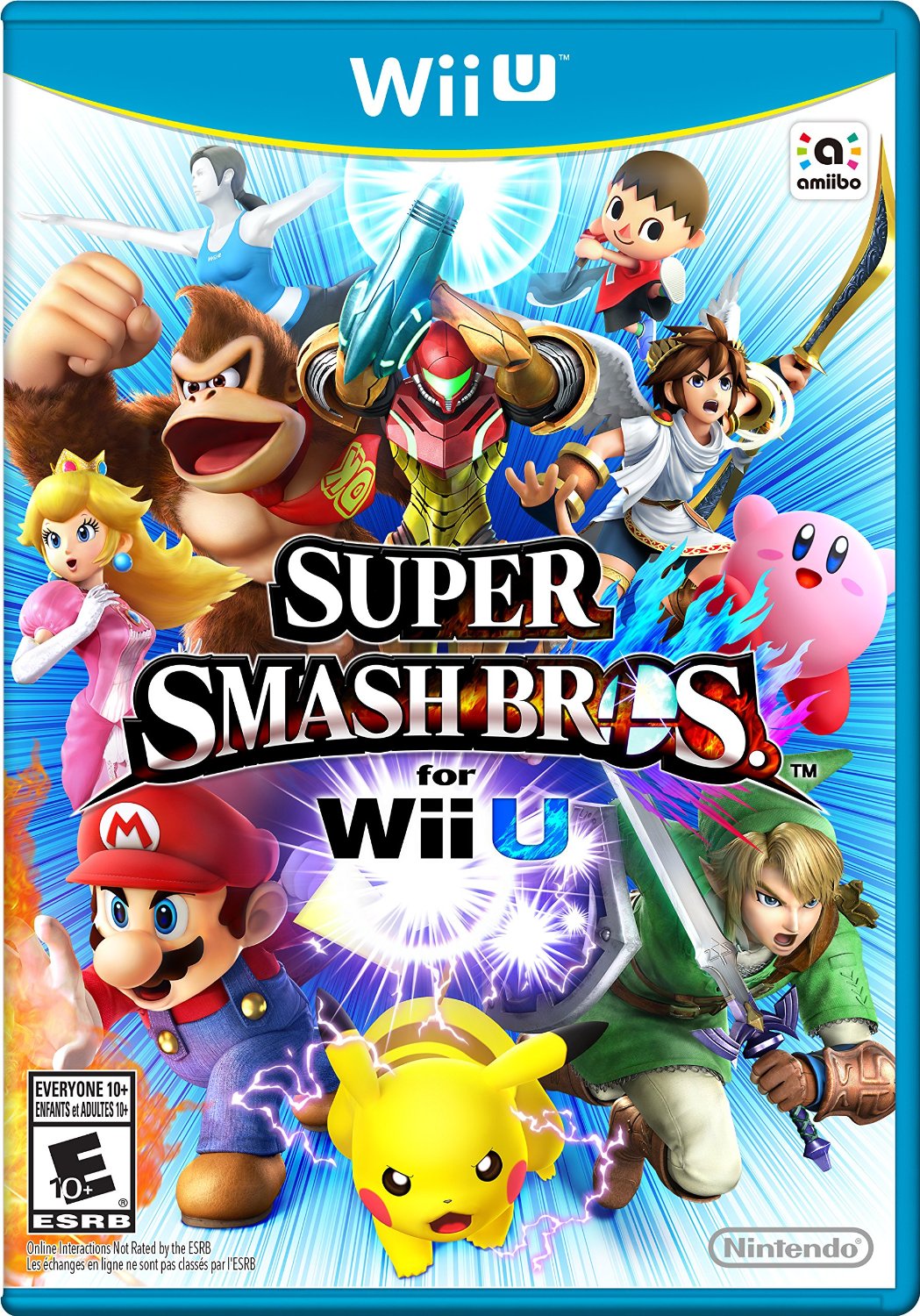 There are a few notable deals running between Amazon and Best Buy. First, you can save $15 on Super Smash Bros. for Wii U
by ordering from Amazon. The retailer also has The LEGO Movie Videogame (Wii U) for $14
. Meanwhile, over on Best Buy, you can grab the 3DS version of LEGO Batman 3 for only $10.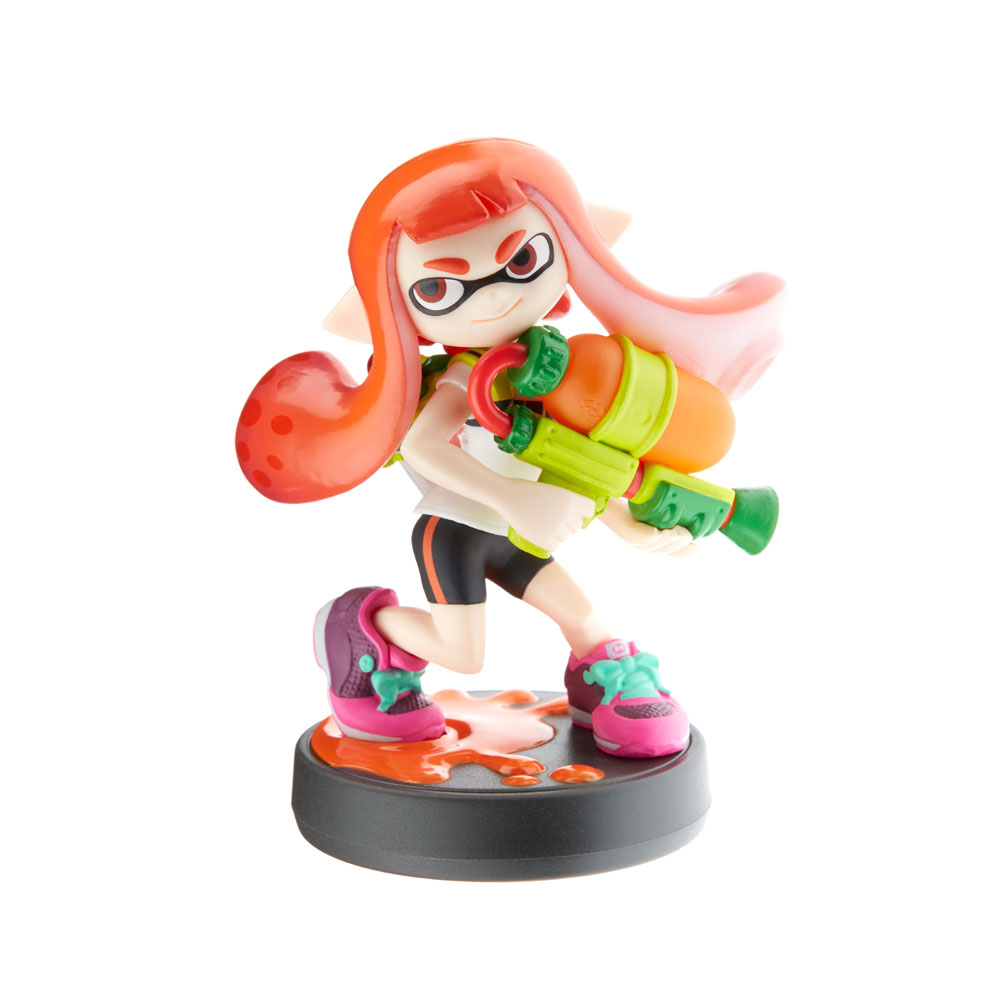 Update 2: All three are now gone.
---
Update: Three pack and girl are sold out, but the boy is still available.
---
Pre-orders are now live for the Splatoon amiibo. Links to each can be found below.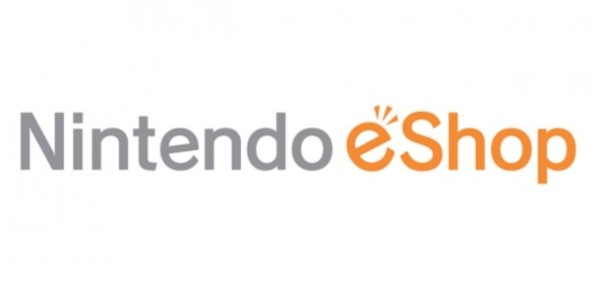 Best Buy is running a small sale on eShop cards. Through the end of the week, you can save 10 percent on all cards. Visit this this to take advantage of the deal.
Thanks to Leon F rot the tip.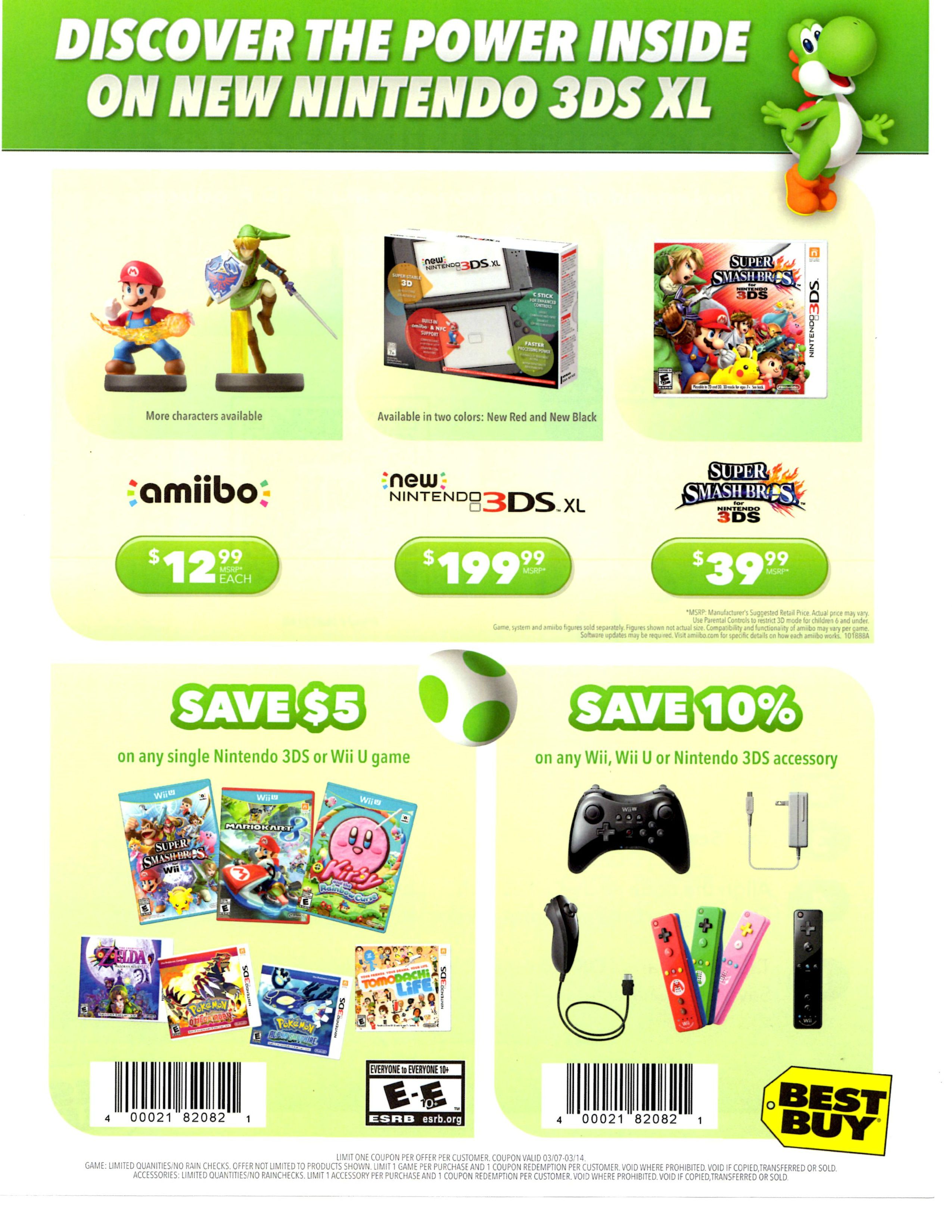 Nintendo held an event at Best Buy today to show off amiibo and some 3DS games. That wasn't all though! Nintendo also provided a QR code to obtain a Mii on 3DS for Zelda producer Eiji Aonuma, and a couple of coupons were handed out – one to save $5 on any Wii U/3DS title, and another to save 10 percent on Wii U/3DS/Wii accessories.
We're not entirely sure yet if the coupon only works at stores that participated in today's event, or if it works at all Best Buy locations. If we receive a definitive answer, we'll update this post. You can find a list of stores that were involved with the event here.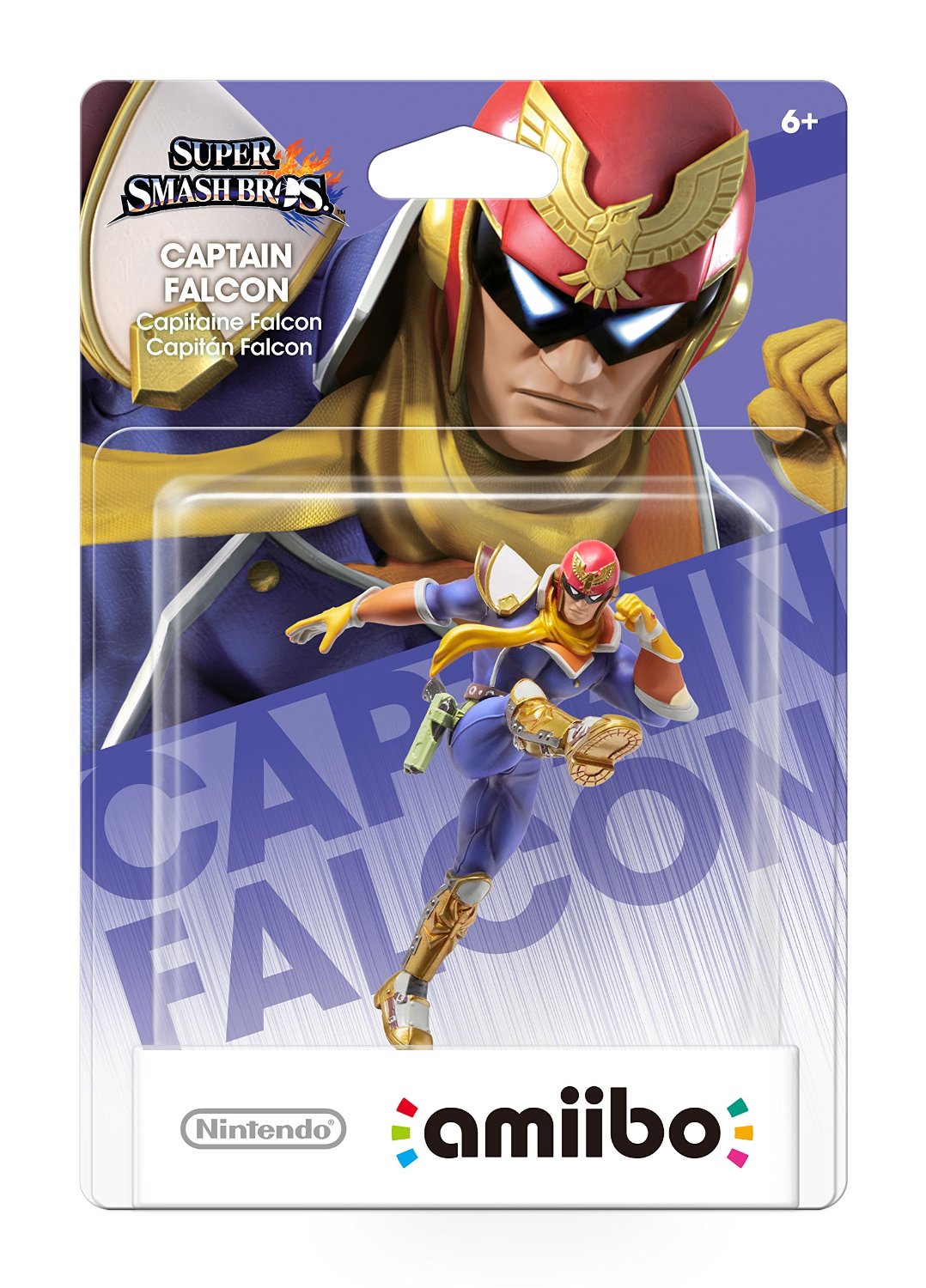 Update: Now confirmed. Actually, some stores have already received Little Mac shipments (see below).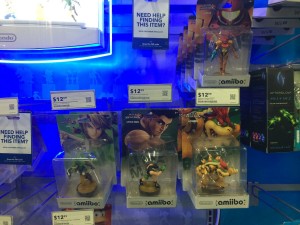 ---
Based on a few comments coming from Best Buy associates, new shipments of the Little Mac and Captain Falcon amiibo could be on the way. Both figures are listed as "In Transit" in Best Buy's inventory system. A list of stores that are apparently confirmed to be receiving the amiibo can be found here.
Best Buy locations may be receiving stock as early as this week or next week. Keep your eyes peeled!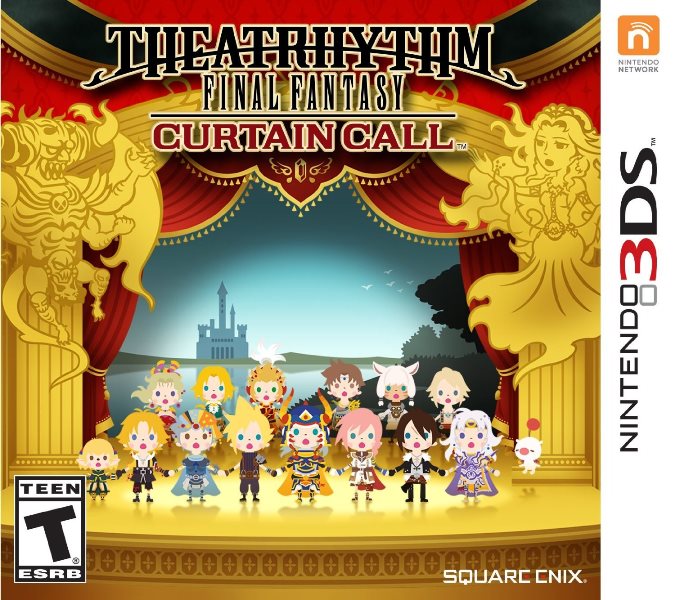 Update (3/2): Priced matched on Amazon
.
---
Theatrhythm Final Fantasy: Curtain Call is currently on sale over at Best Buy. You can purchase the game for only $20 as opposed to $40.
This sale is valid online, and it should work in-store as well. It should last through the rest of the week.